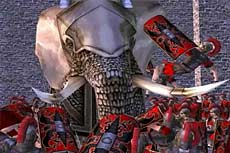 Control and conquer the greatest empire ever known to man.
Utgivelsesdato: 22. sep, 2004
Se HD-video
Pakker som inkluderer dette spillet
Om spillet
Når det romerske imperiet endelig er under din kommando, kan du ikke hvile på laurbærene riktig ennå – barbarene kommer! To prisbelønte spill i den anerkjente Total War-serien gir deg dobbelt så mange utfordringer og muligheter til å kontrollere og erobre det største imperiet i historien.
Gold Edition inneholder følgende:
Rome: Total War
Led én av de tre adelige romerske familiene gjennom et helt århundre i et forsøk på å ta kontroll over det romerske imperiet.
Rome: Total War - Barbarian Invasion
(offisiell utvidelsespakke til Rome: Total War) Vær vitne til Romas fall etter at enorme barbarstyrker angriper, noe som fører til bitter intern strid mellom rivaliserende fraksjoner.
Kåret til det beste strategispillet i 2004 av IGN, GameSpy og GameSpot.

Kjemp med eller mot historiens største ledere, blant annet Julius Cesar, Spartacus og Hannibal for å utvide eller knuse det romerske imperiet.

Beleire romerne som hunerkongen Attila, de fryktede sakserne, eller andre blodtørstige folkeslag ved hjelp av datidens våpen og ferdigheter.

Kommander krigsutsatte legioner i filmatiske slag, der tusenvis av soldater kjemper på skjermen.

En kampanje som varer i et århundre, der spillerne blir satt på prøve når de skal styre de økonomiske, sivile, religiøse og militære delene av imperiet.
Systemkrav
Minimum: Microsoft® Windows® 2000/XP, Pentium III 1,0 GHz eller Athlon 1,0 GHz prosessor eller nyere, 256 MB RAM, 2,9 GB ukryptert ledig harddiskplass (pluss 500 MB for Windows-vekslefil), 100 % DirectX® 9.0c-kompatibelt 16-biters lydkort og de nyeste driverne, 100 % Windows® 2000/XP-kompatibel mus, tastatur og de nyeste driverne, DirectX® 9.0b, maskinvareakselerert skjermkort på 64 MB med støtte for Shader 1 og de nyeste driverne. Må være 100 % DirectX® 9.0b-kompatibel, oppløsning på 1024 x 768, støtte for spill på Internett (TCP/IP), spill på Internett krever bredbåndtilkobling og de nyeste driverne, spill på LAN krever nettverkskort (flerspiller)
Viktig: Noen kort er kanskje ikke kompatible med 3D-akselerasjonsfunksjonen som brukes av Medieval II: Total War. Kontakt maskinvareprodusenten angående 100 % DirectX® 9.0b-kompatibilitet.
Hjelpsomme kundeanmeldelser