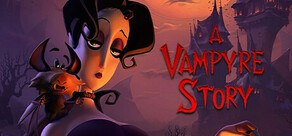 Help Mona De Lafitte escape from Baron Shrowdy von Kiefer and return to Paris!
Release Date: Dec 2, 2008
Watch HD video
About the Game
Once upon a time...

Deep within the walls of a gloomy castle in the equally gloomy land of Draxsylvania, the young, gifted opera singer Mona De Lafitte is held captive by her tormentor, vampire Baron Shrowdy von Kiefer. Ever since she was transformed into a vampire by Shrowdy and whisked off to Draxsylvania, her greatest wish has been to return to Paris, continue her singing career, and one day become a star at the Paris Opera.

When Shrowdy fails to return from a nightly foray, she at last sees an opportunity to flee. Together with her only friend and confidant, a cheeky bat named Froderick, she escapes from her prison and tries to find her way back to Paris. During her flight through Draxsylvania, where she encounters some strange inhabitants and some even stranger challenges, Mona must learn not only to accept her vampire nature, but also to use the abilities she has acquired to her advantage.


Features:

- A classic point-and-click comic adventure created and directed by Bill Tiller
- More than 30 hand-drawn locations in 2D
- Rendered using a real time 3d 'multi-plane' camera
- More than 25 characters
- Mona's vampire abilities and restrictions create interesting gameplay
System Requirements
Minimum:


OS: Windows XP / Windows Vista / Windows 7

Processor: 1,6 Ghz

Memory: 512 MB RAM

Graphics: 256 MB RAM GeForce FX Generation or ATI Radeon 9500

DirectX: Version 9.0

Hard Drive: 3 GB available space

Sound Card: DirectX 9.O compatible Soundcard
Helpful customer reviews
13 of 15 people (87%) found this review helpful
0.2 hrs on record
In the style of the LucasArts classics, particularly The Curse of Monkey Island it is really enjoyable! And from the same writers so you can have fun just with the dialogue!

The soundtrack is also whimsical great!

Aside it only runs on Windows Xp, it worth it the effort to play this game!
29 of 54 people (54%) found this review helpful
0.1 hrs on record
It's sad the game dosent work on win 8 :-(
You really need to set up a virtual xp maschine......
@DEV patch this, Win XP isn't secure anymore!
Then you will get a thumbs up because the game itself makes a lot of fun