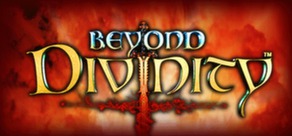 Beyond Divinity est la suite du jeu récompensé Divine Divinity.
Date de parution: 27 avr 2004
Packages qui comprennent ce jeu
Acheter Divinity Anthology
Inclut les 3 articles suivants : Divine Divinity, Beyond Divinity, Divinity II: Developer's Cut
Articles
"If you're looking for a lengthy (as in 100+ hours) RPG that blends quick and dirty gameplay with heaping plates of detail and sophisticated character development, no one else comes close to this series"
90/100 – GameSpy
"If you have ever played Diablo, Dungeon Siege, or Baldur's Gate, then this game will become second home to you."
80/100 – GameZone
"Combines the best of fast-paced combat-oriented RPGs with a decent storyline and inventive questing."
– IGN
À propos du jeu
Beyond Divinity est la suite du jeu multi-récompensé Divine Divinity. Votre âme est liée à celle d'un Chevalier de la Mort, et elle le sera jusqu'à la fin des temps, à moins que vous ne réussissiez à annuler la malédiction... Préparez-vous pour votre plus grande aventure !
Cette version retravaillée offre une compatibilité avec Windows 7 et des résolutions plus élevées.
Caractéristiques :
Un jeu de rôle aux proportions épiques : Vivez une aventure passionnante de plus de 60 heures, bourrée de quêtes non linéaires et offrant un monde gigantesque à explorer, à travers les 4 actes du scénario. Vous pourrez également entrer dans les Champs de bataille : des mondes générés aléatoirement remplis de butin, d'ennemis et de nouvelles quêtes.
Un personnage sans classe pour un meilleur développement : C'est vous qui décidez ce que va devenir votre personnage ! Le système de développement du personnage est vaste, ouvert et sans classe spécifique. Profitez de 30 traits de personnage et apprenez 290 compétences, dont l'alchimie avancée, l'artisanat, la création de pièges et bien d'autres encore.
La victoire en équipe : Vous pouvez passer très simplement de votre avatar au Chevalier de la Mort, et inversement. Vous pouvez mettre le jeu en pause à tout moment, en plein combat, pour donner des ordres à chacun. Les poupées d'invocation vous permettent d'agrandir encore plus la taille de votre groupe.
Des objets à gogo : Le jeu comporte un nombre ahurissant d'objets à découvrir, échanger, utiliser ou combiner. Vous avez trouvé des fioles vides et ramassé des champignons rigolos ? Créez donc des potions ! Vous avez trouvé un poison dangereux ? Frottez-y votre lame et vos flèches : vos ennemis vont apprécier !
Une bande originale récompensée : Profitez des superbes mélodies composées par Kirill Pokrovsky, deux fois récompensé par le "Outstanding Achievement in Music" d'IGN.
Configuration requise
Minimum :

Système d'exploitation : Windows XP
Processeur : Pentium 4 1.4 GHz
Mémoire vive : 256 Mo de RAM
Affichage : Carte 3D compatible DirectX
DirectX® : 9.0c
Disque dur : 2300 Mo d'espace disque disponible
Son : Compatible DirectX
© 2002 - 2012 Larian Studios (Arrakis NV). All rights reserved.
Divinity and Larian are the registered trademarks of Larian Studios (Arrakis NV).
All trademarks are the property of their respective owners.
Évaluations intéressantes des utilisateurs