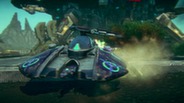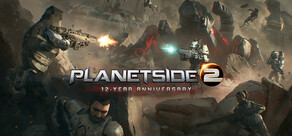 New vehicle, training zone to try out all weapons, vehicles and attachments, platoon management and more!
Release Date: Nov 20, 2012
Watch all 5 trailers
Reviews
"Audacious. Sony Online built a multi-continental world wide enough for thousands of players on three factions to fight in the air, on the ground, and inside bases, and released it for free."
PC Gamer

"Technically astounding mass-scale warfare that spews out gaming fantasy fulfillment."
90/100 – PC Gamer

"With versatile classes, deep progression systems and various styles of air and ground vehicles, there's no shortage of ways to contribute to a fight, and on a coordinated team in PlanetSide 2's open environments, Sony Online Entertainment's game of nonstop war can be a truly incredible competitive experience."
9/10 – IGN

Just Updated
Update Includes:
You can try it before you buy it! Head over to the VR Training zone and test out all weapons, vehicles, and attachments without having to make a purchase.

Get ready to rumble in this killer new Vehicle Update for the Flash: A rumble seat has been added to the Flash allowing for a passenger to jump on and fire their weapons. Additionally, a new Wraith cloaking module and S12 Renegade shotgun are now available for the Flash.

Better tools for better soldiers The UI gets an update: The respawn screen and map have been merged giving players easier access to the information that they need while deploying. Additionally, a manual zoom has been added to the minimap.
Other anticipated features:
Fall in line recruits! We have some Platoon Management updates: Platoon leaders now have the ability to drag and drop players into other squads for easier platoon management.

Warp Gates Rotated: The warp gates have been rotated on all three continents.

Increased XP for vehicle kills: The amount of XP that players gain for destroying most vehicles has been updated. It currently looks like this:

Air

Galaxy: 400 xp, increased from 300 xp

Liberator: 500 xp, increased from 150 xp

ESF: 400 xp, increased from 75 xp

Ground

Lightning: 400 xp, increased from 100 xp

MBTs: 500 xp, increased from 100 xp
About the Game
Building off of the groundbreaking original, PlanetSide 2 is a free-to-play, massively multiplayer online first person shooter (MMOFPS) that delivers truly epic, massive combat on a scale never before seen in stunning, breathtaking detail. Harnessing the power of SOE's next generation Forgelight™ engine, in PlanetSide 2 battles persist when thousands of players align with one of three unique Empires in intense land, air and vehicle gameplay.
Across the continents of Auraxis, thousands of players come together in enormous battles to win control of critical territories and key resources for their Empire. With an extensive skill tree and free-form class-based system, players are able to customize their soldier, weapons and vehicles to match their play-style, as well as the needs of their squad, outfit or Empire. The world of PlanetSide 2 is massive and persistent with every soldier capable of making a difference.
Key Features:
THREE EMPIRES: Players will have their choice to join three different Empires:


Terran Republic – A militaristic government that uses its authoritarian might to impel humanity to peaceful coexistence through any means necessary.

New Conglomerate– Freedom fighters struggling against the tyranny and oppression of the corrupt Terran government and the soulless Vanu cultists.

Vanu Sovereignty – A technocratic society that believes humanity can only evolve by rediscovering and tapping into the lost technology of an ancient alien race.

MASSIVE WARFARE: Battles take place not between dozens of troops, but thousands; with air and ground vehicles slugging it out alongside squads of troops. Whether in open fields, tightly-packed urban centers or enormous structures, victory requires strategic teamwork and a quick trigger finger to survive the massive battles.

BATTLE FOR TERRITORIES & RESOURCES: The core gameplay of PlanetSide 2 is about holding key territories and controlling resources. Each battleground holds valuable resources and key positions, and the Empire that can conquer (and manage to hold) these territories are rewarded with tech bonuses, greater access to equipment, and more.

PERSISTENCE: In PlanetSide 2 battles last for days or even weeks, and finally taking control of the base means it's yours until someone can take it back. Working strategically as a team to capture key tactical positions such as power plants and ammo depots have long-lasting effects that can shift the tide of battle.

METAGAME: Large scale, persistent and coordinated effort required by hundreds of players working together to accomplish continental domination.

ENORMOUS MAPS: PlanetSide 2 features incredible continent maps with dozens of square kilometers of seamless gameplay space; every inch of which is hand-crafted, contestable space. With the new territorial control meta-game, landmass has intrinsic value.

CLASS-BASED COMBAT: Players are able to build their soldier to match their play-style, or to match the needs of their squad, outfit or Empire. With 6 distinct classes, each combat role, vehicle and weapon has extensive certification skill trees. These cert trees allow players to grow characters laterally, unlocking weapons, attachments, equipment, specialized skills, and more.

OUTFIT TEAMWORK: Outfits (guilds) have access to unique customizations– allowing outfits to have their own identity, reputation and role in the ongoing war.

VEHICLES & WEAPONS: Players are able to access a huge array of weapons and vehicles which can be extensively customized for player preference or purposed with unique attachments and add-ons earned in game to fit each player's style.

BUSINESS MODEL: PlanetSide 2 is Free-To-Play with an additional in-game RMT marketplace with items that range from cosmetic camouflage patterns and armor paint jobs, to things like XP accelerators. Items that affect gameplay, such as weapon side-grades will be purchasable via resources earned in-game through gameplay and achievements.

VOICE INTEGRATION: Players are able to communicate with their squads both through keyboard and voice chat.
System Requirements
Minimum:


OS:Windows XP

Processor:Intel Core 2 Duo E6850 or higher / AMD Phenom II X2 or higher

Memory:4 GB RAM

Graphics:nVidia GeForce 8600 series or higher / AMD or ATI 4850 series or higher

DirectX®:9.0

Hard Drive:15 GB HD space

Sound:DirectX compatible Sound Card

Other Requirements:Broadband Internet connection
Recommended:


OS:Windows 7

Processor:Intel i5 processor or higher / AMD Phenom II X6 or higher

Memory:6 GB RAM

Graphics:nVidia GeForce 540 or higher / AMD HD 6870 or higher

DirectX®:9.0

Hard Drive:15 GB HD space

Sound:DirectX compatible Sound Card

Other Requirements:Broadband Internet connection
© 2012 Sony Online Entertainment LLC. SOE, the SOE logo and PlanetSide are registered trademarks of Sony Online Entertainment LLC in the United States and/or other countries. All rights reserved.
Helpful customer reviews
Awards