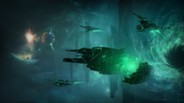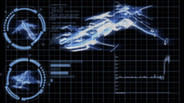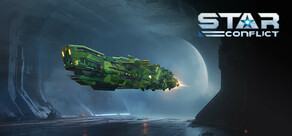 Star Conflict is an action-packed, massively multiplayer space simulation game that puts players in the role of elite pilots engaging in a widespread interplanetary skirmish.The whole world for PVP and PVE!
发行日期: 2013年2月27日
观看所有 3 段宣传片
9月19日


New day - new battles. New battles - new rewards!

Pilots! From now on for every 5th consecutive day of logging in Star Conflict you will get not only an extra day of premium license, but also a set of 5 free duplicators on top of it!

Duplicator is a unique device based on the alien technology. It allows you to quickly reconstruct and deliver your ship to the location it was destroyed in.
9 条评论
了解更多
9月19日


Pilots! Congratulations on successfully repelling the Alien attack. The enemy has retreated, this is our first big victory! In honour of these brave efforts we would like to reward every one of our pilots.

From this point on, all achievements will be rewarded with Galactic Standards. This system will persist in the future. We will pay this new wage for all the achievements you earn in battles and expeditions.

In addition, in honour of the first victory over the Aliens, Centre decided to further reward all distinguished pilots and issue Galactic Standards not only for the future ones, but also for all the achievements you already got — from the very beginning of the game!

You will find your prizes for the achievements in the game mail very soon. Please note that this special offer is limited! You'll be able to receive a reward for past services only this weekend. Launch the game often and always check for new messages!

The enemy is not defeated. It's still cunning and very dangerous. We won the first battle, but the war is not over, so we still need your help. This is just the beginning!
8 条评论
了解更多
最新更新


Update 1.0 has officially ended the beta testing stage!
All players have now access to the new global game mode "Invasion"!
You will see - new ships, craftable T5 ships, new modules, new achievements and, of course, the alien invasion!

Hurry up to take part in the station protection from the alien attack, which has already begun!
"Invasion" is just the beginning!

Read more at our official website
关于游戏
Star Conflict is an action-packed, massively multiplayer space simulation game that puts players in the role of elite pilots engaging in a widespread interplanetary skirmish.
The whole world for PVP and PVE!
PVP battles on dozens of space locations

PVE missions and quests for groups or lone wolves

Unique sandbox mode with extensive PVP and PVE capabilities

Corporations' battles for influence

More than a hundred ships of various types and purposes

9 tactical roles, hundreds of modules and the possibility of modifying

Production of modules and ships!
Key Features:
A Fleet at Your Fingertips
Take command of varied battleships, from nimble scouting ships to heavy frigates loaded with guns and rockets. In due time, you can command your own fleet.


Survival in outer space
You can undock from the station and travel around space colonies invaded by an ancient alien race. You can complete quests, collect valuable items, craft modules and ships, meet other players to fight or team up to resist pirates and evil aliens from deep space.


Choose Your Path
Each ship can be used for strategic missions—investigate the area, hunt enemies from the shadows, or gain support from allies. Impressive arsenal of weapons and gadgets, as well as the opportunity to craft items and ships will help you with it.


If You're Not With Us, You're Against Us!
Form an alliance with friends to create a deadly squadron of elite pilots. Fight with other players, perform PVE missions. Create corporation and take part in the battles for control of the territories. Enter your name in the annals of Universe history.


Gain Experience and Skill
Develop your abilities, establish specialized skills, and perfect your tactics. You could rush into battle full-force, operate stealthily from a distance, or sneak around your enemies and strike a crushing blow from behind — the strategy is up to you!
Story
Three thousand years have passed since the first colonists left Earth. Now the galaxy is divided between the militant star empires and independent mercenary groups. In a remote corner of the galaxy — Sector 1337, the area of the dead — a world has been left behind. Here, the ruins of a great civilization of Aliens have recently been discovered. Huge factories and sprawling cities are falling into decay. Fragments of ships lie on the fields where massive battles were once fought. But there is not a living soul. Everything has been destroyed by a mysterious Cataclysm — a pulsing anomaly that burned out all life within this sector.
This doesn't stop mankind, the new «owner» of the Universe. Mercenaries and adventurers have flocked to the sector to sift through the ruins and loot its abandoned artifacts, without consideration of the danger. Many have disappeared — including members of well-armed expeditions — but those who have managed to return have uncovered unprecedented riches. So looters continue to come here, to find the Aliens' lost treasures — and to fight for them.
系统需求(PC)
Minimum:


OS: Windows XP SP3

Processor: 2.0 Ghz Intel Pentium-4 / AMD Athlon II

Memory: 2 GB RAM

Hard Disk Space: 3 GB

Video Card: 512 MB NVidia / AMD Radeon / Intel (HD 3000, HD 4000) with support for Pixel Shader 3.0 (AMD Radeon X1000 not supported)

Additional: Broadband Internet connection
Recommended:


OS: Windows 7 x64

Processor: 2.3 Ghz Intel Core 2 Duo / AMD Athlon64 X2 or better

Memory: 4 GB RAM

Hard Disk Space: 3 GB

Video Card: 1 GB NVidia GeForce 650 / AMD Radeon HD 5750 / Intel HD 4000 and newer

Additional: Broadband Internet connection
系统需求(MAC)
Minimum:


OS:Snow Leopard (10.6.X)

Processor:2.0 GHz Intel

Graphics:512 MB NVidia / AMD Radeon / Intel HD 3000, HD 4000

Hard Drive:At least 3 GB of free space

Memory: 2 GB RAM

Other Requirements:Broadband Internet connection

Additional:Not recommended for Intel integrated graphics or Mac Minis or early-generation MacBooks
Recommended:


OS:Snow Leopard (10.6.X)

Processor:2.3 Ghz Intel

Graphics:1 GB NVidia GeForce 650 / AMD Radeon HD 5750 / Intel HD 4000 and newer

Memory: 4 GB RAM

Hard Drive:At least 3 GB of free space

Other Requirements:Broadband Internet connection

Additional:Not recommended for Intel integrated graphics or Mac Minis or early-generation MacBooks
系统需求(Linux)
Minimum:


OS: Ubuntu 12.04 LTS or SteamOS

Processor: 2.0 Ghz Intel Pentium-4 / AMD Athlon II

Memory: 2 GB RAM

Hard Disk Space: 3 GB

Video Card: 512 MB NVidia / AMD Radeon / Intel (HD 3000, HD 4000) with support for Pixel Shader 3.0 (AMD Radeon X1000 not supported)

Additional: Broadband Internet connection
Recommended:


OS: Ubuntu 12.04 LTS and newer, or SteamOS

Processor: 2.3 Ghz Intel Core 2 Duo / AMD Athlon64 X2 or better

Memory: 4 GB RAM

Hard Disk Space: 3 GB

Video Card: 1 GB NVidia GeForce 650 / AMD Radeon HD 5750 / Intel HD 4000 and newer

Additional: Broadband Internet connection
有价值的用户评测
奖项
Best Graphics of the Year 2013
The most unusual online game