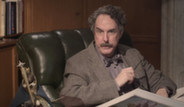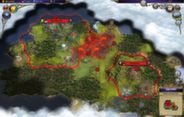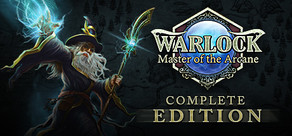 In Zeiten chaotischer Unruhen muss der Spieler die Kontrolle eines großen Zauberers übernehmen - eines Kriegsherren im Kampf um die ultimative Macht.
Veröffentlichung: 8 Mai 2012
Alle 2 Trailer ansehen
Warlock - Master of the Arcane kaufen
Pakete, die dieses Spiel enthalten
Warlock Ultimate Edition kaufen
Enthält 6 Artikel: Warlock - Master of the Arcane, Warlock: Master of the Arcane - Powerful Lords, Warlock: Master of the Arcane - Power of the Serpent, Warlock - Master of the Arcane: Master of Artifacts, Warlock - Master of the Arcane: Return of the Elves, Warlock - Master of the Arcane: Armageddon
Majesty Collection kaufen
Enthält 11 Artikel: Majesty 2, Majesty Gold HD, Majesty 2: Kingmaker, Majesty 2: Monster Kingdom, Majesty 2: Battles of Ardania, Defenders of Ardania: Battlemagic, Warlock - Master of the Arcane, Defenders of Ardania, Warlock: Master of the Arcane - Powerful Lords, Warlock: Master of the Arcane - Power of the Serpent, Defenders of Ardania: The Conjurer's Tricks
Inhalte zum Herunterladen für dieses Spiel
10 April 2014
Paradox Interactive today announced that wrongly exiled magicians and sorcerers everywhere can begin their quests to retake Ardania in Warlock 2: The Exiled, the turn-based strategy-fantasy wargame from Ino-Co Plus. Available today via digital retailers worldwide, Warlock 2: The Exiled challenges players to conduct wizardly warfare with a selection of magical creatures, devastating spells, and cunning strategy as they face off against their fellow Great Mages.
0 Kommentare
Weiterlesen
27 März 2014
Journey back to the realm of Ardania, the land that cannot go an entire week without being conquered, and conquer it once again! Warlock 2 will challenge strategic sorcerers and megalomaniacal mages to conquer Ardania in an all-out war of cunning, combat, diplomacy, and excessively enormous fireballs. Single-player and multi-player gameplay will each challenge would-be warlocks to manage an entire realm full of deadly beasts, promising to make Warlock 2: The Exiled an exercise in constant war mongering and turn-based tragedy.

Watch the trailer here:

https://www.youtube.com/watch?v=lDrTM0Hz26A&hd=1
1 Kommentare
Weiterlesen
Über das Spiel
Das neueste Spiel der beliebten Majesty-Reihe, Warlock: Master of the Arcane, präsentiert rundenbasierte Strategie und globale Eroberung in der fantastischen Welt von Ardania. In einer Zeit der chaotischen Aufruhr übernimmt der Spieler die Rolle eines großen Magiers, ein Kriegsherr, der um die ultimative Macht konkurriert. Ihre Mission ist es, ein Reich aufzubauen, Ihre Grenzen zu erweitern, neue Zauber zu erforschen und Ihre Gegner zu bezwingen. Werden Sie der mächtigste Zauberer und herrschen Sie über ganz Ardania!
Hauptmerkmale:
Fühlen Sie die Magie: Erforschen und beherrschen Sie Dutzende von Zaubern, beschwören Sie mächtige Verzauberungen und entdecken Sie fantastische Kombinationen von Zaubern.

Stellen Sie eine Armee auf: Kommandieren Sie eine weite Auswahl von Einheiten, alle mit einzigartigen Fähigkeiten ausgestattet. Mobilisieren Sie die Kräfte der drei Rassen, zusammen mit speziellen beschworenen Truppen und wilden Kreaturen.

Wählen Sie Ihre Strategie: Es gibt verschiedene Möglichkeiten, den Sieg zu erringen: durch militärische, diplomatische oder auch magische Mittel.

Bekämpfen Sie Ihre Feinde: Nehmen Sie an epischen Schlachten teil, mit großen Armeen, die durch die Landschaft marschieren. Die Spieler können ihre eigenen Taktiken entwickeln und lernen, eine große Anzahl von speziellen Fähigkeiten der Einheiten zu nutzen. Fügen Sie etwas Magie hinzu und Sie werden eine wahre Symphonie des Krieges erleben.

Beherrschen Sie das Spiel: Genießen Sie ein innovatives Stadtverwaltungssystem, ohne Routinearbeit, wo jede Entscheidung zählt!

Glauben Sie: Kämpfen Sie für einen der acht Götter. Erfüllen Sie ihre Aufgaben und verbreiten Sie ihre Tempel über das Land. -- Oder lassen Sie alle Götter beiseite und werden Sie selber einer!

Folgen Sie den Traditionen: Warlock – Master of the Arcane erbt die besten Elemente der berühmten rundenbasierten Strategiespiele der alten Schule. Es hat ein modernes Design, aber tief im Inneren ist es ein klassisches Spiel, bei dem jeder Spieler sein eigenes Reich durch magische und militärische Fähigkeiten beherrschen kann.
Systemvoraussetzungen
Minimum:


Betriebssystem:Windows Vista, Windows 7

Prozessor:Dual Core CPU

Speicher:2 GB RAM

Grafik:GeForce GT240 512 MB oder vergleichbar

DirectX®:9.0c

Festplatte:4 GB HD frei

Sound:DirectX 9.0c kompatibel
Empfohlen:


Betriebssystem:Windows 7

Prozessor:Quad Core CPU

Speicher:4 GB RAM

Grafik:GeForce GTX460 1 GB oder vergleichbar

DirectX®:9.0c

Festplatte:4 GB HD frei

Sound:DirectX 9.0c kompatibel
© Copyright Paradox Interactive AB
Hilfreiche Kundenreviews