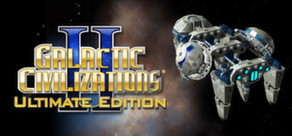 ¡Consigue la saga GalCiv II completa, la cual incluye Galactic Civilizations II: Dread Lords y los packs de expansión Dark Avatar y Twilight of the Arnor!
Fecha de lanzamiento: 2 Dic 2011
Comprar Galactic Civilizations® II
Paquetes que incluyen este juego
Comprar Galactic Civilizations® Complete Pack
Incluye 2 artículos: Galactic Civilizations® II: Ultimate Edition, Galactic Civilizations® I: Ultimate Edition
Comprar Stardock Pack 2014
Incluye 6 artículos: Galactic Civilizations® II: Ultimate Edition, Demigod, Sins of a Solar Empire®: Rebellion, The Political Machine 2012, Galactic Civilizations® I: Ultimate Edition, Fallen Enchantress: Legendary Heroes
Acerca del juego
¡Consigue la saga completa de Galactic Civilizations II incluyendo el aclamado juego de estrategia del año para ordenador Galactic Civilizations II: Dread Lords, la expansión ganadora de varios premios Dark Avatar y el último paquete de expansión Twilight of the Arnor!
Galactic Civilizations II: Dread Lords:
Galactic Civilizations II es la secuela al juego de estrategia por turnos homónimo que fue un éxito en 2003. El jugador toma el papel del líder de una civilización viajera del espacio y debe guiar su expansión en una galaxia hostil. Los jugadores deben equilibrar su poder económico, tecnológico, diplomático, cultural y militar para forjar alianzas, luchar guerras y, en última instancia, dominar la galaxia. El juego es para un solo jugador, y permite jugar mapas galácticos generados aleatoriamente o jugar una campaña de varias misiones que cuenta la historia de un enemigo ancestral llamado los Dread Lords.
Galactic Civilizations II: Dark Avatar:
La expansión para el juego de estrategia ganador de varios premios de Stardock, Galactic Civilizations II: Dread Lords. Este paquete de expansión no solo añade el contenido típico que las expansiones suelen aportar, como nuevos oponentes, unidades nuevas y una nueva campaña. También expande enormemente la jugabilidad de Galactic Civilizations II. Las características nuevas incluyen cinturones de asteroides en los mapas que pueden ser explotados para obtener recursos, planetas únicos que requieren tecnologías especiales para ser colonizados, espías para llevar a cabo sabotajes y desestabilizaciones (o para proteger tus planetas de éstos), nuevos tipos de tratados diplomáticos, una inteligencia artificial mejorada ¡y mucho más!
Galactic Civilizations II: Twilight of the Arnor:
Año 2227. El fuego de la guerra está consumiendo la galaxia gracias a las maquinaciones de los malvados Dread Lords. Sin embargo, las facciones restantes, lideradas por los humanos, tienen un plan para borrar de una vez por todas los Dread Lords de la galaxia.
Expande el universo de Galactic Civilizations II con Estrellas del Terror, árboles de tecnologías únicos para las civilizaciones, editores de mapa, creadores de escenarios personalizados, editores de campañas, nuevos tipos de naves, mejoras planetarias nuevas ¡y mucho más!
Características principales:
Un estupendo motor 3D que da vida a planetas, estrellas, asteroides y batallas espaciales.

Crea naves personalizadas en 3D, pieza por pieza, en tus Astilleros.

Juega como una de las doce civilizaciones únicas, o crea tus propias.

Múltiples caminos a la victoria: conquista militar, dominación cultural, alianza política, supremacía tecnológica o ascensión.

Jugabilidad adictiva: galaxias dinámicas que van desde diminutas a gigantescas.

La inteligencia artificial superior multiproceso permite que los jugadores controlados por el ordenador presenten un desafío sin tener que usar trucos.

Sube tus puntuaciones en línea mediante Metaverse y compite con jugadores de alrededor del mundo.

Un diseño totalmente modificable permite a los jugadores crear oponentes, gráficos y escenarios únicos.

La diplomacia avanzada permite a los jugadores comerciar, firmar tratados, crear alianzas y muchas más cosas.
Requisitos del sistema
Operating system:Windows® XP SP3 / Vista™ SP2 / Windows® 7

Processor: Intel® Pentium® III 1 GHz (or AMD equivalent)

Memory: 512 MB (1 GB for Windows 7 / Vista)

Hard disk space: 2 GB

Video:64 MB DirectX 9.0c Compatible Video Card

Sound: DirectX® 9.0c Compatible Sound Card

DirectX®: DirectX® 9.0c


Other Requirements: Broadband Internet connection, also to activate this game you must create a Stardock account while launching the game on Steam.
© Stardock Entertainment. Galactic Civilizations II is a registered trademark of Stardock Entertainment. All rights reserved.
Análisis útiles de usuarios