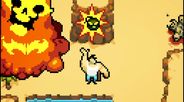 ¡Elige tus armas y sumérgete en la aventura más aleatoria de Serious Sam hasta el momento!
Fecha de lanzamiento: 24 Oct 2011
Ver los 2 trailers
Comprar Serious Sam: The Random Encounter
Paquetes que incluyen este juego
Comprar Serious Sam Complete Pack
Incluye 11 artículos: Serious Sam HD: The First Encounter, Serious Sam Classic: The First Encounter, Serious Sam Classic: The Second Encounter, Serious Sam 3: BFE, Serious Sam Double D XXL, Serious Sam: The Random Encounter, Serious Sam 2, Serious Sam HD: The Second Encounter - Legend of the Beast DLC, Serious Sam HD: The Second Encounter, Serious Sam 3: Jewel of the Nile, Serious Sam 3: BFE Bonus Pack
Acerca del juego
El legendario Serious Sam recarga y se rearma en un explosivo RPG por turnos desarrollado por el equipo indie Vlambeer (Super Crate Box, Ridiculous Fishing). Serious Sam: The Random Encounter sigue a Sam y a su banda de pintorescos mercenarios en su lucha a lo largo y ancho de un mundo pixelado rebosante de batallas caóticas, hordas de extrañas criaturas y misteriosos secretos. ¡Escoge tus armas y apunta a la aventura más aleatoria hasta la fecha de Serious Sam!
Saga indie de Serious Sam
La saga indie de Serious Sam es un extraordinario programa puesto en marcha por Croteam y Devolver Digital para formar equipo con los desarrolladores independientes más creativos y diseñar una saga de juegos de Serious Sam radicalmente únicos, en una gran variedad de estilos y géneros.
Características Principales:
Alucina por turnos: Lucha en tres mundos del pandemonium con Serious Sam y su banda de duros mercenarios enfrentándote a legiones de implacables criaturas dispuestas a arruinarte el día. Escoge tus armas y prepárate para masacrar sin piedad a implacables enemigos que te atacarán desde cualquier dirección

Diseño visual extraordinario: Contempla la brutalidad pixelada de la lucha de Serious Sam con unos gloriosos gráficos estilo retro. Visita exóticas localizaciones en Egipto y peligrosas cavernas abarrotadas de retorcidas hordas de Mental. ¡Lucha por tierra o enfréntate a las variantes acuáticas de los clásicos enemigos de Serious Sam en escaramuzas submarinas que no tienen nada que ver con lo que Sam había afrontado antes!

Estrategia seria: Nada de magia, hijo. Escoge entre una gran variedad de objetos dinámicos para mejorar las estadísticas de tu grupo, lanzar un cebo a los Kamikazes Decapitados o poner un devastador fin con la poderosa Bomba Seria

Modo Desafío: Enfréntate a oleadas infinitas de algunos de los más aterradores siervos de Mental para intentar conseguir la puntuación más alta y obtener la admiración de amigos y familiares
Serious Sam: The Random Encounter ha sido creado por el duo independiente de holandeses Rami Ismail y Jan Willem Nijman, y contiene un excelente arte pixelado creado por Roy Nathan de Groot y el animador de píxeles Paul Veer. La música estilo chiptune del juego ha sido creada por Alex Mauer y los trailers han sido producidos por el mago del vídeo canadiense Kert Gartner.
Requisitos del sistema
SO: Windows XP / Vista / 7

Procesador: 2.0 GHz o superior

Memoria: 1 GB de RAM

Disco Duro: 100 MB de espacio libre

Gráficos: Gráfica con 256 MB o más de VRAM y compatible con DirectX 8 o posterior

Versión de DirectX®: 8.0 o posterior
© 2011 Croteam Ltd. Serious Sam, The Serious Sam logo, Croteam and the Croteam logo are trademarks and/or registered trademarks of Croteam. All rights reserved.
Análisis útiles de usuarios