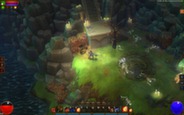 De bekroonde actie-RPG is terug, groter en beter dan ooit! Torchlight II neemt je terug naar een eigenzinnige wereld met een hoog tempo, vol bloeddorstige monsters, overvloedige schatten en sinistere geheimen - en weer ligt het lot van de wereld in jouw handen!
Releasedatum: 20 sep 2012
Alle 2 trailers bekijken
Torchlight II 4-pack kopen
Bevat vier exemplaren van Torchlight II - Stuur de extra exemplaren naar je vrienden!
Recensies
"Torchlight II is a sprawling, ambitious game that does one thing very, very well. It gives you a world you'll want to explore, filled with enemies you'll love to destroy."

- Kotaku

"Torchlight is a vibrant, fun, steampunky world, and exploring it is an absolutely addictive pleasure."

4.5/5 - Joystiq

"Not to be missed by anyone who considers themselves a fan of the proud tradition of action RPGs"

5/5 - Gamespy

"With most games of this caliber retail at $60, it might sound ludicrous that Torchlight 2 only costs $20 – because it is."

9/10 - Machinima

"Grab the game, grab some friends, and get to clicking."

9/10 - Destructoid
Steam Workshop


Torchlight 2 now fully supports Steam Workshop. A new launcher synchronizes any mods you have subscribed to, and lets you customize their activation state and loading priority. In addition, when playing Internet games in the lobby, you will be able to filter modded games by mod combination, and with a single button click, subscribe to those mods. Torchlight 2 will then restart, synchronize them, and activate them before returning you to the game.

When playing modded games, you can view your mod history, any previously played mods, and the impact disabling mods may have on your character.

We've tried to make the process as seamless as possible, with a focus on allowing modded multiplayer games with a minimum of fuss.
GUTS
GUTS is our in-house development tool, now fully integrated with Steam Workshop. You can publish directly to Steam Workshop when you compile your mod, making it available immediately for others to play.

We've also added a special tool to GUTS designed to convert pre-GUTS mods into the official mod format, with an eye toward making the transition much easier for our ambitious early modders.

You can learn more about using GUTS here.
New Content
This release also includes new game content!

The NetherRealm tileset - new NetherRealm dungeons can be found via portals throughout the world

New Monsters

New armor sets

New weapons

New pets - including the Headcrab!

New endgame map content

Some additional new dungeons in New Game plus modes in large overworld areas
Info over het spel
De bekroonde actie-RPG is terug, groter en beter dan ooit! Torchlight II neemt je terug naar een eigenzinnige wereld met een hoog tempo, vol bloeddorstige monsters, overvloedige schatten en sinistere geheimen - en weer ligt het lot van de wereld in jouw handen!
Torchlight II brengt de kwaliteit en de opwinding van het originele spel - met een uitgebreide wereld en toegevoegde functies die spelers het meest wilden, inclusief online en LAN co-op multiplayer. Torchlight II is snel, leuk, en tot de rand gevuld met actie en buit. Ga alleen of online met je vrienden op avontuur!
Belangrijkste kenmerken:
Multiplayer - Speel co-op met je vrienden via LAN of gratis via het internet. Geen abonnementen, geen verkoop van items. Onze nieuwe matchmaking-service geeft je de mogelijkheid vrienden te vinden, nieuwe spellen te starten en deel te nemen aan bestaande spellen. En zoals altijd kun je ook offline singleplayer spelen.

Aanpasbare personages - Spelers zullen uit één van de vier gloednieuwe classes een personage maken en aanpassen. Elke class kan zowel als man als vrouw gespeeld worden, met aangepaste cosmetische eigenschappen en looks om elk individueel personage op te laten vallen. Alle nieuwe vaardigheden en buit geven veel kans voor unieke opbouw van de personages.

Moddability - TorchED, de Torchlight II-editor, geeft spelers de mogelijkheid om hun eigen mods te maken en nog meer inhoud aan de wereld toe te voegen. Laat je vrienden dezelfde mod downloaden en speel samen. TorchED zal vlak na de lancering beschikbaar zijn als aparte download.

Nieuwe gebruikersinterface - Torchlight II heeft een nieuwe en verbeterde gebruikersinterface, ontworpen om nieuwe spelers het spel sneller op te laten pikken en spelen. Deze intuïtieve interface zorgt ervoor dat je op het spel kan focussen zoals jij dat wilt.

Open wereld - We zijn niet meer alleen in de stad van Torchlight! Ontdek uitgestrekte gebieden en meerdere hub-steden, vecht door regen, sneeuw, dag en nacht. Onze willekeurig gegenereerde levels verzekeren nieuwe lay-outs, paden, buit en monsters, elke keer dat je speelt.

New Game Plus - In New Game Plus is het spel niet voorbij totdat jij het zegt. Zodra je Torchlight II's primaire campaign hebt uitgespeeld, kan je opnieuw beginnen met hetzelfde personage voor een aanzienlijk grotere uitdaging. Je zult al je vaardigheden, goud en uitrusting, waar je zo hard voor hebt gewerkt, houden!

Huisdieren en vissen - Deze populaire functies maken hun terugkeer in Torchlight II in verbeterde vorm. Meer keuzes, betere effecten, en je huisdier zal nog steeds naar de stad rennen om je buit te verkopen zodat jij dat niet hoeft te doen.
Systeemeisen
OS: Windows XP SP3/Vista/Windows 7

Processor: x86-compatible 1.4GHz or faster processor

Memory: 1GB System RAM

Hard Disk Space: 1.2GB free space (subject to change)

Video Card: DirectX compatible 3D graphics card with at least 256MB of addressable memory.

DirectX®: 9.0c
Nuttige klantrecensies