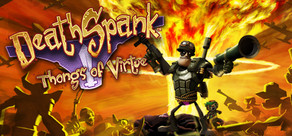 Deathspank and Deathspank: Thongs of Virtue are now available on the Mac!
Utgivningsdatum: 30 nov, 2010
Nyligen uppdaterat
Just in time for the holidays! Following two DLCs have been added to the game, free of charge!
The Snowy Mountain Dungeon
Be alert brave hero! A freezing yet terrifying dungeon has opened up in the Snowy Mountains! Horrible enemies of ice, flesh and terror await DeathSpank in this, the greatest expansion of all time!
Tankko the Warrior
A new warrior is ready to join the battle for Justice! Tankko the warrior is half-man, half-monster, all awesome! Tankko inspires fear in enemies and slight discomfort among friends.
Om spelet
Följ DeathSpank i jakten om Dygdens Trosor! Kämpa din väg genom krigsslitna slagfält, bemästra Högplatåerna och segla i de vilda haven. Upplev tempofylld action-RPG kamp med över 150 uppdrag och massvis med vapen, rustningar och byten.
Huvudkännetecken:
Hysterisk NY historia av EPISKA Proportioner: Guida DeathSpank i en helt ny resa som sträcker sig över massiva krigsslitna slagfält, vilda hav, och mer när han jagar magiska trosor för att slutligen kunna kombinera deras krafter och skapa frid och harmoni i universum.
Helt NYA byten att Samla!: Utplåna ondskan med hjälp av en helt ny uppsättning av vapen, rustningar, och byten som sträcker sig över olika tidsepoker.
Sidekick Co-Op Mode är TILLBAKA, och den Hämtade En Vän:: Ta en vän och välj en av två hysteriskt roliga sidekicks för att rädda världen i lokalt samarbetsläge. Använd dina magiska förmågor som trollkarlen Sparkles eller dina kung-fu drag som den ninjatastiska Steve.
Massor av roliga NYA Uppdrag och Karaktärer: Kriga din väg genom över 150 nya uppdrag och pusselmoment och möt en helt ny grupp av roliga karaktärer i det roligaste spelet någonsin som handlar om...trosor.
Systemkrav (PC)
Operativsystem: Windows XP/Vista/Windows 7
Processor: Intel Pentium 4 (eller motsvarande med stöd för SSE2) som kör på 1.7 GHz eller bättre
Minne: 1 GB ram, 1.5 GB (Vista och Windows 7)
Hårddiskutrymme: Minst 2 GB ledigt hårddiskutrymme
Grafikkort: ATI Radeon X1900 GT 256MB och Nvidia GeForce 6800 Ultra 256MB-kortet; Shader 2.0 och stöd för 24-bit depth buffer
DirectX®: DirectX9 juni 2010
Krav för lokal co-op: En kontroll krävs för den andra spelaren
Systemkrav (MAC)
Operativsystem: Mac OS X v10.5.8 eller v10.6+
Processor: Intel
CPU-hastighet: 1.8 GHz
Minne: 1.5 GB RAM
Hårddiskutrymme: 2 GB ledigt diskutrymme
Grafikkort: ATI Radeon x1900 eller bättre / NVIDIA 8600 eller bättre
Grafikminne (VRAM): 128 MB eller högre
DeathSpank and the DeathSpank logo, Hothead and the Hothead Games Logo are trademarks or registered trademarks of Hothead Games, Inc. in the U.S., Canada and other countries.
Hjälpsamma kundrecensioner