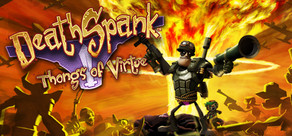 Deathspank and Deathspank: Thongs of Virtue are now available on the Mac!
Utgivelsesdato: 30. nov, 2010
Nylig oppdatert
Just in time for the holidays! Following two DLCs have been added to the game, free of charge!
The Snowy Mountain Dungeon
Be alert brave hero! A freezing yet terrifying dungeon has opened up in the Snowy Mountains! Horrible enemies of ice, flesh and terror await DeathSpank in this, the greatest expansion of all time!
Tankko the Warrior
A new warrior is ready to join the battle for Justice! Tankko the warrior is half-man, half-monster, all awesome! Tankko inspires fear in enemies and slight discomfort among friends.
Om spillet
Bli med DeathSpank i jakten på Dydens Tangatruser! Kjemp deg gjennom krigsherjede slagmarker, tem de høye slettene og seil de uregjerlige sjøene. Opplev fartsfylt action-RPG combat med over 150 oppdrag og tonnevis av våpen, rustninger og plyndregods å samle opp.
Viktige Funksjoner:
Hysterisk NY Historie av EPISKE Proposjoner: Guide DeathSpank gjennom et helt nytt eventyr som spenner seg over massive krigsherjede slagmarker, uregjerlige sjøer og mer, mens han jakter ned de magiske trusene i et forsøk på å slå sammen deres krefter og skape fred gg harmoni i universet.
Helt NYTT Plyndregods å Samle Opp!: Overvinn ondskap ved hjelp av et helt nytt arsenal av våpen, rustninger, og plyndregods spredd over forskjellige historiske epoker.
Sidekick Co-Op Mode er TILBAKE, og det Tok Med Venn: Ta tak i en venn og velg en av to hysteriske medhjelpere for å hjelpe til med å redde verden i samarbeids-basert sofa spill. Bruk dine magiske evner som trollmannen Sparkles, eller kung-fu triksene som den nye ninjatastiske Steve.
Tonnevis av Hysteriske NYE Eventyr og Figurer: Slåss deg gjennom over 150 nye oppdrag og puslespill og møt en splitter ny gruppe hysteriske figurer i det morsomste spillet noensinne som innvolverer...truser.
Systemkrav (PC)
OS: Windows XP/Vista/Windows 7
Processor: Intel Pentium 4 (or equivalent with SSE2 support) running at 1.7 GHz or greater
Memory: 1 GB of ram, 1.5 GB (Vista and Windows 7)
Hard Disk Space: at least 2 GB of free HD space
Video Card: ATI Radeon X1900 GT 256MB and the Nvidia GeForce 6800 Ultra 256MB cards; Shader 2.0 and 24 bit depth buffer support required
DirectX®: DirectX9 Jun 2010
Local co-op requirements: A controller is required for the second player
Systemkrav (MAC)
OS: Mac OS X v10.5.8 or v10.6+
Processor: Intel
CPU Speed: 1.8 GHz
Memory: 1.5 GB RAM
Hard Disk Space: 2 GB free disk space
Video Card: ATI Radeon x1900 or better / NVIDIA 8600 or better
Video Memory (VRAM): 128 MB or higher
DeathSpank and the DeathSpank logo, Hothead and the Hothead Games Logo are trademarks or registered trademarks of Hothead Games, Inc. in the U.S., Canada and other countries.
Hjelpsomme kundeanmeldelser