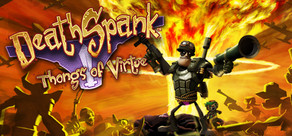 Deathspank and Deathspank: Thongs of Virtue are now available on the Mac!
Data de lançamento: 30 Nov, 2010
Atualizado recentemente
Just in time for the holidays! Following two DLCs have been added to the game, free of charge!
The Snowy Mountain Dungeon
Be alert brave hero! A freezing yet terrifying dungeon has opened up in the Snowy Mountains! Horrible enemies of ice, flesh and terror await DeathSpank in this, the greatest expansion of all time!
Tankko the Warrior
A new warrior is ready to join the battle for Justice! Tankko the warrior is half-man, half-monster, all awesome! Tankko inspires fear in enemies and slight discomfort among friends.
Acerca do Jogo
Junta-te a DeathSpank na busca das Tangas da Virtude! Luta em campos de batalha separados pela guerra, domina as Planícies Altas e navega os mares selvagens. Experiencia combates cheios de ação no estilo RPG com mais de 150 demandas e montes de armas, armaduras e itens para colecionar.
Principais Características:
NOVA História Hilariante de Proporções ÉPICAS: Guia DeathSpank numa nova aventura ao longo de campos de batalha massivos, mares selvagens, e muito mais enquanto ele procura tangas mágicas num esforço para combinar os seus poderes e criar paz e harmonia no universo.
NOVOS itens para colecionar!: Elimina o mal usando uma nova gama de armas, armaduras e itens ao longo de várias eras da história.
O Modo Cooperativo está de VOLTA, e trouxe um amigo: Joga com um amigo e escolhe um de dois companheiros hilariantes para ajudar a salvar o mundo no modo cooperativo. Usa as tuas habilidades mágicas como Sparkles, o feiticeiro, ou os teus movimentos kung-fu com o novo ninjatástico Steve.
Montes de NOVAS demandas e personagens hilariantes : Luta em mais de 150 novas demandas e quebra-cabeças e fica a conhecer um novo elenco de personagens hilariantes no jogo mais engraçado de sempre envolvendo... tangas.
Requisitos de Sistema (PC)
OS: Windows XP/Vista/Windows 7
Processor: Intel Pentium 4 (or equivalent with SSE2 support) running at 1.7 GHz or greater
Memory: 1 GB of ram, 1.5 GB (Vista and Windows 7)
Hard Disk Space: at least 2 GB of free HD space
Video Card: ATI Radeon X1900 GT 256MB and the Nvidia GeForce 6800 Ultra 256MB cards; Shader 2.0 and 24 bit depth buffer support required
DirectX®: DirectX9 Jun 2010
Local co-op requirements: A controller is required for the second player
Requisitos de Sistema (Mac)
OS: Mac OS X v10.5.8 or v10.6+
Processor: Intel
CPU Speed: 1.8 GHz
Memory: 1.5 GB RAM
Hard Disk Space: 2 GB free disk space
Video Card: ATI Radeon x1900 or better / NVIDIA 8600 or better
Video Memory (VRAM): 128 MB or higher
DeathSpank and the DeathSpank logo, Hothead and the Hothead Games Logo are trademarks or registered trademarks of Hothead Games, Inc. in the U.S., Canada and other countries.
Análises úteis de clientes