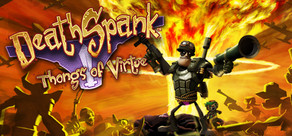 Deathspank y Deathspank: Thongs of Virtue ahora disponibles para Mac.
Fecha de lanzamiento: 30 de Nov, 2010
Recién actualizado
¡Justo a tiempo para las vacaciones! ¡Se han añadido los siguientes DLCs para el juego, sin ningún coste adicional!
La Mazmorra de las Montañas Nevadas
¡Ten cuidado valiente héroe! ¡Una helada y terrorífica mazmorra se acaba de abrir en las Montañas Nevadas! ¡Horribles enemigos de fuego, de carne y hueso y de terror aguardan a DeathSpank en la mayor expansión de todos los tiempos!
Tankko el Guerrero
¡Un nuevo guerrero está listo para unirse a la batalla por la justicia! Tankko el guerrero es medio hombre, medio monstruo y totalmente increíble! ¡Tankko inspira miedo en sus enemigos y un ligero malestar entre sus amigos.
Acerca del juego
¡Únete a DeathSpank en la búsqueda de los Tangas de la Virtud! Lucha a través de campos de batalla devastados por la guerra, domina el Altiplano y navega por los salvajes mares. Experimenta el rápido ritmo de combate de acción-RPG con más de 150 misiones y toneladas de armas, armaduras y botines para coleccionar.
Características clave:
NUEVA y divertida historia de proporciones épicas: Guía a DeathSpank en todos sus nuevos viajes, que abarcan grandes campos de batalla devastados por la guerra, mares salvajes, y más mientras reúne tangas mágicos, en un esfuerzo por combinar sus poderes y conseguir la paz y la armonía en el universo.
NUEVO botín por conseguir: Vence al mal usando todo un nuevo arsenal de armas, armaduras, y botines que abarcan distintas épocas de la historia.
El modo cooperativo Compañero ha vuelto, y con un amigo: Trae a un amigo y elige uno de los dos divertidos compañeros para ayudar a salvar el mundo en juego cooperativo de sofá. Usa tus habilidades mágicas como Sparkles el mago o tus movimientos de kung-fu como el nuevo y ninjástico Steve.
Montones de NUEVAS y divertidas misiones y personajes: Combate a tu manera durante más de 150 misiones y rompecabezas y conoce al nuevo y divertido reparto de personajes del más cómico juego jamás creado sobre... tangas.
Requisitos del sistema (PC)
SO: Windows XP / Vista / Windows 7
Procesador: Intel Pentium 4 (o equivalente) a 1.7 GHz o mejor
Memoria: 1 GB de RAM, 1.5 GB en Vista y Windows 7
Disco Duro: 2 GB de espacio libre
Gráficos: ATI Radeon X1900 GT con 256 MB y nVidia GeForce 6800 Ultra con 256 MB; necesaria compatibilidad con Shader 2.0 y depth buffer de 24 bits
DirectX®: DirectX9 Jun 2010
Requisitos de coop local: Es necesario un controlador para el segundo jugador
Requisitos del sistema (MAC)
SO: Mac OS X v10.5.8 o v10.6+
Procesador: Intel
Velocidad de CPU: 1.8 GHz
Memoria: 1.5 GB de RAM
Disco Duro: 2 GB de espacio libre
Gráficos: ATI Radeon x1900 o superior / nVidia 8600 o superior
Memoria Gráfica (VRAM): 128 MB o más
DeathSpank and the DeathSpank logo, Hothead and the Hothead Games Logo are trademarks or registered trademarks of Hothead Games, Inc. in the U.S., Canada and other countries.
Análisis útiles de usuarios