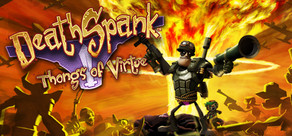 Deathspank en Deathspank: Thongs of Virtue zijn nu beschikbaar op de Mac!
Releasedatum: 30 nov 2010
Onlangs bijgewerkt
Just in time for the holidays! Following two DLCs have been added to the game, free of charge!
The Snowy Mountain Dungeon
Be alert brave hero! A freezing yet terrifying dungeon has opened up in the Snowy Mountains! Horrible enemies of ice, flesh and terror await DeathSpank in this, the greatest expansion of all time!
Tankko the Warrior
A new warrior is ready to join the battle for Justice! Tankko the warrior is half-man, half-monster, all awesome! Tankko inspires fear in enemies and slight discomfort among friends.
Info over het spel
Ga met DeathSpank op jacht naar de Thongs of Virtue! Vecht een weg door bloederige slagvelden, tem de Verhoogde Vlakten en zeil over de zwarte zeeën! Ervaar bliksemsnelle action-RPG combat met meer dan 150 quests en belachelijk veel wapens, harnassen en ander spul om te verzamelen!
Hoofdkenmerken:
Hilarisch NIEUW verhaal van EPISCHE omvang: Stuur DeathSpank op pad naar een nieuw avontuur dat hem naar immense en bloederige slagvelden brengt, evenals woeste wateren en meer van dat soort dingen, terwijl hij op zoek is naar magisch ondergoed. Hopelijk zal het combineren van dit onnatuurlijk ondergoed ertoe leiden dat het eindelijk pais en vree wordt in de wereld!
Een HOOP om te verzamelen: Verpletter de vijand met een nieuw arsenaal aan wapens, harnassen en overig spul dat uit verschillende tijdperken van de geschiedenis komt!
Sidekick Co-op-modus is TERUG, en het is dit keer niet alleen: Sleur een vriend mee en kies één van de twee hilarische sidekicks om gezamenlijk de wereld te redden vanuit je luie stoel! Laat je magie knetteren als Vonk de Tovenaar, of kies ervoor om de vijand in de pan te hakken met Stefans fantastische kungfutechniek!
Idioot veel NIEUWE quests en personages: Meer dan 150 nieuwe quests en puzzels staan voor je klaar, en alsof dat nog niet goed genoeg is, zul je ook nog eens een gloednieuwe en bonte verzameling personages tegenkomen in het grappigste spel ooit waarin een grote rol is weggelegd voor... ondergoed.
Systeemeisen (PC)
OS: Windows XP/Vista/Windows 7
Processor: Intel Pentium 4 (or equivalent with SSE2 support) running at 1.7 GHz or greater
Memory: 1 GB of ram, 1.5 GB (Vista and Windows 7)
Hard Disk Space: at least 2 GB of free HD space
Video Card: ATI Radeon X1900 GT 256MB and the Nvidia GeForce 6800 Ultra 256MB cards; Shader 2.0 and 24 bit depth buffer support required
DirectX®: DirectX9 Jun 2010
Local co-op requirements: A controller is required for the second player
Systeemeisen (Mac)
Besturingssysteem: Mac OS X v10.5.8 of v10.6+
Processor: Intel
CPU-snelheid: 1.8 GHz
Geheugen: 1.5 GB RAM
Schijfruimte: 2 GB vrije schijfruimte
Videokaart: ATI Radeon x1900 of beter / NVIDIA 8600 of beter
Videogeheugen (VRAM): 128 MB hoger
DeathSpank and the DeathSpank logo, Hothead and the Hothead Games Logo are trademarks or registered trademarks of Hothead Games, Inc. in the U.S., Canada and other countries.
Nuttige klantrecensies