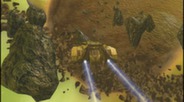 Gemini ist ein gefährlicher Ort voller Reichtümer, die darauf warten, von einem tapfereren und fähigeren Kapitän beansprucht zu werden.
Veröffentlichung: 16 Feb. 2012
HD-Video ansehen
Inhalte zum Herunterladen für dieses Spiel
Über das Spiel
Starpoint Gemini ist ein taktisch anspruchsvoller Weltraumsimulator mit Rollenspielcharakter, dessen Fokus auf den individuellen Stärken und Schwächen der zahlreichen Vehikel liegt. In den groß angelegten Schlachten von SPG entscheiden die Fähigkeiten der Schiffskapitäne über Sieg oder Niederlage. Angesiedelt ist das Spiel in einem Science-Fiction-Universum, in dem sich mehrere Technologiezweige unabhängig voneinander entwickelt haben.
Nach einer fast zwanzigjährigen Phase in einer sogenannten Zeitriss-Anomalie, findet sich der Protagonist ohne das Wissen über seine lange Abwesenheit im normalen Raum, genauer im Gemini-System, wieder, jedoch hat sich alles um ihn herum bis zur Unkenntlichkeit verändert.
Einst diente ein Sprungtor als Zugang zum Gemini-System, doch das Wurmloch schloss sich bereits vor zwei Jahrzehnten und schnitt das System damit praktisch vom Rest des Universums ab. Die Isolation und das Auftreten unzähliger Anomalien sorgten dafür, dass es zu gewaltigen technologischen Fortschritten kam. Politische Intrigen, die Raffgier und das Verlangen nach Macht jedoch haben Gemini gezeichnet und der Tag der Abrechnung steht unmittelbar bevor.
Die Spieler haben die Möglichkeit, die abwechslungsreichen und von Leben erfüllten Weiten des Gemini-Sternsystems nach freiem Willen zu durchqueren, Gefechte gegen Verbrecherbanden zu führen, Handel zu treiben, Anomalien zu erforschen, neue Schiffe zu kaufen oder diese mit der neuesten Technologie aufzurüsten, in Erfahrung und Rang aufzusteigen, um neue Manöver zu erlernen und sich schließlich in gewaltige Schlachten gegen feindliche Flotten zu werfen. Gemini ist ein gefährlicher Ort, dessen Reichtümer nur den waghalsigsten und fähigsten Kapitänen vorbehalten sind.
Hauptmerkmale:
Frei erkundbarer Weltraum

Das weitläufige und interessante Gemini-Sternsystem ist in mehr als fünfzig riesige Sektoren unterteilt, welche durch Hyperraumtore, den sogenannten T-Gates, miteinander verbunden sind.

Die zahlreichen Raumstationen und Minenbasen, die ausgedehnten Asteroidenfelder mit Rohstoffschätzen, die dichten Nebelwolken, die zufällig auftretenden Anomalien und die Treffen mit fremden Schiffen, darunter Piraten, Handelskonvois und Militärpatrouillen, sorgen für eine mitreißende, eindrucksvolle Spielerfahrung in einem lebendigen Sternsystem.

Eine tiefgründige Handlung, gefüllt mit Intrigen und Verschwörungen, begleitet den Spieler durch die Geschichte.

Diverse geskriptete Nebenmissionen bieten Abwechslung zum Hauptplot und gewähren Einblick in die Welt des Gemini-Systems.

Über 300 Freelancer-Missionen in den zahlreichen Raumstationen warten darauf, von Ihnen angenommen zu werden.

Das Interface ist benutzerfreundlich und intuitiv.

Dank einer breitgefächerten Auswahl an Fähigkeiten, lässt sich das Raumschiff mit über 30 verschiedenen Manövern aufrüsten.

Ein Aufstieg im Rang ermöglicht unter anderem den Kauf größerer Schiffsklassen.

Wählen Sie aus vielen unterschiedlichen Attributen, die Ihnen passive Boni verschaffen.

Jedes Raumschiff verfügt über spezielle Fähigkeiten, wodurch auch kleinere Klassen eine wichtige Rolle in großen Schlachten spielen.

Rüsten Sie Ihr Gefährt mit über 300 verschiedenen Bauteilen von Waffen über Energieschilden und Antriebskernen bis hin zu kräftigen Schubdüsen auf.

Heuern Sie erfahrene Mitglieder für Ihre Crew an, um Fähigkeitsboni zu erhalten.

Von Zeit zu Zeit treten globale Ereignisse ein, die nahezu alle Bereiche der Spielwelt betreffen (wie etwa Piratenüberfälle oder Veränderungen der Rohstoffpreise).

Ein übersichtliches "Kapitänslogbuch" ermöglicht es Ihnen, den Überblick über alle Missionen und Ereignisse zu behalten.
Kostenlose Inhalte des Gladiators DLC:
Vier neue Raumschiffe, die der ohnehin schon großen Zahl an Vehikeln hinzugefügt werden

50 neue Spezialsysteme, die ausschließlich über Siege im Gladiators-Turnier gewonnen werden können.

Ein neuer Sektor von Gemini, namens Outer Horizon, in dem das Spezialturnier stattfindet

Eine Reihe neuer Gefechtsszenarien wie allgemeine und Team-Kämpfe

Komplett kostenlos als Dank an unsere Spieler für die Unterstützung bei der Entwicklung und Verbesserung von Starpoint Gemini
Systemvoraussetzungen
Minimum:


Betriebssystem: Windows XP, Windows Vista oder Windows 7

Prozessor: 2,0 GHz Single Core

Speicher: 768 MB RAM

Grafik: DirectX 9.0c-kompatible Grafikkarte mit 128 MB RAM, Shader 3.0 oder besser

DirectX®: 9.0c

Festplatte: 3 GB freier Speicherplatz

Sound: DirectX 9.0c-kompatible Soundkarte
Starpoint Gemini © 2011 Little Green Men Games. Developed by Little Green Men Games. Licensed exclusively worldwide to and published by Iceberg Interactive B.V. All brands, product names, and logos are trademarks or registered trademarks of their respective owners. All rights reserved. Made in Europe.
Hilfreiche Kundenreviews