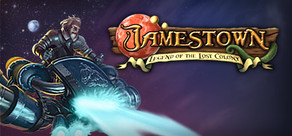 "... il feeling con le armi, la musica, il ritmo, è tutto favoloso.
Data di rilascio: 8 giu 2011
Guarda video HD
Pacchetti che includono questo gioco
Acquista Jamestown Deluxe Pack
Include 3 oggetti: Jamestown, Jamestown: Gunpowder, Treason, & Plot, Jamestown Soundtrack
Acquista Jamestown Soundtrack
Contenuti scaricabili per questo gioco
Recensioni
"... il feeling con le armi, la musica, il ritmo, è tutto favoloso."
– Rock, Paper, Shotgun
Informazioni sul gioco
Jamestown: Legend Of The Lost Colony
è uno sparatutto neoclassico con visuale dall'alto per 4 giocatori, ambientato nelle Colonie Marziane Britanniche del 17° secolo. 'Jamestown' veicola tutta l'intensità, la profondità e i pixel amorevolmente cesellati a mano degli shooter arcade classici, arricchendo però la formula tradizionale con un'aggiunta moderna: un gameplay cooperativo profondamente integrato nella struttura del gioco.
Rispetto alla maggior parte degli sparatutto top-down, che forniscono ai giocatori una manciata di vite e continue, 'Jamestown' offre qualcosa di diverso. Fintantoché un giocatore sopravvive, la squadra può essere riportata in vita. Concedendo ad ogni giocatore l'abilità di salvare la propria squadra dall'annientamento, 'Jamestown' instaura un'esperienza cooperativa esilarante, dove il contributo di ciascuno conta veramente. Sia se vince, sia se perde, la tua squadra lo farà insieme.
Caratteristiche Principali:
Apriti la strada a colpi di arma da fuoco attraverso il pianeta Marte del Seicento, per mezzo di una squadra composta da fino a 4 giocatori in modalità cooperativa locale.

Goditi e meravìgliati di fronte agli sconfinati paesaggi in pixel-art amorevolmente cesellati a mano.

Aiuta un avventuriere a fuggire e a trovare riscatto attraverso una trama frenetica.

Epiche composizioni orchestrali firmate da Francisco Cerda: una diversa per ciascun livello.

Sfida con coraggio le frontiere marziane nemiche grazie alla selezione eccellente del migliore armamentario steampunk del 1619.

Padroneggia le innovative meccaniche co-op che ripropongono i fasti degli shooter top-down dell'era d'oro.

Metti alla prova le tue abilità negli oltre 20 livelli bonus, ciascuno fondato su una particolare regola.

Percorri tutta d'un fiato la modalità arcade "Gauntlet", e gioca Jamestown come se fosse il 1996.

Domina il peculiare sistema di punteggio al fine di scalare le leaderboard online.

Sblocca gli oltre 30 Achievement Steam... se ci riesci!
Requisiti di sistema (PC)
Sistema Operativo: Microsoft® Windows® XP con SP2 / Vista / 7

Processore: Intel® Pentium™ 4 a 2.4 GHz o superiore

RAM: 512 MB

Hard Disk: 250 MB di spazio libero

Scheda Video: Qualunque scheda con supporto OpenGL 2.0 e almeno 256 MB di VRAM

DirectX®: DirectX® 9.0c

Altro: Per ogni giocatore serve una tastiera o un pad, oppure un mouse. Il gioco supporta più di un mouse o più di una tastiera collegati contemporaneamente. Il mouse deve essere a 3 pulsanti.
Requisiti di sistema (MAC)
OS: OS X version Leopard 10.5.8, Snow Leopard 10.6.3, or later.

Processor: Intel® Core2 Duo 2.1 Ghz or better

Memory: 2 GB RAM

Hard Disk Space: 250 MB

Video Card: Any OpenGL 2.0 graphics card with 256MB+ video RAM

DirectX®:

Additional: One keyboard, controller, or mouse required per player. Supports multiple joysticks. 3-buttons required for mouse play.

Recensioni utili dai clienti
Premi