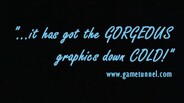 Stap in de wereld van het interstellair reizen, waar Space Pirates in elke hoek op de loer liggen. Kaptain Brawe gaat op een trip gevuld met queestes, complotten en algemene chaos.
Releasedatum: 20 jan 2011
HD-video bekijken
This product does not have support for your local language. Please review the supported language list below before purchasing
6 maart 2014
The new updated version for PC/Mac now supports the following 10 languages: English, French, Italian, German, Spanish, Russian, Chinese, Japanese, Korean, Portuguese
8 opmerkingen
Meer informatie
Info over het spel
Step into the world of interstellar travel, where Space Pirates lurk at every corner. Kaptain Brawe, a Space Police officer will embark on a journey filled with quests, conspiracies and general chaos, as he follows the lead of two kidnapped alien scientists. Set in a beautiful, hand drawn alternative 19th century world, Kaptain Brawe's cartoon appearance will suit younger, as well as mature players, who enjoy games filled with humorous storyline and challenging puzzles.

Reveal the greatest conspiracy in the Space Age
Travel and explore 4 planets
Play with 3 different characters (Brawe, Luna and Danny)
Two game-play modes: Hard-Core and Casual
Meet the space pirates, Interstellar government, secret agents and more
Systeemeisen (PC)
OS: Windows Xp / Vista / 7

Processor: 1 GHZ

Memory: 256 MB

Graphics: 32 MB 3D

DirectX®: 9

Hard Drive: 350 MB

Sound: DirectX compatible

Systeemeisen (Mac)
OS: Mac OS X 10.5.8 or later

Processor: 1 GHZ

Memory: 256 MB

Graphics: 32 MB 3D

Hard Drive: 350 MB

© 2010 K.I.D. d.o.o. Rijeka, Croatia.
Nuttige klantrecensies