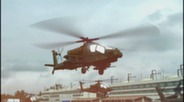 Le nouveau contenu additionnel Fatal Error inclut 5 nouvelles missions Operation et des contrôles tactiles.
Date de parution: 22 fév 2012
Regarder les 4 vidéos
Acheter Wargame: European Escalation
Packages qui comprennent ce jeu
Acheter Wargame Franchise Pack
Inclut les 3 articles suivants : Wargame: European Escalation, Wargame: Airland Battle, Wargame: Red Dragon
Contenu téléchargeable disponible pour ce jeu
À propos du jeu
2 camps, 8 nations et un champ de bataille : l'Europe !
Wargame : European Escalation est un jeu de stratégie en temps-réel intense et spectaculaire, où réalisme et stratégie prennent une place d'honneur !
Avec un choix phénoménal de véhicules et d'unités, (plus de 350 modèles différents), constituez votre armée et prenez part à une immense campagne militaire se déroulant en Europe dans les années 80, alors que la guerre froide est sur le point de se transformer en troisième Guerre Mondiale.
Grâce au puissant moteur IRISZOOM™, Wargame offre un rendu à couper le souffle et des affrontements aussi spectaculaires que stratégiques. Ce sont des centaines d'unités en tout genre – tanks, hélicoptères, escouades d'infanterie, etc – que vous commanderez dans d'intenses batailles sur des cartes gigantesques atteignant jusqu'à 150 km² !
Les services en ligne EugenNet© assurent un mode multijoueur ultra-complet : création de clans, organisation de matchs, classements mondiaux… jusqu'à 8 joueurs peuvent s'affronter en simultané, dans d'immenses batailles impliquant des centaines d'unités !
Configuration requise (PC)
Système d'exploitation : Windows XP SP3 / Windows Vista SP2 / WINDOWS 7

Processeur : AMD / Intel double cœur 2.5 GHz

Mémoire vive : 1024 Mo de RAM (pour XP) / 2048 Mo de RAM (pour Vista / 7)

Carte graphique : Carte compatible DirectX 9 et Shaders 3.0, comportant 256 Mo de mémoire vidéo. ATI Radeon X1800 GTO / nVidia GeForce 7600 GT ou meilleure

DirectX® : 9

Disque dur : 10 Go d'espace disque disponible

Son : Carte son compatible DirectX 9

Additionnel : Connexion Internet requise pour le jeu en ligne et l'activation
Configuration requise (MAC)
Système d'exploitation : MAC OS X 10.6.8

Processeur : INTEL CORE 2 DUO 2.4 GHZ

Mémoire vive : 2 Go de RAM

Affichage : ATI RADEON HD 4670/NVIDIA GEFORCE GT120/320M comportant 256 Mo de mémoire vidéo ou mieux

Disque dur : 10 Go d'espace disque disponible

Autres prérequis : Connexion Internet haut débit pour le jeu en ligne
Configuration requise (Linux)
OS: UBUNTU 12.04 LTS/UBUNTU 12.10

Processor: AMD/INTEL DUAL-CORE 2.5 GHZ

Memory: 2048 MB

Graphics: 256 MB SHADERS 3.0 COMPATIBLE. ATI RADEON X1800 GTO/NVIDIA GEFORCE 7600 GT/INTEL HD 3000 OR HIGHER

Hard Drive: 10 GB

Sound: SOUND CARD

Other: INTERNET CONNECTION REQUIRED FOR ONLINE GAMING
©2011 Eugen Systems and Focus Home Interactive. All rights reserved. R.U.S.E, IRISZOOM are trademarks of Ubisoft Entertainment in the U.S. and/or other countries.
Évaluations intéressantes des utilisateurs