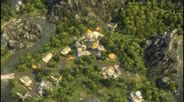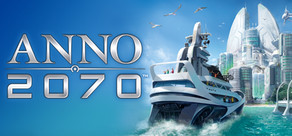 Build your society of the future, colonize islands, and create sprawling megacities with multitudes of buildings, vehicles, and resources to manage.
Julkaisupäivä: 17. marras, 2011
Katso HD-video
Osta Anno 2070 Complete Edition
Tämän pelin lisäsisältö
Osta Anno 2070 DLC Complete Pack
Sisältää 9 kohdetta: Anno 2070™: The Keeper Package, Anno 2070™: The Development Package, Anno 2070™: The Eden Series Package, Anno 2070™ - The Central Statistical Package, Anno 2070™ - The Crisis Response Package, Anno 2070™ - The Distrust Series Package, Anno 2070™ - The Silent Running Package, Anno 2070™ - The Nordamark Line Package, Anno 2070™ - The E.V.E. Package
Complete Edition
Anno 2070® Complete Edition includes the award-winning strategy game Anno 2070®, Anno 2070® Deep Ocean and all downloadable content packs. Also included and delivered via download: the complete Anno 2070 soundtrack, updated Tree of Technologies poster, and 152-page art book.
Tietoja pelistä
On vuosi 2070. Our world has changed. Uusi Anno vie sinut maailmaan, jossa merenpinnan nousu on vahingoittanut rannikkokaupunkeja ja ilmastonmuutos on tehnyt suuren osan maa-alasta asumiskelvottomaksi. Aivan uusi haaste vaatii sinua pystyttämään asutusta, täyttämään kansalaisten tarpeet ja laajentamaan valtakuntaasi.
Palkitun ANNO-rakentamisstrategiasarjan seuraavan osan tulevaisuuteen sijoittuva saarimaailma tarjoaa uutta teknologiaa ja haastaa pelaajan hallitsemaan sen taloutta ja laajaa dynaamista pelimaailmaa.
Huomisen maailma kutsuu sinut luomaan oman tulevaisuuden yhteiskuntasi, jota inspiroivat tämän päivän haasteet ja huomisen teknologia.
Pääominaisuudet::
Ole tulevaisuuden arkkitehti.
Määritä maailman ulkoasu ja talous.
Valitse kahdesta ryhmittymästä:
Teollinen voima tai uusiutuva energia.
Sen varakkuus perustuu massiiviseen luonnon ja resurssien hyväksikäyttöön.

Luontoon pohjautuva ryhmittymä tarvitsee ekologiaa ja suojelee luontoa.

Sen edistyminen kulkee käsi kädessä luonnon tasapainon kanssa.
Järjestelmävaatimukset
OS: Windows® XP / Windows Vista® / Windows® 7

Processor: 2 GHz Intel® Core™2 Duo or AMD Athlon™ 64 X2 or better

Memory: 2 GB (4 GB recommended)

Graphics: 512 MB DirectX® 9.0c–compatible with Shader Model 3.0 or higher (see supported list)*

DirectX®: 9.0c

Hard Drive: 5 GB

Sound: DirectX 9.0c–compliant

Peripherals: Windows-compatible mouse and keyboard

Internet Connection: Temporary broadband connection for product registration, permanent broadband connection for multiplayer.
*Supported Video Cards at Time of Release:

ATI Radeon™ X1000/HD 2000/3000/4000/5000/6000 series

NVIDIA® GeForce® 7/8/9/100/200/300/400/500 series


Laptop versions of these cards may work, but are not supported. These chipsets are the only ones that will run this game. For the most up-to-date minimum requirement listings, please visit the FAQ on our support website at: http://support.ubi.com/.

Requires a UPlay account

© 2011 Ubisoft Entertainment. All Rights Reserved. Anno 2070, Ubisoft, and the Ubisoft logo are trademarks of Ubisoft Entertainment in the US and/or other countries. Produced by Blue Byte. Blue Byte and the Blue Byte logo are trademarks of Red Storm Entertainment in the US and/or other countries. Red Storm Entertainment Inc. is a Ubisoft Entertainment company. Developed By Related Designs.
Hyödylliset arvostelut