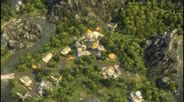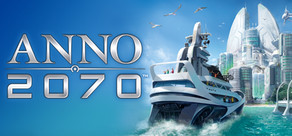 Construa sua sociedade do futuro, colonize ilhas e crie vastas megacidades com incontáveis construções, veículos e recursos para gerenciar.
Data de lançamento: 17/nov/2011
Assistir ao vídeo em HD
Comprar Anno 2070 Complete Edition
Conteúdo adicional para este jogo
Comprar Anno 2070 DLC Complete Pack
Inclui 9 itens: Anno 2070™: The Keeper Package, Anno 2070™: The Development Package, Anno 2070™: The Eden Series Package, Anno 2070™ - The Central Statistical Package, Anno 2070™ - The Crisis Response Package, Anno 2070™ - The Distrust Series Package, Anno 2070™ - The Silent Running Package, Anno 2070™ - The Nordamark Line Package, Anno 2070™ - The E.V.E. Package
Complete Edition
Anno 2070® Complete Edition includes the award-winning strategy game Anno 2070®, Anno 2070® Deep Ocean and all downloadable content packs. Also included and delivered via download: the complete Anno 2070 soundtrack, updated Tree of Technologies poster, and 152-page art book.
Sobre o jogo
2070. O nosso mundo mudou. O crescente nível do oceano prejudicou as cidades costeiras e as mudanças climáticas tornaram vastas área de terra inabitáveis.
O mais recente na premiada série de jogos de estratégia, Anno 2070™ oferece um novo mundo repleto de desafios, onde você deverá dominar recursos, diplomacia e comércio no mais completo sistema de gerenciamento econômico da série Anno.
Construa a sua sociedade do futuro, colonize ilhas e crie megacidades prósperas com os mais variados veículos, construções e recursos para gerenciar. Projete cadeias de produção como fábricas de robôs, refinarias de petróleo e minas de diamante e crie comércios com uma variedade de mercadorias e recursos.
Características principais:
Uma nova era

Enquanto mantendo-se fiel aos fundamentos que tornaram a série Anno um sucesso, a ambientação no futuro próximo irá trazer numerosas novas mecânicas de jogo, avanços de arquitetura e desafios totalmente inovadores. Além disso, jogadores poderão construir cidades imensas, com limites jamais vistos em jogos anteriores da série Anno!
Torne-se um arquiteto do futuro

Encare os desafios do mundo atual para moldar o mundo do amanhã. Você pode se unir aos Magnatas para investir em um curso eficiente e industrial ou se unir aos Ecológicos para seguir uma direção mais sustentável e que respeite o meio ambiente.
Um mundo dinâmico em evolução

Decisões terão impactos no meio ambiente, na aparência arquitetônica do mundo e nas necessidades da população.
Descubra profundezas ocultas e novos recursos

Os mistérios do mar e dos céus estão aguardando serem descobertos. Aproveite-se dos sistemas de transporte do futuro e desenvolva uma economia poderosa.
Um Anno melhorado com novas características para dominar

Contrabandeie mercadorias entre portos sem ser detectado pelas patrulhas costeiras ou construa alianças com figuras poderosas para expandir a sua influência.
Requisitos de sistema
OS: Windows® XP / Windows Vista® / Windows® 7

Processor: 2 GHz Intel® Core™2 Duo or AMD Athlon™ 64 X2 or better

Memory: 2 GB (4 GB recommended)

Graphics: 512 MB DirectX® 9.0c–compatible with Shader Model 3.0 or higher (see supported list)*

DirectX®: 9.0c

Hard Drive: 5 GB

Sound: DirectX 9.0c–compliant

Peripherals: Windows-compatible mouse and keyboard

Internet Connection: Temporary broadband connection for product registration, permanent broadband connection for multiplayer.
*Supported Video Cards at Time of Release:

ATI Radeon™ X1000/HD 2000/3000/4000/5000/6000 series

NVIDIA® GeForce® 7/8/9/100/200/300/400/500 series


Laptop versions of these cards may work, but are not supported. These chipsets are the only ones that will run this game. For the most up-to-date minimum requirement listings, please visit the FAQ on our support website at: http://support.ubi.com/.

Requires a UPlay account

© 2011 Ubisoft Entertainment. All Rights Reserved. Anno 2070, Ubisoft, and the Ubisoft logo are trademarks of Ubisoft Entertainment in the US and/or other countries. Produced by Blue Byte. Blue Byte and the Blue Byte logo are trademarks of Red Storm Entertainment in the US and/or other countries. Red Storm Entertainment Inc. is a Ubisoft Entertainment company. Developed By Related Designs.
Análises úteis de usuários