Three Heroes make their way through dangers untold in a fairytale world of great castles and strange machinery, featuring physics-based puzzles, beautiful sights and online co-op.
Release Date: Jul 2, 2009
Watch all 6 trailers
Packages that include this game
Buy Trine Complete
Includes 2 items: Trine Enchanted Edition, Trine 2: Complete Story
Buy Frozenbyte Collection
Includes 4 items: Shadowgrounds, Shadowgrounds Survivor, Trine Enchanted Edition, Trine 2: Complete Story
July 24
We launched a beta of the Enchanted Edition on Steam in June, and now we are happy to report the time has come for the official launch.

Check out the launch trailer below and prepare to be enchanted. :)

https://www.youtube.com/watch?v=H4sMJdAP2-4&feature=youtu.be
You can read more about the Enchanted Edition from our blog and from the Trine Enchanted Edition page at our website. The short version below:

The Enchanted Edition is a free update for Trine with added features, such as the online multiplayer. The updated version does not impact the original game. Instead, both versions are available and can be selected from the game launcher. At the moment the Enchanted Edition is only available in Steam for Windows, but we will be adding the Mac and Linux versions afterwards.

We also want to give big thanks to the Steam community! We have received lots of support and help with the beta. Working on the Enchanted Edition for you wonderful people has been great.

But enough, talk, right? We'll shut up (in a bit) and leave you a screenshot featuring the three heroes below. You can see more enchanting screenshots from our blog post. Have fun playing! :)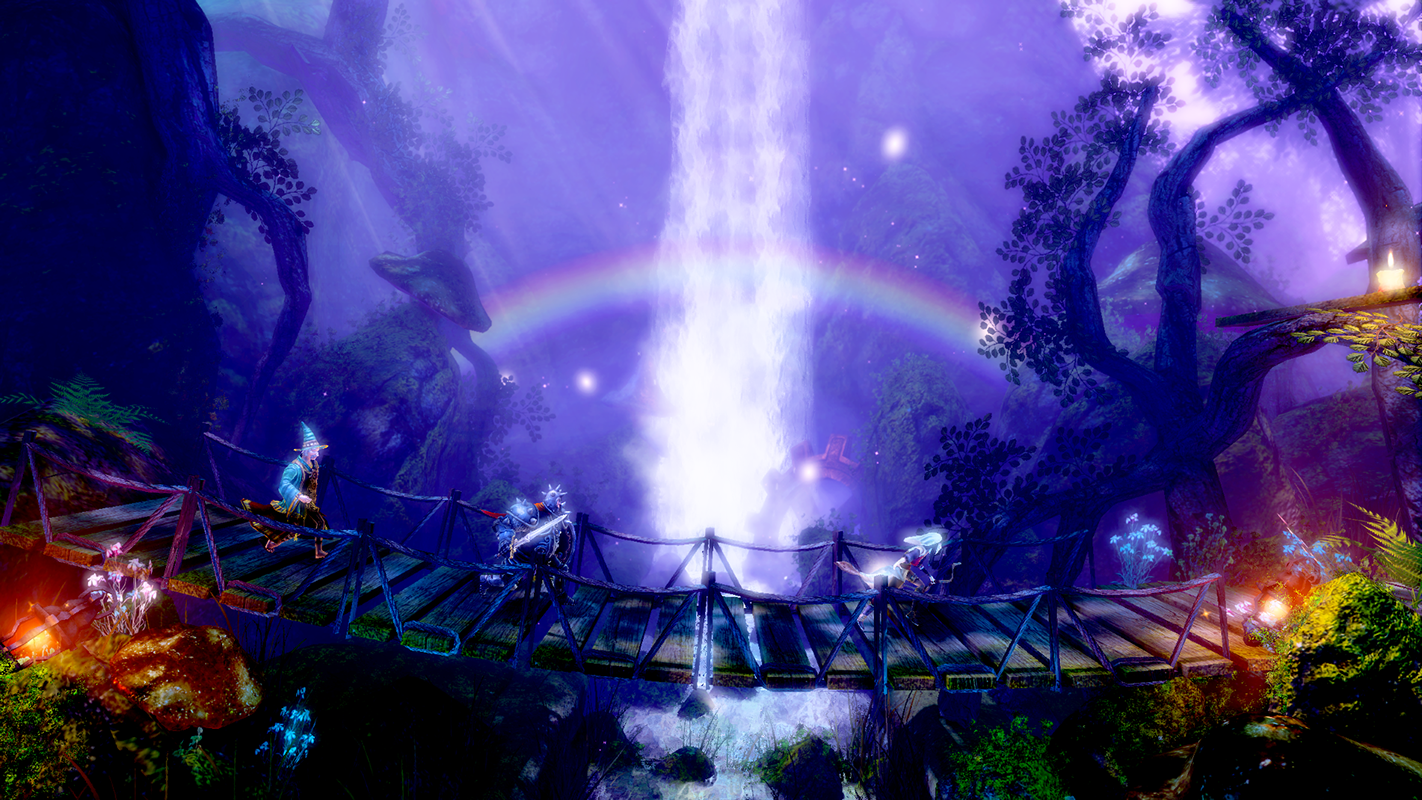 104 comments
Read more
June 25
Have you already participated in the Trine Enchanted Edition BETA? If not, now is your chance! The Enchanted Edition is a free update for all who own Trine on Steam. If you want to participate, you can read more from the official Beta thread pinned at the Steam Trine Community Discussions.

Note that this is still a work in progress, so you can expect to run into some bugs and issues. You can add your contribution by posting bug reports to the official BETA thread on the Steam Community. We ask that all bug reports be posted in the official thread instead of here to make sure we notice them.


WHAT IS TRINE ENCHANTED EDITION?

In short, Trine Enchanted Edition is a port of Trine to the Trine 2 engine, and as a result, many of the "missing" features of the original game, such as online multiplayer, have been added! We have also updated the visual appearance of the game and improved the gameplay – the game should look and feel even better now. At the moment this patch is only for Windows. We will add Mac and Linux versions afterwards, but we can't give an estimate of the time frame for those yet.


HOW TO LAUNCH THE ENCHANTED EDITION?

1. Open your Steam Library
2. Right-click Trine and choose Properties
3. Navigate to the BETAS tab
4. Enter the following password to the access code field: TrineEEBeta2014
If the code does not work, try to restart your Steam client.
5. Make sure you have the beta chosen from the upper "Select the beta you would like to opt into:" menu and then close the window.
6. Make sure the Enchanted Edition is chosen from a drop down menu in the game's launcher when you start Trine.


Please find the official Beta thread pinned at the Steam Trine Community Discussions for instructions on how to report issues. We are also updating all the known issues into that thread, to try and keep everything in one place. General feedback is always welcome of course.


Thank you all for your continued support and feedback, we hope you enjoy this update!
57 comments
Read more
Reviews
Winner, Best Downloadable Game by GameSpot's E3 Editors' Choice Awards

"Apart from the beautiful graphics, what made the game stand out was just how spot-on everything was--whether it was the controls, the interactions between the three characters, or the puzzle-solving mechanics, it's clear the developers spent a lot of time refining the gameplay." full review
About the Game
Trine is a fantasy action game where the player can create and use physics-based objects to beat hazardous puzzles and threatening enemies. Set in a world of great castles and strange machinery, three heroes are bound to a mysterious device called the Trine in a quest to save the kingdom from evil.
The gameplay is based on fully interactive physics - each character's different abilities help the player battle an army of undead and defeat hazardous contraptions. The player can at any time freely choose whoever is best suited for the upcoming challenge or puzzle: The Wizard is able to summon objects to help solve puzzles and create new ways to overcome obstacles, the Thief uses her agility and dead-on accuracy to swiftly surprise the monsters, and the Knight unleashes mayhem and physical destruction wherever he goes.
Trine Enchanted Edition
Trine Enchanted Edition is a remake of the original Trine with dazzling new visual effects and numerous gameplay improvements!
Online and local co-op with up to three players

Mid-level saving: Save anywhere to play as long or short sessions as you like

Stunning new graphics based on the Trine 2 engine
Both Trine Enchanted Edition as well as the original Trine are included in the Enchanted Edition. The different versions are selectable from the game launcher. All Trine purchases have been automatically updated to Trine Enchanted Edition.
Key Features
3 Heroes – Amadeus the Wizard, Pontius the Knight and Zoya the Thief, each with their own skills:


Wizard is able to cast physically simulated objects and levitate them in the totally interactive game world

Knight is a mayhem-bringer like no other, able to destroy objects and smash skeletons to pieces with his weapons, including the mighty Storm Hammer!

Thief can hit enemies from a distance with her accurate arrows but she also has a grappling hook to easily swing from one platform to another


Solve challenges and puzzles in many different ways – combine the characters' abilities and let your mind come up with creative solutions never seen before

Online and local co-op with up to three players

Characters gain experience points that can be used to upgrade their abilities

Fully interactive game world with life-like physics

15 carefully designed and challenging levels with a distinctly unique atmosphere and graphics, including the Astral Academy, Crystal Caverns, Dragon Graveyard, Forsaken Dungeons, Fangle Forest and the Ruins of the Perished.

Many different items to collect - each affecting the characters' abilities

Well-hidden secret chests in every level

3 difficulty levels to choose from

Amazing 19-track soundtrack composed by acclaimed Ari Pulkkinen

Fun and challenging Steam Achievements to unlock

PC System Requirements
SYSTEM REQUIREMENTS FOR TRINE ENCHANTED EDITION


OS: Windows 8 / 7 / Vista / XP

Processor: 2.0 GHz CPU (Dual Core recommended)

Memory: 1 GB

Hard Disk Space: 3.75 GB

Video Card: ATi Radeon HD 2400 or NVIDIA GeForce 7600 or better (Shader Model 3.0 needs to be supported)

DirectX®: 9.0c

Sound: DirectX 9.0c compatible

Additional: *Please note that Trine Enchanted Edition may not run on most Intel graphics solutions used in 2004-2009. The game does run on new (2010-) Intel HD Graphics 3000 or better.


SYSTEM REQUIREMENTS FOR TRINE


OS: Windows XP, Windows Vista or Windows 7

Processor: 2.0 GHz CPU (Dual-core recommended)

Memory: 512 MB (XP), 1 GB (Vista)

Hard Disk Space: 600 MB

Video Card: Radeon X800 or GeForce 6800 or better*

DirectX®: 9.0c

Sound: DirectX compatible soundcard (not required)

Additional: Gamepads required for co-op play.


*Please note that Trine does not run on most Intel integrated graphics chipsets.

Mac System Requirements
Trine Enchanted Edition is not yet available for Mac, but we are working on it! If you purchase or have previously purchased Trine for Mac on Steam, you will receive the Enchanted Edition update automatically for free once it's ready. Trine Enchanted Edition's system requirements may differ from the ones below; full system requirements will be posted once the Enchanted Edition has been released.



OS: OS X version Leopard 10.5.8, or later.

Processor: Intel Mac

Memory: 1GB RAM

Hard Disk Space: 600 MB

Video Card: OpenGL 2.0 compatible video card with 256 MB shared or dedicated RAM (ATI or NVIDIA)

Required: Keyboard, Mouse with Secondary click enabled.

Additional: Please be advised that the game does not run on Intel graphics solutions (such as MacBooks from 2006-2008) with the only exception being the new MacBook Pro 2011 models. The game does run on most Macs from 2009 onwards that have a distinct graphics chip (NVIDIA/ATI). Macs with NVIDIA GeForce 9400M or ATI Radeon X1600 graphics may not achieve smooth gameplay.

Trine™ © 2008-2014 Frozenbyte, Inc. Developed by Frozenbyte, Inc. All rights reserved. All other trademarks are properties of their respective owners.
Helpful customer reviews
Awards
Winner, Best Downloadable Game by GameSpot's E3 Editors' Choice Awards