You become a survivor in the zombie infested ruins of society, and team up with your friends to remain among the living.
Release Date: Jul 7, 2014
Watch HD video
Early Access Game
Get instant access and start playing; get involved with this game as it develops.
Note: This Early Access game may or may not change significantly over the course of development. If you are not excited to play this game in its current state, then you may want to wait until the game progresses further in development. Learn more
What the developers have to say:
Why Early Access?
"More things are constantly being added and the experience will change over time. It's less beta testing at this point and more expanding on the game, although bugs and glitches are inevitable."
How long will this game be in Early Access?
"Most likely for several months, but it will depend on what the community thinks."
How is the full version planned to differ from the Early Access version?
"The current final release goal is to improve graphics, upgrade networking functionality, create more content and provide full Windows, OSX and Linux support."
What is the current state of the Early Access version?
"The game is completely playable with hours and hours of content to explore."
Will the game be priced differently during and after Early Access?
"It will remain free, but the abilities provided by Gold may change. Nothing that will make the game pay to win, however."
How are you planning on involving the Community in your development process?
"Throughout all of the development so far popularly recommended ideas have been added to the game. This will continue through the Steam release with the forums. The Steam Workshop could also be integrated to allow the community to create their own content. Polls are widely used to gauge community interest in various ideas." Read more
Downloadable Content For This Game
July 29th, 2014
Hello!

The last couple days I've been debugging the new networking system and as far as I can tell everything is working properly now! Even with it being quite similar in structure to the Unity networking, however, actually integrating it into the existing code would take quite a bit of time. For this reason I think a better solution will be to do the opposite, porting bits of the game to the new networking one piece at a time.

By doing it this way not only can I push out test builds faster, but I'll be able to go over every single asset in the game optimizing them and converting them to a bundle based loading system. This will allow more data to be stored for everything such as translations of the game into Russian and Portuguese (or whatever language you want to add), as well as the ability for you to mod EVERYTHING in the game. Literally every file will be publicly available to be modded and uploaded to Steam Workshop, or you can add your own custom content with some in-game tools like a level editor!

This big push for bundles is inspired by the amazing concept art on the Unturned subreddit:
/u/Zyrmox's


/u/Zaffaro's:



And finally here's the actual patch notes:

Additions:
-Added the ability to siphon gas from cars that have at least one can of gas in them.
-Added several more boulders.

Fixes:
-Fixed the sun to rise in the east.
-Fixed some potential exploits.

Thanks for reading!
819 comments
Read more
July 26th, 2014
Hello!

Today's big update is that Mac support is now out! Hopefully everything works right out of the box, but if you're experiencing issues with this please let me know on the forums!

Also due to popular request you can now rotate your ramps when focusing at the side of an existing platform. (every placeable can be rotated with right click)

The Steamworks multiplayer is now close to being 1:1 with the Unity networking, but I'll still have to do a bit more work today/tomorrow to create systems for owning objects like the player.

No update tomorrow however, as I'm turning 17! :D

Today's community feature by LCBradley3k:
http://youtu.be/eVgC510eqcw

Thanks for reading!
2060 comments
Read more
Steam Greenlight
About the Game
Unturned is a sandbox game in the emerging multiplayer apocalypse survival genre. Rather than focusing on being an MMO it provides players with easy systems to sit down and survive the zombie infestation with their friends. Over the course of a typical adventure, groups will have a blast fortifying locations, scavenging for supplies, trying to live off the land and negotiating with other people. The game is being developed entirely with the community in focus, and tons of features are based entirely on feedback:
Fortification:
Players can build massive forts out of structural building blocks, or build onto smaller buildings in the world with barricades. It is also possible to create traps and intricate electronic systems. More options for building are constantly being added based on what the community requests.
Survival:
It is entirely possible to live off the wilderness by harvesting trees and rocks, growing crops and hunting animals down. What sort of survival stuff is added is entirely decided by the community.
Explore:
The game goes where the community wants it to. The initial release map is set on the lovely Prince Edward Island, but over the next few months many more locations will arrive for players to explore depending on what the community wants to see. Currently the island has plenty of interesting locations to discover and loot.
Bandits:
Players can choose to enter player versus player servers and battle other players to steal their gear. Banditry is highly supported with plenty of weapons and sneaky devices.
Heroes:
Players can join player versus environment servers to team up with other people, and easily create clans to play with their pals.
Early Access:
This is the first public release of the game, but new features and content are constantly getting added as a result of community feedback. You can see how far the game has come with the help of the community since the original testing prototype: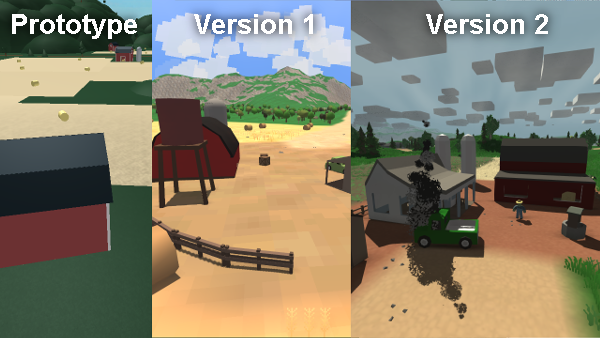 PC System Requirements
Minimum:


OS: Newish

Processor: Good

Memory: 512 MB RAM

Graphics: Good

DirectX: Version 9.0

Hard Drive: 200 MB available space

Sound Card: Good

Additional Notes: If your computer is a toaster make sure it has at least 2 slots and is plugged into a wall socket.
Recommended:


OS: Newest

Processor: Best

Memory: 4 GB RAM

Graphics: Best

DirectX: Version 11

Network: Broadband Internet connection

Hard Drive: 400 MB available space

Sound Card: Best

Additional Notes: A decent sized monitor.
Mac System Requirements
Minimum:


OS: Newish

Processor: Good

Memory: 512 MB RAM

Graphics: Good

Hard Drive: 200 MB available space

Sound Card: Good

Additional Notes: If the apple logo is rainbow colored it probably will not work.
Recommended:


OS: Newest

Processor: Best

Memory: 4 GB RAM

Graphics: Best

Network: Broadband Internet connection

Hard Drive: 400 MB available space

Sound Card: Best

Additional Notes: A proper mouse with buttons.
Helpful customer reviews
Title:
Unturned
Genre:
Action
,
Adventure
,
Casual
,
Free to Play
,
Indie
,
Early Access
Developer:
Nelson Sexton
Publisher:
Smartly Dressed Games
Release Date:
Jul 7, 2014
Languages:
| | Interface | Full audio | Subtitles |
| --- | --- | --- | --- |
| English | | | |