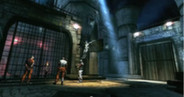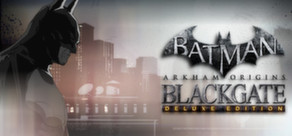 Batman: Arkham Origins Blackgate - Deluxe Edition amplifies the 2.5-D game developed by Armature Studio with new maps, enemy encounters, difficulty levels, and batsuits, all with enhanced visuals. A companion game to Batman: Arkham Origins, players can continue the storyline of the console version and discover more details of the Dark...
Date de parution: 1 avr 2014
Visionner la vidéo HD
2 avril 2014
It appears that many of you are enjoying Batman: Arkham Origins Blackgate Deluxe Edition, but are having trouble getting WBID verification emails on PS3 and PC. Logging in to WBID will get you the Zero Year batsuit.

While a fix is being prepared, we have a workaround for one of the WBID failure cases. This workaround is only if you have successfully created a new WBID, are awaiting the verification email, and are told, when logging in, that you have logged in but need the verification to succeed.

If the above describes your situation, please go here:
https://batmanarkhamorigins.com/wbid

Log in with your WBID and create a community account. This will trigger the verification email to be sent to you. After you click the verification link, you'll be able to log into your WBID account from within the game, and unlock the Zero Year batsuit.

Thanks for playing!
3 commentaires
Lire la suite
À propos du jeu
Batman: Arkham Origins Blackgate - Deluxe Edition complète le jeu 2.5D développé par Armature Studio en proposant de nouvelles cartes, de nouveaux ennemis, des niveaux de difficulté et des Batcostumes supplémentaires, ainsi que des graphismes améliorés. Un complément à Batman: Arkham Origins, dans lequel les joueurs peuvent continuer l'histoire de la version console du jeu, et découvrir encore plus de détails concernant le passé du Chevalier Noir. Avec son gameplay furtif, ses combats fluides et le célèbre arsenal de gadgets Batman, Batman: Arkham Origins Blackgate reproduit l'expérience authentique d'Arkham dans une aventure à défilement horizontal et remplie d'action!
Configuration requise
Minimum:


OS: 32-bit: Vista, Win 7, Win 8

Processor: Intel Core 2 Duo, 2.4 GHz; AMD Athlon X2, 2.8 GHz

Memory: 2 GB RAM

Graphics: NVIDIA GeForce 8800 GTS; AMD Radeon HD 3850

DirectX: Version 10

Network: Broadband Internet connection

Hard Drive: 3 GB available space

Additional Notes: Windows XP and DirectX® 9.0b and below not supported
Recommended:


OS: 64-bit: Vista, Win 7, Win 8

Processor: Intel Core i5-750, 2.67 GHz; AMD Phenom II X4 965, 3.4 GHz

Memory: 4 GB RAM

Graphics: NVIDIA GeForce GTX 560; AMD Radeon HD 6950

DirectX: Version 11

Network: Broadband Internet connection

Hard Drive: 3 GB available space

Additional Notes: Windows XP and DirectX® 9.0b and below not supported
Logiciel BATMAN: ARKHAM ORIGINS BLACKGATE – DELUXE EDITION © 2014 Warner Bros. Entertainment Inc. développé par Armature Studios.

BATMAN et tous les personnages, ainsi que leurs apparences distinctives et tout élément lié sont des marques commerciales de DC Comics © 2014. Tous droits réservés.
LOGO WB GAMES, BLASON WB : ™ & © Warner Bros. Entertainment Inc.
(s14)
Évaluations intéressantes des utilisateurs
Titre:
Batman™: Arkham Origins Blackgate - Deluxe Edition
Genre:
Action
,
Aventure
Développeur:
Armature Studio
Éditeur:
WB Games
Date de parution:
1 avr 2014
Langues:
| | Interface | Son | Sous-titres |
| --- | --- | --- | --- |
| Français | | | |
| Anglais | | | |
| Italien | | | |
| Allemand | | | |
| Espagnol | | | |
| Russe | | | |
Tout afficher 6 langues supportées