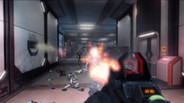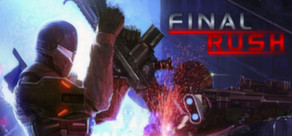 Final Rush is a constantly growing indie cooperative multiplayer FPS, where the player fights against waves of robotic enemies, with up to three of their friends; Final Rush is continually expanding with new content as fast as the developers can make it.
Veröffentlichung: 17. Jan.
HD-Video ansehen
Early Access-Spiel
Erhalten Sie sofortigen Zugang und bringen Sie sich in die Entwicklung des Spiels ein.
Hinweis: Dieses Early Access-Spiel könnte sich im Entwicklungsverlauf erheblich verändern. Wenn Ihnen das Spiel im aktuellen Zustand nicht gefällt, sollten Sie warten, bis das Spiel einen fortgeschritteneren Entwicklungsstand erreicht hat. Mehr erfahren
Was die Entwickler zu sagen haben:
Wozu Early Access?
"As much work as we did to prepare the game; being a small indie company, we didn't have the resources to make as much content as we would've liked. Likewise, we plan to add more content to the game, and felt like Early Access was the best way to support this process."
Wie lange wird dieses Spiel den "Early Access"-Status haben?
"Until we, and the community, believe the game is ready for full release. Realistically, we're aiming to release it within 2014."
Wie soll sich die Vollversion von der Early Access-Version unterscheiden?
"The full version will have better integration of steam features, such as achievements, and big picture. It will also have more content in the form of levels, weapons, and enemies."
Was ist der derzeitige Stand der Early Access-Version?
"We are currently undergoing a major overhaul of the game which should be released in during June 2014. This overhaul has completely rebuilt the game from the ground up, and features many improvements."
Wird das Spiel während und nach Early Access unterschiedlich viel kosten?
"There is a possibility that we will increase the price of the game upon release a minor amount, if we feel like the game is worth it at the time."
Wie werden Sie versuchen, die Community in den Entwicklungsprozess mit einzubeziehen?
"Post on the Steam forums. We'll hear you, and probably respond too. Let us know your thoughts on the game, and what kind of content you want to see added." Weiterlesen
FinalRush 4-Pack kaufen
Get one copy for yourself and give the other three to friends!
27. August
Hello gamers!



It's time for a major update, this time we've added a new level, and the bones of our new progression system. Along with a few other minor changes

v2.08 Changelog:


NEW – Added the new Frost level.

NEW – Added the new rank progression system. Players earn points based on their performance each match, which contribute to an increase in rank. Difficulty level, victory or failure, and ending score all contribute. There are 30 ranks in total, with more to be added later on. In the future, you'll be able to purchase player customization using your experience points.

NEW – Added the progress tracker to the main menu and game over screen.

NEW – Added 4 new achievements to the game. 1 related to the new level, and 3 related to the new progression system.

NEW – Added a credits button to the main menu.

NEW – Added a game version indicator to the lower left corner of the main menu.

Further adjusted down the sound of earning combat marks.
More updates to come. They will most likely be UI updates – namely adding an improved pause/esc menu, and adding some character customization to the game.
Our creative director has also been hard at work creating the materials for the game's trading cards and steam backgrounds, so those will likely be added in the next few weeks.
- Luke, Strike Games
7 Kommentare
Weiterlesen
13. August
Hello gamers!



Here's a quick, minor update for you, v2.06 update has been pushed to Steam with some small gameplay and balance tweaks and improvements.

v2.06 Changelog:


Reduced AV Laser cost to 25,000

Increased AV Laser Damage by %25, Reserve ammo by %50.

Weapon switching is now %33 faster.

The sounds for combat marks now play in batches, preventing the sound from almost constantly playing.

The volume and pitch of the combat mark sounds has been adjusted so it doesn't murder ears on systems with strong bass.

All non-shotgun weapons are now %25 more accurate.
Enjoy the update. Frost, the new level, has completed a major part of its constructions (as of about 30 minutes ago) and is about %80 complete. It will be in the next major update to the game.
- Luke, Strike Games
2 Kommentare
Weiterlesen
Über das Spiel
*Steam trailer video was recorded prior to the major v2.00 overhaul.
Final Rush is a constantly growing indie cooperative first person shooter, where the player fights against waves of robotic enemies, with up to three of their friends.
Unlike most games, Final Rush dedicates
nearly all
of it's earnings to the expansion and improvement of the game itself, with new content in the form of levels, gameplay improvements, enemies, and weapons being added as fast as the developers can make them. The purchase of Final Rush will provide you with many months of free content and additions! Final Rush will
NEVER
sell you DLC, Premium Items, or Pay-To-Win content!
This is the current feature set of Final Rush:
Online and LAN cooperative gameplay for 1 - 4 players.

3 Beautiful sci-fi arena levels, filled with killer robots, advanced tech, and polished graphics.

The RUSH game mode - where the better you are, the more rewards you get, but the more difficult the enemies become. Fight through 10 waves of hundreds of robots, each bigger than the last, with a variety of robot variations to fight.

8 Weapons - fight your enemies with 8 different weapons, including the advanced experimental AV-Laser. Plus, bash your attackers with melee attacks; blow them to bits with grenades; and of shred them to circuits and servos with the room-clearing high powered ammunition.

Upgradable Player - from additional armor and ammo, to better accuracy, the player can purchase
Participate in the indie experience and interact with the developers! Make suggestions and have your voice be actually heard. The developers troll the forums and listen to feedback and make snarky comments! Go and heckle them with negative feedback and positive comments!
Upcoming
Final Rush Updates include:
New level, "Frost"!

Return of the experimental Shockwave Cannon weapon.

Trading Cards!

Player accessible view of tracked stats!
Systemvoraussetzungen
Minimum:


OS: Windows XP SP3, Windows Vista, Windows 7, Windows 8, Windows 8.1

Processor: 2.0+ Ghz

Memory: 2 GB RAM

Graphics: NVIDIA 8000 series or higher, ATI Radeon HD 2400 Pro 256 MB, or greater

DirectX: Version 9.0c

Hard Drive: 1 GB available space
©2014 Strike Games, LLC. All rights reserved.
Hilfreiche Kundenreviews
Titel:
Final Rush
Genre:
Action
,
Indie
,
Early Access
Entwickler:
Strike Games
Publisher:
Strike Games
Veröffentlichung:
17. Jan.
Sprachen:
| | Oberfläche | Ton | Untertitel |
| --- | --- | --- | --- |
| Englisch | | | |