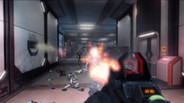 Set in the distant future of 2117, players take the role of highly trained military specialists which handle situations involving advanced and dangerous technology. Final Rush is a co-operative action first person shooter which pits you against waves of enemies. Final Rush is more than just a game, it's a service.
Data de lançamento: 17 Jan 2014
Assistir ao vídeo em HD
Jogo com acesso antecipado
Comece a jogar agora e participe do desenvolvimento do jogo!
Note: This Early Access game may or may not change significantly over the course of development. If you are not excited to play this game in its current state, then you may want to wait until the game progresses further in development. Learn more
O que os desenvolvedores têm a dizer:
Por que acesso antecipado?
"As much work as we did to prepare the game; being a small indie company, we didn't have the resources to make as much content as we would've liked. Likewise, we plan to add more content to the game, and felt like Early Access was the best way to support this process."
How long will this game be in Early Access?
"Until we, and the community, believe the game is ready for full release. Realistically, we're aiming to release it within 2014."
How is the full version planned to differ from the Early Access version?
"The full version will have better integration of steam features, such as achievements, and big picture. It will also have more content in the form of levels, weapons, and enemies."
What is the current state of the Early Access version?
"We are currently undergoing a major overhaul of the game which should be released in during June 2014. This overhaul has completely rebuilt the game from the ground up, and features many improvements."
Will the game be priced differently during and after Early Access?
"There is a possibility that we will increase the price of the game upon release a minor amount, if we feel like the game is worth it at the time."
How are you planning on involving the Community in your development process?
"Post on the Steam forums. We'll hear you, and probably respond too. Let us know your thoughts on the game, and what kind of content you want to see added." Leia mais
24 julho 2014
Hello gamers!



The v2.05 update has been pushed to Steam with some cool new features and improvements. Including the return of the AVLaser experimental weapon, which has been much improved over the terrible v1.00 version.!

v2.05 Changelog:


NEW - AV Laser, the first 'tertiary' weapon added to the game. It has enough power to take down a heavy robot in one hit, or kill multiple robots in a row with a single shot. It does not replace your primary weapon or pistol.

NEW - 2 Achievements, one related to the new experimental weapon, and one for 'Crowd Surfing'.

Improvements to the AI logic thinking to have better target selection in some very specific cases

Potentially fixed a bug that was preventing server advertising due to "Can't start an online game in state 3"

Shields now display a blue overlay when taking damage to make it clear the shield is absorbing damage

If a server is empty for more than 1 minute and is not currently in the lobby the server will restart the map

Added the Story Tab to the main menu, which gives you a brief message about the game, and a general recap of the backstory of the game.

Added the ability to disable your special supporter armor by going to the 'Gameplay' section of the options menu.

The game will now start at the max resolution possible, if there are no previous settings saved. This should fix new players being greeted with N64 resolution the first time they launch the game.

Added a very basic scoreboard during gameplay. You will need to bind the key for this in the controls menu.

Added the missing reload sounds for the corporate weapons.
Enjoy the update. A new level is in the works, which should hopefully be in the major next patch.
- Luke, Strike Games
5 comentários
Leia mais
15 julho 2014
Hello gamers!



Two important bits of news for you:
Another update is currently in the works, which we're hoping will include the return of the experimental AVLaser weapon (likely) and a brand new level (less likely, but definitely coming in the next patch or two).

This update will also include some minor fixes and tweaks in response to the feedback we've received on the forums.

--

In addition to that, the price of Final Rush has just dropped from $14.99 to $9.99 (USD)

I wanted to take this opportunity to thank all of you that have purchased the game, especially those who bought the game within the first few weeks of release. The v2 update, and all subsequent updates would not have been possible without your support.

As a display of gratitude, anybody who purchased the game before the price drop has automatically received the special 'Silver' Supporter armor. (Ability to disable this coming in the next patch)

Thanks to all of you who have supported the game! We'll continue to expand and improve the game as much as we possibly can!


- Luke, Strike Games
3 comentários
Leia mais
Sobre o jogo
Set in the distant future of 2117, players take the role of highly trained military specialists which handle situations involving advanced and dangerous technology.
Final Rush is a co-operative action first person shooter which pits you against waves of enemies. Final Rush is more than just a game, it's a service. Buying the game will give you access to a constantly growing and improving experience.
This is the current feature set of Final Rush:
The FINAL RUSH FRAMEWORK - currently most of the effort of making Final Rush has been setting up a framework for new content and better gameplay.

3 Levels in the corporate tileset - a futuristic automated factory and supply facility which has been taken over by a corrupted Artificial Intelligence. This theme has various robots as enemies.

The RUSH game mode - where the better you are, the more rewards you get, but the more difficult the enemies become. Fight through 15 waves of enemies, each bigger than the last, fighting dozens of robots at once.

9 Weapons - fight your enemies with 9 different weapons, including two advanced experimental weapons. Plus, fight your attackers with melee attacks; grenades which can have a variety of special effects; different kinds of ammo, and of course the room clearing high powered ammunition.

8 Upgrades - from additional armor and ammo, to better accuracy, and even a radar to find your enemies before they find you.
Path of Development:
Final Rush was made with a very limited budget. Nearly all money earned by sales of the game will be put back into development of additional features and content which will be added to the game for free!
These are some of the many features that are either already in progress or planned for adding to the game:
Stat Tracking, Ingame Ranks and Progression, and Armor Customization - This means that the better you do, the more you'll be rewarded with ingame points that you can use to purchase customization items for your character.

More enemies, and boss battles - This means an increase in the variety of gameplay by adding additional styles of enemies, and expanding the capabilities of existing enemies. This includes the addition of a massive boss battle with the robotic tower of death!

More themes, and levels - This means more levels to play on, and non-robotic enemies! (Final Rush isn't just a game where you shoot robots)
We're always listening to suggestions and comments, so be sure to send us your opinions!
Requisitos de sistema
Minimum:


OS: Windows XP SP3, Windows Vista, Windows 7, Windows 8, Windows 8.1

Processor: 2.0+ Ghz

Memory: 2 GB RAM

Graphics: NVIDIA 8000 series or higher, ATI Radeon HD 2400 Pro 256 MB, or greater

DirectX: Version 9.0c

Hard Drive: 1 GB available space
©2014 Strike Games, LLC. All rights reserved.
Análises úteis de usuários
Título:
Final Rush
Gênero:
Ação
,
Indie
,
Acesso Antecipado
Desenvolvedor:
Strike Games
Distribuidora:
Strike Games
Data de lançamento:
17 Jan 2014
Idiomas:
| | Interface | Dublagem | Legendas |
| --- | --- | --- | --- |
| Inglês | | | |