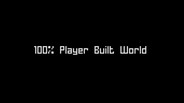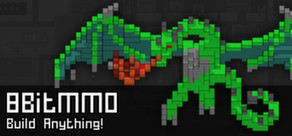 8BitMMO is a retro-style 2D massively multiplayer game! It's a giant construction sandbox -- you can build a home or a castle in a persistent streaming world. Found and manage your own city. Fight evil LawyerCats and engage in Player vs Player battle. Work in Progress!
Fecha de lanzamiento: 13 Dic 2013
Ver vídeo en alta definición
Juego con acceso anticipado
Obtén acceso inmediato e involúcrate con este juego mientras se desarrolla.
Nota: Este juego con acceso anticipado puede o no cambiar significativamente en el curso de su desarrollo. Si no te entusiasma jugarlo en su estado actual, entonces puede que quieras esperar hasta que el juego avance más en su desarrollo. Más información
Lo que dicen los desarrolladores:
"There's plenty of fun to be had right now in the game, but it's not done yet. I am releasing the game onto Early Access because many players are already enjoying the existing content, but we're still developing and improving it with your feedback and ideas.

Things you can do right now:

* The building systems are fully playable, and in fact, many players have used them to create sprawling mega-cities, huge statues, and awesome pixel art.
* Solve (or create!) simple player quests.
* Build collaboratively with friends by joining a player city (or become the mayor of your own town).
* Build privately in your own pocket universe.
* Build your own dungeon or player-vs-player arena.
* Three races to choose from so far: Human, Zombie, or Potato. Become a zombie and nom on others to infect them with zombieism.
* Fight nefarious LawyerCats, deadly Hipsters, and a couple other baddies.
* Level up and unlock new items to build with.
* Once you are Level 4, explore the dangerous and untamed =67 map -- it's filled with islands and oceans and hard mobs.

Things on the roadmap for the future (game updates happen frequently)

* More monsters to fight.
* More weapons.
* More character levels.
* More buildable items.
* Your suggestions and ideas! The community is a huge part of development, and many top suggestions have already made it into the game.

Join us!

8BitMMO is free to play, and will continue to be so. So please consider playing the game and becoming part of development by joining our community :)" Leer más
Jugar a 8BitMMO
Free To Play
Comprar 8BitMMO - Steam Founder's Pack Basic
Includes 2,100 gold, 15 plat, and an exclusive hat!
Comprar 8BitMMO - Steam Founder's Pack Deluxe
Includes 5,040 gold, 36 plat, and two exclusive hats!
27 junio 2014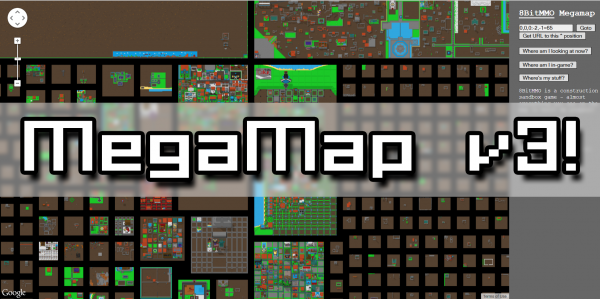 After many months of development, rendering, more development, even more rendering, the new map is finally online! This is the first map update in more than half a year, and as this new map also includes =67, Potato Server, and many Pocket Universes, there's a ton of cool stuff to see!


Steam Founder Pack Sale - 50% off
Get the
Steam Founder Packs
for 50% off as part of the Steam Summer Sale, ending soon!
Limit one pack of each type per player. If you get a pack, don't forget to restart the launcher so your purchase is recognized. It will be credited to the server you played on most recently.
Steam Trading Cards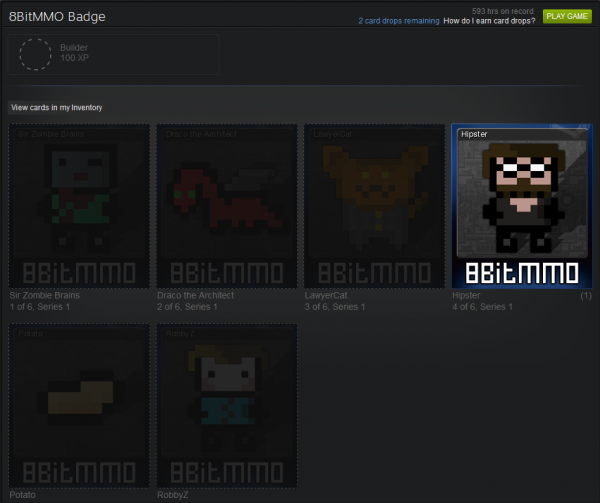 Steam Trading Cards are live! Details on how to get them are
here
.
Oven

Two new items: full grass and the Oven. The Oven has an Oven Secret!
5 comentarios
Leer más
30 mayo 2014



I am excited to announce that you can now unlock achievements while you play the game. Check out the full list of achievements here.

ALL achievements can be earned by all players, although some can be a bit tricky ;)


Lots of new Household Goods items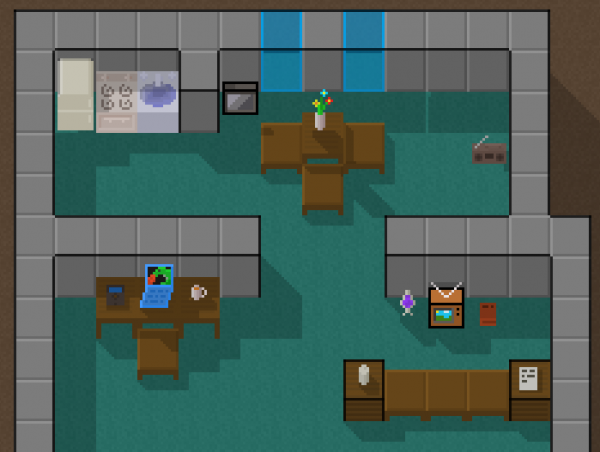 I've just added a bunch of new household goods! Check them out in-game.
Also, I changed the way items are placed -- most items smaller than a half block will now attempt to horizontally & vertically center themselves within the tile. Also, when placing signs, they no longer snap away from you when you place them.
Mac & Linux Steam Builds
Steam users can now play the game on Mac & Linux!
-- RobbyZ
3 comentarios
Leer más
Análisis
"The most randomly awesome game I've played in a while"
MMORPG.com

"... generation upon generation of user-made structures dot the landscape, and oversized shapes and enigmatic letters mystify like Nazca lines. It feels free, like playing with Legos as kid. You have agency. There are all sorts of weird ways to play. You can transform into a zombie if you want, try and spread a plague, mix things up. Oh, and beware of LawyerCats. They're out for blood."
Indie Statik

"... this is a must play"
9.5/10 – Gaming Capacity

Acerca del juego
8BitMMO is a retro-style 2D massively multiplayer game! It's a giant construction sandbox -- you can build a home or a castle in a persistent streaming world. Found and manage your own city. Fight evil LawyerCats and engage in Player vs Player battle. Work in Progress! :)
Features
100% Player Built World
- The entire world is built by players. Build your own house, town, voxelart, or dungeon. The world is massive -- there's plenty of space to build in, and it streams in as you explore (no load screens).
Be the Mayor
- Start your own town and invite your friends. You'll have an array of management tools for overseeing your town.
Interactive Development / WIP Updates
- The entire game only has one full-time developer, and development is still ongoing. You can submit and vote on ideas -- many of the top voted ideas have been implemented into the game. Free updates with new content and features are frequently released.
Anti-Griefing Systems
- Several systems protect players from griefing.
Free To Play
- No purchase necessary to have fun. Support the developer and buy a fancy hat... or don't. (Premium items give NO competitive advantage)
Customize your Character
- Wear hats, clothing, accessories, change your skin color
Become a Zombie
- Want to be a zombie? You can! But you'll need a steady supply of delicious brains from other players. Don't worry, after you eat their brain, they'll be zombies too!
Fight Nefarious Enemies
- Congressional Lobbyist Slugs, LawyerCats, and Hipsters oh my.
MegaMap
- The world is huge, so the MegaMap interface (based on Google Maps API) is a handy way to browse the world and share your creations with friends.
Introducing the Steam Founder's Packs
Please consider supporting development by optionally purchasing a Steam Founder's Pack. You will receive a variety of benefits: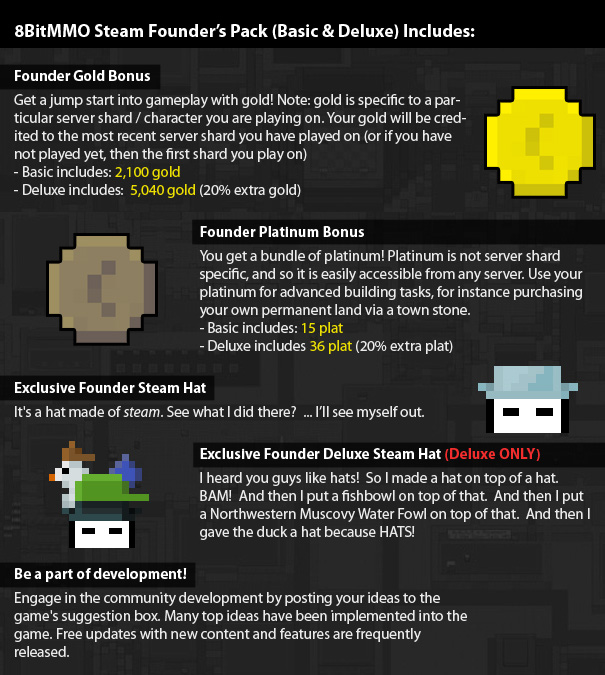 After you have purchased a Steam Founder's pack, please restart the game launcher for the game to detect the purchase.
Requisitos del sistema (PC)
Minimum:


OS: Windows XP

Memory: 2 GB RAM

Graphics: Integrated graphics is fine, or really any wire & tin foil you can cobble together that looks like a GPU.

Network: Broadband Internet connection

Hard Drive: 200 MB available space

Sound Card: If you don't have one, just make beep & boop noises with your mouth when appropriate.

Additional Notes: You can probably get this to run on a toaster.
Recommended:


OS: Windows 7

Processor: Core i5/i7 processor (Fast CPUs allow lighting to render)

Network: Broadband Internet connection

Hard Drive: 200 MB available space
Requisitos del sistema (MAC)
Recommended:


OS: You should get one of the laptops with the glowing logo on the back, because I'm pretty sure that makes it go faster.
Requisitos del sistema (Linux)
Minimum:


OS: Tested on Ubuntu 12.04 32-bit
8BitMMO Copyright 2001-2014 Archive Entertainment. ALL RIGHTS RESERVED.
Análisis útiles de usuarios
Título:
8BitMMO
Género:
Acción
,
Aventura
,
Free to Play
,
Indie
,
Multijugador masivo
,
Rol
,
Acceso anticipado
Desarrollador:
Archive Entertainment
Editor:
Archive Entertainment
Fecha de lanzamiento:
13 Dic 2013
Idiomas:
| | Interfaz | Voces | Subtítulos |
| --- | --- | --- | --- |
| Inglés | | | |
Premios
Winner: Seattle Independent Game Competition

Director's Choice: Indie Prize Showcase San Francisco