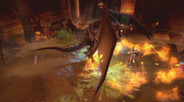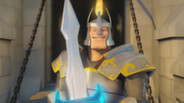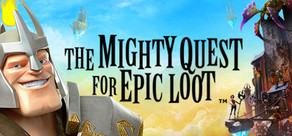 The Mighty Quest for Epic Loot is a brand new game from Ubisoft Montreal that thrusts you in an outrageous medieval fantasy world called Opulencia where wealth, status and showboating are the name of the game!
Release Date: Nov 18, 2013
Watch all 3 trailers
Play The Mighty Quest For Epic Loot
Free to Play
Downloadable Content For This Game
July 24th, 2014
More and more rumors about DEFENSE CRAFTING are starting to float around. The Heroes are even more eager to increase their strength before facing new Defense strategies made from new Creatures and Traps.

This week, it's Sir Painhammer!




Starting today at 12PM EDT and until July 28th at 11:59pm EDT, the Knight Sir Painhammer will be unlocked for all players for free with his progression reset for those who did not already have him permanently unlocked.


OBJECTIVES!
Reach level 5: 50 Blings discount on the Knight

Reach level 10: 150 Blings discount on the Knight

Reach level 12: 350 Blings discount on the Knight

Reach level 15: 650 Blings discount on the Knight + exclusive level 15 Knight Epic Weapon
These objectives are for both old and new players alike, as long as you cross the different thresholds with your Knight during the event!
If you have already purchased the Knight but are under level 15, you cannot get the discounts but you can get the Epic weapon if you reach level 15 during the event.
The Collective Goal this week is 175,175 successful Castle Attacks with the Knight. He definitely wants to show Bowgart he gets more love!
If that goal is reached, all participants will get the Knight's Cuteness Overload Costume for free! How lovely!
The rewards (Epic weapon & costume) will be sent to those who fulfill the objectives a couple of days after the end of the competition.
As a reminder, the Earl will be available to play entirely for free next week. The week after that, the Runaway will be unlocked.
0 comments
Read more
July 24th, 2014
Greetings Opulencians,

Here are the changes that were brought to you in today's patch:

Castle Validation
Let others do the work for you by offering the community a reward to Validate your defenses! Buy a Validation Ticket for 99 Blings to have your castle Validated by other players.

Your Validation Ticket will expire in 24 hours. You'll be refunded if nobody successfully Validates your castle.

Validation Tickets cannot be canceled. The Castle will stay up for community Validation for the next 24 hours after the purchase of a Validation Ticket.

Targeted Attacks will take place in the previously published version of the Castle. It is not possible to Validate another player's Castle through a Targeted Attack.

The first successful Attack will set the time to beat for the Castle.

The first Attacker to Validate the other player's Castle will receive 10 Blings.

Normal Castle Validation rules apply for the Attackers: the level and equipment is adjusted to match the Castle being attacked, infinite health potions are available but Experience, Gold, Life Force and loot cannot be gained during a Validation attack.

Each zone will display only 1 unvalidated Castle, if there is one such available in that Castle level range. You can Refresh the zone in order to try and find an unvalidated Castle.
Upgrading Units
You can now upgrade the buildings in your castle with Blings, with the exception of the Research Lab, for which we have some special plans in the next patch (rumors among the Snotters is that it's tied to the mythical Defense Crafting).
Crafting and Forging
The Forge will now always produce an item usable by the hero selected at the time when you Craft or Reforge.

Crafting or Reforging Legendary or Epic items with Gold will now take a couple of real world hours or can be accelerated with Blings.
Crafting


Legendary: 2 hours or 50 Blings

Epic: 4 hours or 100 Blings

Reforging


Legendary: 30 minutes or 15 Blings

Epic: 2 hours or 50 Blings

The Forge costs in Blings for Legendary and Epic items have been increased and will instantly produce the item.
Crafting


Legendary: 60 Blings

Epic: 120 Blings

Reforging


Legendary: 60 Blings

Epic: 120 Blings

New visual effects make it easier to notice when a Hero or Creature is taking damage from one of the following traps: Corrosion Mine, Rotating Cannon, Ballistic Cannon, Spike Trap, Fire Mine.

The mines in your castle will now look totally ruined after a successful attack on them. You'd better invest more effort in your defense or your Creatures will complain to the housing board that you are a bad landlord…
3 comments
Read more
Previews
"Diablo meets Dungeon Keeper"
PC Gamer

"Mighty Quest is like pop-corn. You take just a few to taste them and you end up finishing the whole pot without noticing."
http://www.jeuxvideo.com/articles/0001/00018382-the-mighty-quest-for-epic-loot-preview.htm

"At its core, The Mighty Quest for Epic Loot shows a lot of promise. I love the dungeon building and the quick and instant gratification the hack n' slash looting gives."
Destructoid

"The name may be a bit confusing, then, but there's no mistaking the warmth lurking within wonderful chunky art and the neat dovetailing of complimentary systems."
Eurogamer

"Mighty Quest is on its way to becoming the essential multi-player game for the non-multi-player"
The Examiner
About the Game
The Mighty Quest for Epic Loot is a brand new game from Ubisoft Montreal that thrusts you in an outrageous medieval fantasy world called Opulencia where wealth, status and showboating are the name of the game!
As a newcomer to Opulencia, you will hack n slash your way through hundreds of castles designed by the ingenious minds of your fellow players!
Don't forget to show them who's boss by constructing deadly keep of your very own – in this kingdom, size really does matter!
Key Features
Castle Looting: Prepare your hero for battle and charge into one of many player-created castles to test your skills and might! Oh yeah, and don't forget all the loot and gold waiting for you in the treasure room at the end of the castle.

Castle Defense: Protect your treasure from the greedy hands of your neighbors. You and your friends can build custom castles with majestic rooms and fill them with deadly monsters like fire-breathing dragons, nose-picking Cyclopes, swarming vampires and more. Then, surprise your foes by boosting your castle's defenses with fearsome fire cannons, spike traps and other surprises. The more enemies perish in your castle, the higher the reward.

Variety of Heroes: The outlandish world of Opulencia has an eccentric cast of characters ranging from the knight, Sir Painhammer, a good-natured tough guy to Blackeye Bowgart, an archer with a chip on his shoulder. More will be available in the near future.

Character Customization: Plain armor is out this season, shiny metal is in. Use your well-earned gold to shop and customize and level up your heroes in style.

Showboating: Think you are the baddest of the bad in all of Opulencia? Prove it by creating different challenges for your foes and compare yourself on the leaderboards.

Intense Action: Play on your own schedule. Short sessions means you can play when you want to. It also doesn't hurt to have others playing at the same time, but you don't need them playing simultaneously to experience looting at its best.
System Requirements
Minimum:


OS: Windows XP SP3

Processor: 3.00 Ghz Intel Pentium IV or equivalent processor

Memory: 2 GB RAM

Graphics: DirectX 9 compliant Video Card with at least 256 MB of memory

DirectX: Version 9.0

Network: Broadband Internet connection

Hard Drive: 600 MB available space

Sound Card: DirectX compatible sound card

Additional Notes: The minimum configuration is currently higher than what it might be when the development is complete. Please understand that the current version is work in progress and is not yet optimized.
© 2012 Ubisoft Entertainment. All rights reserved. The Mighty Quest for Epic Loot, Ubisoft and the Ubisoft logo are trademarks of Ubisoft Entertainment in the US and/or other countries.
Helpful customer reviews