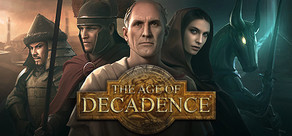 The Age of Decadence is an isometric, turn-based, single-player role-playing game set in a low magic, post-apocalyptic fantasy world, inspired by the fall of the Roman Empire. The game features a detailed skill-based character system, multiple skill-based ways to handle quests, choices & consequences, and extensive dialogue trees.
Release Date: Nov 14, 2013
Watch HD video
Early Access Game
Get instant access and start playing; get involved with this game as it develops.
Note: This Early Access game may or may not change significantly over the course of development. If you are not excited to play this game in its current state, then you may want to wait until the game progresses further in development. Learn more
What the developers have to say:
"
Welcome to the Age of Decadence Early Access launch!
We're proud to offer you the first two chapters (roughly 75% of the game) and send you on an exciting (hopefully) and one of a kind adventure.
The first two chapters have all the features of the full game and give you:
- 15 locations: two towns where all the scheming, plotting, and back-stabbing take place, raiders' camps, an ancient tomb, a tower of the Magi in a ruined city, the Abyss, which claimed many lives, a mountain pass protecting the southern towns from the barbarians of the wastes, and more.
- Over 100 hand-crafted fights (no filler combat), 130 if you count all variations
- Over 70 quests with multiple solutions, choices, and consequences
- Over 100 characters you can talk to
- Over 350,000 words of dialogue (that would be a 1,300-page book)
- 6 mutually-exclusive questlines
- 40 different weapons, 15 different armor sets, dozens of other items (alchemical reagents, crafting components, artefacts, scrolls, throwing nets, etc)
- A lot of death screens
It's a challenging (no, really), turn-based game with a lot of text. Its design is influenced by RPGs your grandpa used to play, where dying a lot was half the fun and the only way to learn. If you aren't sure if this game is for you, try the demo first.
Keep in mind that even though the content is done, we're committed to quality and will continue improving balance, optimization, and quests (based on your feedback).
We need a few months to finish the third and final chapter of the game (we're planning to start the beta test in June 2014) and your support and suggestions will help us deliver a quality RPG. Should you have any questions or suggestions, please visit our forums at
http://www.irontowerstudio.com/forum
"
Read more
August 22
Welcome to update # 8. It's a big update that adds all kinds of things but very little new content, unfortunately.

1. You can return to Teron now. There isn't much to do there yet as the unfinished quests have been resolved without you (thanks for nothing) and new content will be triggered by the events in Ganezzar, which hasn't been released yet.

So much like Caer-Tor, the new Teron maps (there are two actually, one where the Imperial Guards took over, the other where House Daratan reigns supreme and the town is swarmed with mercenaries) are nothing but a foundation on which new content will be build.

Still, you can walk around, chat with people, admire Antidas' grave, stop in front of crucified Miltiades, meet a mercenary captain who will replace Mercato if you had him killed, and report any bugs and consistency issues (people who should be dead being alive and kicking, etc).

2. We split the Teron map into 3 to improve performance. The old map included the mine and the raiders' camp, which wasn't the best way to handle it. Now Teron, the mine, and the camp are truly separate locations, which - in theory - can cause all kinds of issues but hopefully won't.

We tweaked the mine location a bit, replacing the old tower with something equally Roman but more combat-friendly, plus made it easier to explore it outside of text adventure. Overall, there is less 'teleporting' now.

3. We tweaked Alchemy as per very helpful players' suggestions

Added more reagents to Maadoran and Teron alchemists' inventories

Increased poison damage by 1 point for all levels.

Bombs and liquid fire no longer miss.

Bombs critical chance (knockdown effect) is now 50 - (victim's constitution - 6) x 15.

Alchemy level 9: Black Powder Bomb (Frag) has vsDR 5.

Alchemy level 10: Berserk potion homeostasis gives 3 DR and takes 5 HP at the end of the effect.

Alchemy level 10: Neurostimulant (Eagle Eye) gives 25 THC bonus.
4.Difficulty
As many of you noticed the difficulty takes a nosedive in Maadoran. One of the reason for that is that the metal bonuses greatly increase your offensive and defensive capabilities. Each metal adds 2 points. Whereas in Teron adding 2 points is a good bonus (and iron weapons are harder to find), it's relatively easy to buy high quality gear in Maadoran and increase your damage output and/or DR by 5-7 points, which is too much.
So, the no-name crafted items are removed from trader inventories (if you want them, invest in Crafting). Some of them have been replaced by much more expensive unique items. Coincidentally, each metal now adds only 1 point, so getting your hands on some blue steel will increase your damage/DR by 3 instead of 6.
We also tweaked some stats of unique items to make sure they are consistent with the overall balance.
5. A number of bug fixes and minor improvements.
* * *
As always, thank you for your continuous support and patronage. This update is a stepping stone toward a much larger update which will include 3 new locations, so your feedback and suggestions will be much appreciated.
16 comments
Read more
July 24
We're still working on Ganezzar, which is coming along nicely. I'd say we're half done now and the hardest part is behind us now. At this stage we have all the questlines and they flow, interweave, and arrive to logical conclusions quite nicely. They are more focused and interconnected and as a result there is a larger number of options and double-crossing opportunities.

Thus this update is also light on content as Ganezzar is a priority for us as we want to release it as soon as humanly possible.

So, what's in this update?


13 new Achievements


A new conversation with Lorenza


If you had a pickpocket encounter in Teron and decided to take Livia to Cado (thieves only option, obviously) instead of killing her or letting her go, you can meet her in Maadoran now and get a glimpse of the role she's going to play in Act 4 (endgame).


You asked for a good dagger and we listened. If you manage to save a trader upon arrival to Maadoran, he'll reward you with a nice custom jambia.


A new merchant in the Slums who can sell you an axe called Black Dow.


Added text explaining what happened if you leave the Monastery area without doing anything and return later when you're good and ready.


Added a text-based option to sneak into the vaults as well as the dialogue options depending on how you handled the raiders.


Fixed an older dialogue that wasn't triggered correctly - after talking to Old Azra and learning that she spent her youth in Maadoran, you can ask the street 'guide' about her.


Fixed a number of minor bugs including the critical strike issue in Aemolas' village
As always, thank you for your continuous support and patronage. If there is something you wish to see in the next update, be it specific items (that won't require new animations), different character types, or certain characters' viewpoints or past, let us know and we'll do our best to add them.
9 comments
Read more
Reviews
"Ultimately, the demo of Age of Decadence has, more than any game in a long while, left my jaw firmly planted on the floor. As an RPG player who loves deep character systems, game worlds with rich lore, nebulous and amoral situations, deep reactivity and interesting quest design, The Age of Decadence doesn't just meet the bar, it leaves some of the best and classic CRPGs in the dust. And as much as I can complain and nit-pick about what the game does or doesn't do, I find myself constantly coming back to it, just to try the same scenarios again as a different character, or to see if I can win a challenging fight, and ten times through, I'm still finding new locations, events and characters - that's the sign of a great RPG to me."
GameBanshee

"This brings me to the main point: replayability. Judging from the demo, Age of Decadence will be immensely replayable. And at three levels, at that: after finishing the demo as a merchant I immediately wanted to play the game as a member of a different faction, to get a different take on the situation, but also to play as a merchant with a different skill and stat distribution, to check out options unavailable for my original build; but also, which in other games would be ridiculous, to play exactly the same build and simply make different choices! My merchant ended up being a sort of a power behind the throne, facilitating a shift in the power distribution in the region, purely by use of persuasion, disguise, and, of course, money, insulting more than one person on his way but gaining powerful friends, too. But there were both diplomatic and combat-oriented options I steered clear of, leaving them for future playthroughs."
RPG Codex

"Age of Decadence is a hard game. I've been killed so many times I've lost count. Combat is among the most challenging I've ever encountered in a game, and even the text-based portions of the game—sneaking into a castle, for instance—are rife with challenges that often lead to your untimely demise. The game isn't like most modern role-playing games. It's neither cinematic nor fast-paced. It requires you to read a great deal, not to mention reload. Basically it's a tactical, turn-based fantasy RPG with a Roman-inspired setting. It's a single-player RPG with a deep story, consequential choices, and no hint of "Kill Ten Goblin" fetch quests. In other words, it's basically the antithesis of the MMORPG."
Forbes

About the Game
The Age of Decadence is an isometric, turn-based, single-player role-playing game set in a low magic, post-apocalyptic fantasy world, inspired by the fall of the Roman Empire. The game features a detailed skill-based character system, multiple skill-based ways to handle quests, choices & consequences, and extensive dialogue trees.
Traditionally, many fantasy RPGs are about killing things, clearing up dungeons, and being a hero. Now, there is nothing wrong with mindless fun and wish fulfillment, but we serve a different meal here. Quoting from one of the reviews:
"Well, if you want a hardcore, heavy metal roleplaying experience that challenges you, this is the ticket. Otherwise, take a pass. The game is vicious, both in its lack of morality and its merciless systems. If you want to be the hero of a story, run and don't look back. If you want to be Attia of the Julii or be a power player, this is your RPG."
The focus of the game is not on killing monsters, but rather on dealing with fellow humans and factions, trying to survive – easier said than done – and making a name for yourself. Naturally, to accommodate all that scheming, plotting, and backstabbing, we give the player plenty of choices, from multiple solutions to quests to different paths you can take through the game. You (and your actions) will determine who your friends and enemies are. There are no default good and bad guys.
Features
23 skills, ranging from Dagger and Critical Strike to Disguise and Persuasion to Alchemy and Lore.

Tactical combat system, featuring a flexible set of standard attacks, special attacks such as whirlwind and impale, and aimed attacks at different body parts.

8 weapon types: daggers, swords, axes, hammers, spears, bows, crossbows, throwing weapons, each with individual traits.

Non-combat quest resolutions and a well-developed diplomatic path.

Over 100 quests, taking you to 20 locations: towns, outposts, archeological digs, sealed places of Power, underground facilities, and temples.

Each situation has multiple ways of handling it, based on your skills, reputation, and connections.

An interesting world with rich history and unclear future that your actions can shape into seven very different game endings.

Detailed crafting and alchemy systems: forge your own weapons with different properties, brew different potions, experiment with Greek's fire and black powder.

Hundreds of items, ranging from weapons and armor to scrolls, tools, flasks, and pre-war relics.
System Requirements
Minimum:


OS: Windows XP/Vista/Windows 7/Windows 8

Processor: 1.7 GHz Processor or better

Memory: 2 GB RAM

Graphics: Nvidia Geforce 8500 GT / ATI Radeon HD 7290 (512 Mb) or better

DirectX: Version 9.0c

Hard Drive: 1500 MB available space
Recommended:


OS: Windows 7/Windows 8

Processor: 2.5 GHz Processor or better

Memory: 4 GB RAM

Graphics: Nvidia Geforce GTS 250 / Radeon HD 4870 (1Gb) or better

DirectX: Version 9.0c

Hard Drive: 1500 MB available space
© Iron Tower Studio Inc., 2013. All Rights Reserved.
Helpful customer reviews
Title:
The Age of Decadence
Genre:
Early Access
,
Indie
,
RPG
Developer:
Iron Tower Studio
Publisher:
Iron Tower Studio
Release Date:
Nov 14, 2013
Languages:
| | Interface | Full audio | Subtitles |
| --- | --- | --- | --- |
| English | | | |