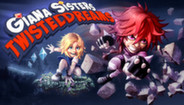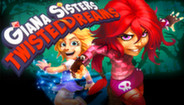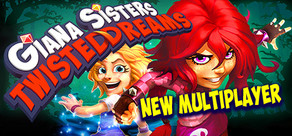 Giana Sisters: Twisted Dreams is a blistering hardcore platformer with contrasting worlds.
Data wydania: 22 Paź, 2012
Obejrzyj wszystkie zapowiedzi (3)
Kup Giana Sisters: Twisted Dreams
Pakiety zawierające tę grę
Kup Giana Sisters: Twisted Bundle
Zestaw 2 produktów: Giana Sisters: Twisted Dreams, Giana Sisters: Twisted Dreams - Rise of the Owlverlord
21 sierpnia
Hey everyone.

We have been informed that there is a problem with Giana Sisters videos on Youtube getting tagged with copywrite issues.

We have found what the problem is and are working on taking care of it, hopefully in a few days this will no longer be an issue for anyone anymore.

//BFG Zyddie.
Komentarzy: 1
Więcej
25 czerwca
I´ve made a offical linux statement/post for all the info we have about our linux version that you can find here - http://steamcommunity.com/app/223220/discussions/0/540744936190211502/

This has been a huge request by our community and I will ALSO annouce that a linux version is ALSO planned for Dieselstormers, no eta on that either.

So linux users we havn´t forgotten you, hope you can continue with the amazing patience you have shown us and soon you will be able to play all our games fully linux supported.

//BFG Zyddie.
Komentarzy: 2
Więcej
Recenzje
"The results look absolutely beautiful. It's a puzzle platformer in which you can control not only the main character, but also the mood of the world you're in."
– RockPaperShotgun

"Full of vibrant colors and accentuated animations, hearkening back to the days of truly inspired sidescrolling platformers."
– Destructoid

"The sheer amount of detail and work that went into the graphics do indicate to show you the sheer about of love for this fraaahhh-!"
– TotalBiscuit, The Cynical Brit
Big Picture
Steam Greenlight

This game was picked with help from the Steam Community. To vote for other games you'd like to
see made available on Steam, please visit Steam Greenlight.
Informacje o grze
Giana Sisters: Twisted Dreams is a blistering hardcore platformer with contrasting worlds. Warp Giana's vivid dreams to alter your abilities and destroy the twisted creatures lurking within. Giana Sisters: Twisted Dreams combines the challenge of retro era platforming with graphics that pack a visual punch and tight controls.
Fluidly morph between two dynamically different dream worlds to solve puzzles and combat grueling enemies. Players will have to intertwine sweet Giana's twirling jump attack with Punk Giana's hammering dash attack to survive the dualling dimensions.
Key Features
Powerful Abilities: Change Giana's personality to unlock her unique abilities - you'll need to control both sides to survive her dreams!
Intuitive Controls and Smooth Gameplay: Master the tight knit controls to defeat the cunning trials ahead.
Visual Punch:Giana's dreamworlds leap off the screen with gorgeous 3D graphics that morph before your eyes.
Twisted Puzzles: As Giana changes, so does the world around her. Collecting gems and finding secret locations requires strategy and interchanging the two worlds.
Legendary Soundtrack:Each dream layer has its own music style. Experience a dual crossfading soundtrack by Chris Hülsbeck and Machinae Supremacy!
Explore and Discover: There are 23 rich levels across 3 distinct worlds, each transforming into the two contrasting dreamworlds.
Epic Boss Battles:Take on gigantic creatures dredged from the depths of Giana's most terrifying nightmares. Each unique boss has only one thing in common with the others – they're utterly brutal!
Gut-wrenching Hardcore Modes: Hardcore and Über Hardcore modes also await players who are full masters of the game and quite possibly insane.
A remixed "easy" mode for all levels and bosses. The remixed mode is a lot easier to survive than its standard mode. The "easy" difficulty for Giana should roughly correspond to the "normal" difficulty for casual platformer games.
Extras: Halloween-themed levels accessible from the start.
Wymagania systemowe
Minimum (or Recommended)


OS: Windows XP

Processor: Intel Core 2 Duo @ 2.8 GHz / AMD Athlon II X2 @ 2.8 GHz

Memory: 2 GB RAM

Hard Disk Space: 3.3 GB

Video Card: SM3.0 DX9.0c level hardware (Nvidia GeForce 6800, ATI X1800 XT or higher)

DirectX®: 9

Additional: Keyboard
Recommended


OS: Windows Vista / Windows 7

Processor: Intel Core i5 @ 2.66 GHz / AMD Phenom II X4 @ 3.0 GHz (or any Dual Core CPU)

Memory: 3 GB RAM

Hard Disk Space: 3.3 GB

Video Card: Nvidia GeForce GTX 280, ATI HD 4800 or higher

DirectX®: 10

Peripherals Supported: Windows-compatible keyboard, mouse, optional controller (Xbox 360® Controller for Windows recommended)
Giana Sisters: Twisted Dreams" © 2012 Black Forest Games GmbH. All rights reserved. Powered by Havok(tm) © 1999-2012 by Havok.com, Inc. (and its Licensors). All Rights Reserved. See www.havok.com for details. Uses Scaleform GFx © 2012 Autodesk Inc. All rights reserved. Microsoft, Xbox 360 Controller and the Xbox logos are trademarks of the Microsoft group of companies and are used under license from Microsoft. All trademarks are the property of their respective owners. All rights reserved.
Pomocne recenzje klientów