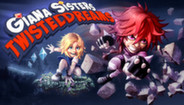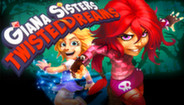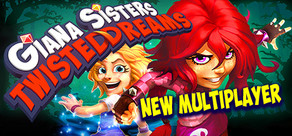 Giana Sisters: Twisted Dreams is een intense, hardcore platformer met tegenoverstaande werelden.
Releasedatum: 22 okt 2012
Alle 3 trailers bekijken
Giana Sisters: Twisted Dreams kopen
EEN WEEK LANG KORTING! Aanbieding eindigt 21 april
Pakketten die deze game bevatten
Giana Sisters: Twisted Bundle kopen
Bevat 2 items: Giana Sisters: Twisted Dreams, Giana Sisters: Twisted Dreams - Rise of the Owlverlord
7 april 2014
We've added a boss heart counter (♥) (♥) (♥) to all of the three Giana boss fights: Hansel and Gretel, Octor Freud and Gurglewocky.

This is a new UI element that indicates how many hits you still need to defeat each boss.

Sincerely,
Your BFG Team

4 opmerkingen
Meer informatie
17 december 2013
'Tis the owl stomping season and time to be jolly!

We just put out a free Christmas-themed level for Giana Sisters: Twisted Dreamss that players can grab from the Extras menu as of today.

Sincerely,
Your BFG Team
7 opmerkingen
Meer informatie
Recensies
"Het resultaat is absoluut schitterend. Het is een puzzelplatformer waarin je niet alleen de hoofdpersoon kunt besturen, maar ook de stemming van de wereld waar je je in bevindt."
– RockPaperShotgun

"Vol met heldere kleuren en geaccentueerde animaties die luisteren naar de dagen waarin sidescrollingplatformers zijn ontstaan."
– Destructoid

"De enorme hoeveelheid aan detail en werk dat in de graphics is gestoken, duidt op de liefde voor deze fraaahhh-!"
– TotalBiscuit, The Cynical Brit
Big Picture
Steam Greenlight

This game was picked with help from the Steam Community. To vote for other games you'd like to
see made available on Steam, please visit Steam Greenlight.
Info over het spel
Giana Sisters: Twisted Dreams is een snelle, uitdagende platformer met een twist. Vervorm Giana's droomwereld om je omgeving en je vaardigheden te veranderen. Gebruik je vaardigheden, snelheid en inzicht om de gevaren van Giana's verknipte dromen te trotseren!
Giana lacht om haar spookachtige nachtmerries. Ze danst lichtvoetig langs monsters en valstrikken. Maar van zachtaardige knuffeldromen wordt ze boos. Dan krijg je haar verhitte, punky kant te zien en vernietigt ze alles op haar weg!
Belangrijkste onderdelen
Dubbele vaardigheden: Giana's krachten veranderen mee met haar dromen. Vernietigen of ontwijken - jij beslist.
Intuïtieve, soepele besturing: Je kunt Giana met het grootste gemak besturen, maar uiteindelijk heb je al je vingervlugheid nodig om de uitdagingen aan te kunnen.
Adembenemende werelden: De prachtige 3D-beelden en fantastische vervormeffecten van Giana's droomwereld springen van je scherm!
Ongekend veel interactie: Naarmate Giana verandert, verandert ook de wereld om haar heen. Zweef in kauwgombellen, spurt over lopende banden, stuiter tegen veren en bumpers, gebruik je vijanden voor moeilijke sprongen en meer.
Legendarische soundtrack: Elke droomlaag heeft zijn eigen kenmerkende muziekstijl. Geniet van de dubbele, in elkaar overlopende soundtrack van Chris Hülsbeck en Machinae Supremacy!
Verken en ontdek: Er zijn drieëntwintig dubbele levels in drie verschillende werelden. Elk level kun je in twee droomwerelden spelen. Giana's dromen zitten vol verborgen plekken.
Epische eindbazen: Neem het op tegen gigantische wezens uit de diepste krochten van Giana's meest angstaanjagende nachtmerries, die ervoor proberen te zorgen dat ze nooit meer wakker wordt. Elke eindbaas is uniek, maar ze hebben één ding gemeen - ze zijn allemaal gruwelijk bloeddorstig!
Hartverscheurende hardcoremodi: Hardcore- en Über Hardcore-modi liggen ook in afwachting op spelers die het spel totaal beheersen en waarschijnlijk zelfs ook gestoord zijn.
Systeemeisen
Minimum (or Recommended)


OS: Windows XP

Processor: Intel Core 2 Duo @ 2.8 GHz / AMD Athlon II X2 @ 2.8 GHz

Memory: 2 GB RAM

Hard Disk Space: 3.3 GB

Video Card: SM3.0 DX9.0c level hardware (Nvidia GeForce 6800, ATI X1800 XT or higher)

DirectX®: 9

Additional: Keyboard
Recommended


OS: Windows Vista / Windows 7

Processor: Intel Core i5 @ 2.66 GHz / AMD Phenom II X4 @ 3.0 GHz (or any Dual Core CPU)

Memory: 3 GB RAM

Hard Disk Space: 3.3 GB

Video Card: Nvidia GeForce GTX 280, ATI HD 4800 or higher

DirectX®: 10

Peripherals Supported: Windows-compatible keyboard, mouse, optional controller (Xbox 360® Controller for Windows recommended)
Giana Sisters: Twisted Dreams" © 2012 Black Forest Games GmbH. All rights reserved. Powered by Havok(tm) © 1999-2012 by Havok.com, Inc. (and its Licensors). All Rights Reserved. See www.havok.com for details. Uses Scaleform GFx © 2012 Autodesk Inc. All rights reserved. Microsoft, Xbox 360 Controller and the Xbox logos are trademarks of the Microsoft group of companies and are used under license from Microsoft. All trademarks are the property of their respective owners. All rights reserved.
Nuttige klantrecensies