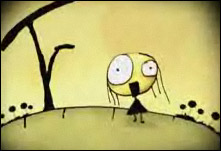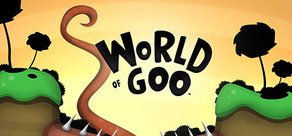 World of Goo is a multiple award winning physics based puzzle / construction game made entirely by two guys.
Udgivelsesdato: 13 Okt 2008
Vis alle 2 trailere
Om spillet
World of Goo er et fysikbaseret opgaveløsnings-/konstruktionsspil, som har vundet utallige priser, og som er udviklet af bare to personer. Træk og slip levende, sprællende, talende klatter splat for at bygge strukturer, broer, kanonkugler, luftskibe og gigantiske tunger. De millioner af Goo-bolde, der lever i den smukke verden Goo, er nysgerrige – men de ved ikke, at de befinder sig i et spil, eller at de er ekstremt delikate.
Mystiske baner – Hver enkelt bane er underlig og farligt smuk og introducerer nye opgaver, områder og de skabninger, der lever i dem.

En verden af Goo-bolde – Undervejs finder uopdagede nye arter af Goo-bolde, hver især med unikke færdigheder, sammen for at sive igennem modstræbende fortællinger om opdagelse, kærlighed, sammensværgelse, skønhed, elektrisk energi og den tredje dimension.

Skiltemaleren – Nogen holder øje med dig.

World of Goo Corporation – Tillykke! World of Goo Corporation er globalt førende inden for Goo og Goo-relaterede produkter, herunder bl.a. World of Goo Corporations helt egen læskedrik og World of Goo Corporations ansigtscreme. Saftigt!

Kæmpe online-konkurrence – Menneskespillere verden over konkurrerer på en levende scoretavle om at bygge de højeste tårne af splat i World of Goo Corporations mystiske sandkasse. World of Goo Corporation er kontraktligt forpligtet til at oplyse, at alle er vindere, og det ligger os kraftigt på sinde entusiastisk at rose alles færdigheder som tårnbyggere ligeligt. Tillykke, og held og lykke!
Systemkrav til PC
Minimumskrav:


Understøttede operativsystemer: Windows® XP eller Vista

Processor: 1 GHz eller hurtigere

Hukommelse: Mindst 512 MB RAM

Grafikkort:Alle 3D-grafikacceleratorer, der er mindre end 5 år gamle

DirectX®-version: 9.0c

Harddisk: 100 MB
Systemkrav til Mac
OS: OS X version Leopard 10.5.8, Snow Leopard 10.6.3, or later

Processor: Intel Core Duo

Memory: 512 MB

Graphics: 64 MB

Other Requirements:
Systemkrav til Linux
Processor: 1 GHz or faster

Memory: 512 MB or more

Graphics: hardware accelerated OpenGL 1.4 support

Hard drive: 100 MB free space
World of Goo is copyright © 2008 of 2D Boy, LLC
Helpful customer reviews