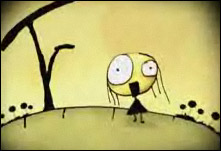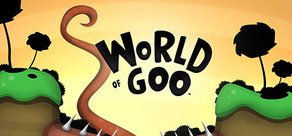 World of Goo is a multiple award winning physics based puzzle / construction game made entirely by two guys.
Utgivningsdatum: 13 okt, 2008
Titta på alla 2 trailers
Om spelet
World of Goo är ett flerfaldigt prisbelönt fysikbaserat pussel-/byggspel som skapats av två härliga grabbar. Här ska du dra och släppa geggiga klumpar som lever, vrider sig och talar. Använd dem och bygg strukturer, broar, kanonkulor, zeppelinare och jättetungor. I goo-klumparnas vackra värld bor miljontals nyfikna och utforskande goo-klumpar, som varken vet om att de ingår i ett spel eller att de smakar otroligt läckert.
Mystiska nivåer – De olika nivåerna är underliga och farligt vackra, och bjuder på nya områden med pussel och levande varelser.

Goo-klumparnas värld – Längs vägen dyker okända nya arter av goo-klumpar upp, var och en med egna unika egenskaper, och de kletar sig sedan fram genom äventyr fyllda av utforskande, kärlek, konspiration, skönhet, spänning och 3D.

Sign Painter – Det är uppenbarligen någon som håller koll på dig.

Samarbete i goo-klumparnas värld – Grattis! World of Goo Corporation är världsledande inom goo och goo-relaterade produkter, bland annat World of Goo Corporation Trademark Brand-läsken och World of Goo Corporation Trademark Brand-peelingkrämen. Läckert!

Omfattande onlinetävlingsläge – Spelare runtom i världen tävlar om vem som kan bygga det högsta goo-tornet i World of Goo Corporations märkliga lekstuga. World of Goo Corporation måste enligt kontraktet utropa alla till vinnare och gläds åt att kunna fira allas byggframgångar i samma höga grad. Grattis och lycka till!
Systemkrav (PC)
Minimikrav:


Operativsystem: Windows® XP eller Vista

Processor: 1 GHz eller snabbare

Minne: 512+MB arbetsminne

Grafik: Alla typer av grafikkort med 3D-acceleration som är max 5 år gammalt

DirectX®-version: 9.0c

Hårddisk: 100 MB
Systemkrav (MAC)
OS: OS X version Leopard 10.5.8, Snow Leopard 10.6.3, or later

Processor: Intel Core Duo

Memory: 512 MB

Graphics: 64 MB

Other Requirements:
Systemkrav för Linux
Processor: 1 GHz or faster

Memory: 512 MB or more

Graphics: hardware accelerated OpenGL 1.4 support

Hard drive: 100 MB free space
World of Goo is copyright © 2008 of 2D Boy, LLC
Hjälpsamma kundrecensioner