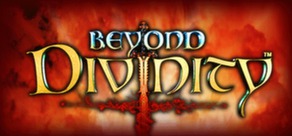 Beyond Divinity ist der Nachfolger des preisgekrönten Divine Divinity.
Veröffentlichung: 27 Apr. 2004
Pakete, die dieses Spiel enthalten
Divinity Anthology kaufen
Enthält 3 Artikel: Divine Divinity, Beyond Divinity, Divinity II: Developer's Cut
Reviews
"If you're looking for a lengthy (as in 100+ hours) RPG that blends quick and dirty gameplay with heaping plates of detail and sophisticated character development, no one else comes close to this series"
90/100 – GameSpy
"If you have ever played Diablo, Dungeon Siege, or Baldur's Gate, then this game will become second home to you."
80/100 – GameZone
"Combines the best of fast-paced combat-oriented RPGs with a decent storyline and inventive questing."
– IGN
Über das Spiel
Beyond Divinity ist der Nachfolger des preisgekrönten Divine Divinity. Die eigene Seele an die eines Todesritters gekettet, scheint es Ihr Schicksal zu sein bis ans Ende der Zeit an diese Kreatur gebunden zu bleiben, wenn es nicht irgendwie gelingt den Fluch zu brechen...Seien Sie bereit für Ihr größtes Abenteuer!
Diese neue, nachbearbeitete Version unterstützt Windows 7 und bietet eine höhere Auflösung.
Hauptmerkmale:
Ein RPG epischen Ausmaßes Erleben Sie ein Abenteuer, das über 60 Stunden andauert, randvoll mit linearen Quests und einer gigantischen Welt, die in vier Akten entdeckt und erforscht werden kann. Und wenn das noch nicht reicht, können Sie jederzeit die Schlachtfelder betreten: ein zufällig generiertes Universum voller Beute, Feinde und neuer Quests.
Klassenunabhängige Charakterentwicklung Entscheiden Sie was für ein Charakter Sie sein wollen! Genießen Sie eine offene Charakterentwicklung mit über 30 Traits und 290 Skills, wie fortgeschrittene Alchemie, Handwerkskunst, Fallenstellen und vielen mehr.
Teamwork ist der Schlüssel zum Sieg Wechseln Sie nahtlos zwischen ihrem Avatar und dem Todesritter. Das Spiel lässt sich im Kampf nach Belieben pausieren und gibt genügend Zeit jedem Gruppenmitglied Befehle zu erteilen. Durch die Beschwörung von Puppen können Sie Ihre Gruppe noch weiter vergrößern.
Massenweise Interaktion Entdecken Sie die riesige Auswahl an Objekten, die allesamt untersucht, gehandelt, benutzt und kombiniert werden können. Haben Sie ein paar leere Flaschen gefunden und bunte Pilze gesammelt? Brauen Sie Tränke daraus! Ist Ihnen ein übelriechendes Gift in die Hände gefallen? Tragen Sie es auf Ihre Waffen und Pfeilspitzen auf: Ihre Feinde werden nicht wissen, was sie da getroffen hat!
Preisgekrönter Soundtrack Freuen Sie sich auf den melodischen Soundtrack, komponiert von Kitill Pokrovsky, dem zweifachen Sieger von IGNs "Outstanding Achievement in Music" Award.
Systemvoraussetzungen
Minimum:

Betriebssystem: Windows XP
Prozessor: Pentium 4 1,4 GHz
Speicher: 256 MB RAM
Grafik: DirectX kompatibel 3D Karte
DirectX®: 9.0c
Festplatte: 2300 MB HD frei
Sound: DirectX kompatibel
© 2002 - 2012 Larian Studios (Arrakis NV). All rights reserved.
Divinity and Larian are the registered trademarks of Larian Studios (Arrakis NV).
All trademarks are the property of their respective owners.
Hilfreiche Kundenreviews