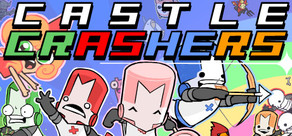 Hack, slash, and smash your way to victory in this award winning 2D arcade adventure from The Behemoth!
Release Date: Sep 26, 2012
Buy Castle Crashers 4-pack
Includes four copies of Castle Crashers - a copy for yourself and three copies to send to your friends!
Downloadable Content For This Game
April 8th, 2014
This weekend we'll be at PAX East for another three day adventure with our fans! In the last two weeks, we've revealed a few new items coming to our gift shop at Booth 512: Pinny Arcade Pins, BattleBlock Theater hats, and Troll t-shirts!

Now it's time to reveal a bit of our schedule during this year's PAX East:

On Friday and Saturday, you'll have a chance to get your Behemoth gear signed by Tom Fulp and Will Stamper. Tom is a co-founder of the Behemoth and programmer for Alien Hominid & Castle Crashers. Will is best known as the narrator of BattleBlock Theater, but also sprinkled his talent in various parts of Castle Crashers including song writing, voice acting for the Ice King, and voice acting for the Industrial King.

Join us Friday, April 11th, and Saturday, April 12th @ PAX East Booth 512 between 2PM-4PM for the free autograph sessions. Our team will also be on the show floor if you just want to ask us a question or say hello.

Keep up with all the PAX East blog posts and news HERE.
7 comments
Read more
March 18th, 2014
Are you a fan of Castle Crashers Steam? If you said "yes," "yeah," "yeehaw," "hai," "fo shizzle," or any other variation of agreement, then you may be interested to know that we're bringing BattleBlock Theater to Steam for Windows!

Watch our announcement trailer and by the time you're finished with it, you'll have one word stuck in your head all day: STEAM!!!

New Features

Weapon switching! Players can now switch between a primary and secondary weapon in game!

New Cat Guard enemies throughout Story Mode.

Steam Workshop integration for sharing user created levels.

Steam Inventory integration for trading! This allows users to trade and sell weapons, prisoners, gems and yarn via Steam.

X input, Direct Input, and Keyboard/Mouse support.
BattleBlock Theater Steam (version) is going to manifest moments in your mind you never thought would be possible. Don't believe us? Try the game yourself before it even makes its official release on Steam.
From March 24, 2014 to March 31, 2014, we'll be holding a Closed Beta for this upcoming PC edition of our game. A Closed Beta means you'll need to register to get a beta key, but anyone 13-years-old and up are welcome to sign up! Sign ups end THIS FRIDAY, March 21st.
The Beta start date is of course subject to change. We're still updating and testing a bunch of items, and in the event something doesn't feel right we might adjust the beta start. Regardless of this, we encourage you to register now.
Register here:
http://thebehemoth.com/beta
33 comments
Read more
About the Game
Hack, slash, and smash your way to victory in this award winning 2D arcade adventure from The Behemoth! Featuring hand-drawn characters, Castle Crashers Steam Edition delivers hi-res visuals like nothing you've seen before. Four friends can play locally or online to save your princess, defend your kingdom, and crash some castles!
Key Features:
Unlock more than 25 characters and over 40 weapons!

Intuitive combo and magic system: Unlock an arsenal of new attacks as your character progresses through the game.

Level up your character and adjust Strength, Magic, Defense, and Agility.

Adorable animal orbs are your companions. Each adds different abilities to aid you on your journey.

Arena mode: Battle other players in free-for-all or team matches!

Insane Mode: Test your skills in the ultimate campaign challenge

Necromantic Booster Pack (includes Necromancer and Cult Minion characters)

King Booster Pack (includes The King and Open-Faced Gray Knight)

All You Can Quaff Mini Game

Also includes: Alien Hominid playable character
PC System Requirements
Minimum:


OS:Microsoft® Windows® XP / Vista / 7

Processor:Intel Core 2 Duo 2GHz+ or better

Memory:1 GB RAM

Graphics:256 MB video card

DirectX®:9.0c

Hard Drive:255 MB HD space

Sound:DirectX compatible

Other Requirements:Broadband Internet connection

Additional:Supports Microsoft® Xbox 360 controller or Direct Input compatible controller
Recommended:


OS:Microsoft® Windows® XP / Vista / 7

Processor:Intel Core 2 Duo 2GHz+ or better

Memory:2 GB RAM

Graphics:512 MB video card

DirectX®:9.0c

Hard Drive:255 MB HD space

Sound:DirectX compatible

Other Requirements:Broadband Internet connection

Additional:Supports Microsoft® Xbox 360 controller or Direct Input compatible controller
Mac System Requirements
Minimum:


OS:Mac OS X 10.5 - Leopard

Processor:Intel Core 2 Duo 2GHz+ or better

Memory:2 GB RAM

Graphics:256 MB video card

Hard Drive:255 MB HD space

Sound:Mac compatible sound card

Other Requirements:Broadband Internet connection

Additional:With the right drivers the game supports Microsoft® Xbox 360, Sony PS3, and Logitech controllers
Recommended:


OS:Mac OS X 10.7 - Lion

Processor:Intel Core 2 Duo 2GHz+ or better

Memory:4 GB RAM

Graphics:512 MB video card

Hard Drive:255 MB HD space

Sound:Mac compatible sound card

Other Requirements:Broadband Internet connection

Additional:With the right drivers the game supports Microsoft® Xbox 360, Sony PS3, and Logitech controllers
Helpful customer reviews
Title:
Castle Crashers
Genre:
Action
,
Adventure
,
Casual
,
Indie
,
RPG
Developer:
The Behemoth
Publisher:
The Behemoth
Release Date:
Sep 26, 2012
Languages:
| | Interface | Full audio | Subtitles |
| --- | --- | --- | --- |
| English | | | |
| German | | | |
| French | | | |
| Italian | | | |
| Korean | | | |
| Spanish | | | |
| Simplified Chinese | | | |
| Traditional Chinese | | | |
| Japanese | | | |
| Portuguese | | | |
See all 10 supported languages