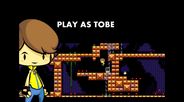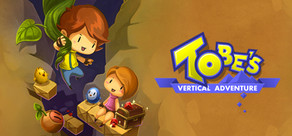 Two unique characters and a total of 4 islands and 16 levels to explore, Tobe's Vertical Adventure shall bring you back to the 16-bit era.
Çıkış Tarihi: 18 Temmuz 2011
HD Videoyu İzle
İncelemeler
"Fantastic Platforming and Cave Diving. Two player? Even better!"
– Xbox Hornet
"Tobe's Vertical Adventure is a fun little game reminiscent of the old Mario Bros games from the original Nintendo"
– XBLIG News, Reviews & Previews
"If you want a thrilling little platformer with waaaay too much cuteness for its own good, start downloading this gem!"
– The Indie Game Magazine
Oyun Açıklaması
Tobe's Vertical Adventure, materyalist aşkı Nana tarafından bir hazine avına zorlanan, oyunlara aşırı derecede düşkün Tobe'nin başrolde olduğu bağımsız yapımcılar tarafından yapılan, nostaljik yapıya sahip bir platform oyunudur. Bu koca kafalı ikili, zamanda ileri ve geri giderek parçalanan mağaralarda hazineleri ararken pofuduk hayvanları kurtaracak ve yol boyunca size kawaii ne~ çığlıkları attıracak. 2 kendine özel karakteri, keşfedilebilir 4 ada ve 16 seviyesiyle Tobe's Vertical Adventure sizi 16-bit çağına geri götürecek.
Önemli özellikler:
4 adada bulunan 16 seviyede geçen saatlerce klasik platform aksiyonu
Tobe veya Nana olarak oynayın, ikisi de kendilerine özel hikaye ve hareket takımlarına sahip
Bir arkadaşınızla beraber, eşli oyun modunda Tobe ve Nana olarak oynayın
16 bit grafikleriyle nostalji harikası
Hikayeyi ara sahneler eşliğinde deneyimleyin ve oyun müzikleri ve sanat kitabını toplayın
Sistem Gereksinimleri
İşletim Sistemi:Windows XP, Vista, 7
İşlemci:1.8GHz
Bellek:512 MB RAM
Ekran Kartı:128 MB, Shader Model 2.0
DirectX®:9.0c
Sabit Disk:200 MB boş alan
SEs:Direct X9.0c uyumlu ses kartı
Helpful customer reviews