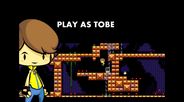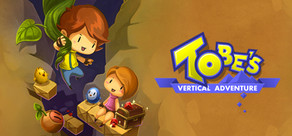 Two unique characters and a total of 4 islands and 16 levels to explore, Tobe's Vertical Adventure shall bring you back to the 16-bit era.
Data lansării: 18 Iul 2011
Vizionează video HD
Ce spun criticii
"Fantastic Platforming and Cave Diving. Two player? Even better!"
– Xbox Hornet
"Tobe's Vertical Adventure is a fun little game reminiscent of the old Mario Bros games from the original Nintendo"
– XBLIG News, Reviews & Previews
"If you want a thrilling little platformer with waaaay too much cuteness for its own good, start downloading this gem!"
– The Indie Game Magazine
Despre joc
Tobe's Vertical Adventure (Aventura Verticală a lui Tobe) este un joc independent, retro, platformer, protagonistul fiind Tobe, gamerul (jucătorul) supra devotat ce a fost forţat să ia parte într-o vânătoare de comori de către pasiunea sa materialistică, Nana. Duoul încăpăţânat va călători înainte şi înapoi în peşterile pe cale de a se prăbuşi, în căutarea comorilor, în acelaşi timp salvând animale pufoase şi făcându-te să ţipi kawaii ne~ de-a lungul drumului. Cu 2 caractere unice şi un total de 4 insule şi 16 nivele de explorat, Tobe's Vertical Adventure (Aventura Verticală a lui Tobe) te va aduce înapoi la epoca pe 16 biţi.
Caracteristici cheie:
Ore de acţiune clasica platforming prin 16 nivele de-a lungul a 4 insule
Joacă ca Tobe sau Nana, fiecare cu povestea lui unică si miscările sale de atac
Mod cooperativ cu un prieten , ca Tobe ori Nana
Bunătate grafică pe 16 biti
Trăieşte povestea prin filmuleţe şi deblochează coloanele sonore şi artwork-ul de colecţie
Cerinţe de sistem
OS:Windows XP, Vista, 7
Processor:1.8GHz
Memory:512 MB RAM
Graphics:128 MB, Shader Model 2.0
DirectX®:9.0c
Hard Drive:200 MB HD space
Sound:Direct X9.0c compatible sound card
Recenzii utile ale clienților