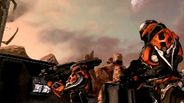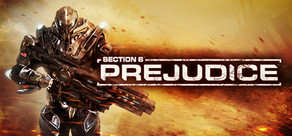 ¡Contenido descargable y pack de cuatro ya disponibles! ¡Envía las copias extra a tus amigos!
Fecha de lanzamiento: 4 mayo 2011
Ver vídeo en alta definición
Comprar Section 8: Prejudice
Comprar Section 8: Prejudice - Four Pack
Incluye cuatro copias de Section 8: Prejudice y de los DLCs - Envía las copias extra a tus amigos.
Contenido descargable para este juego
Comprar Section 8: Prejudice - Content Pack
Incluye 3 artículos: Section 8: Prejudice Blitz Pack, Section 8: Prejudice Overdrive Map Pack, Section 8: Prejudice Frontier Colonies Map Pack
Acerca del juego
En el campo de batalla, los prejuicios adoptan muchas formas, no conocen límites e impulsan todos los conflictos. En el futuro lejano, la humanidad recurrirá a sus defensores más intrépidos para enfrentarse a una amenaza emergente decidida a erradicar la vida humana tal y como la conocemos. Section 8®: Prejudice™ es un shooter en primera persona de ciencia ficción con combates dinámicos, donde cada decisión – desde personalizar el equipo a activar objetivos basados en equipos – afecta de forma drástica al campo de batalla.
Características principales:
Juega como Alex Corde y descubre, en la campaña para un jugador, la siniestra serie de traiciones que amenazan la supervivencia de la humanidad
Compite con hasta 40 jugadores en varios modos multijugador que van desde el extremo y estratégico juego de "Conquista" hasta las hordas de robustos oponentes controlados por IA de "Enjambre"
Regenérate estratégicamente en cualquier lugar del campo de batalla para ayudar a los aliados o tender una emboscada a los enemigos
Personaliza tus armas, munición y equipamiento para que se adapten a tu estilo de juego
Solicita desplegables y vehículos cuando y donde los necesites para obtener ventajas tácticas
Domina la auténtica movilidad con saltos, sobreaceleraciones y jetpacks para superar a tus oponentes
Completa una gran variedad de misiones de combate dinámico que van desde lanzar ataques aéreos sobre posiciones fortificadas a obtener información crucial
Avanza de rango y en tus habilidades para acceder a un devastador arsenal de más de 60 armas, equipamiento y variantes de mejoras
Requisitos del sistema
Mínimo:

SO: Windows® XP / Windows Vista® / Windows® 7
Procesador: Intel 3.0 GHz (monoprocesador), 2.0 GHz (dual) o AMD Athlon XP 3200+
Memoria: 2 GB de RAM
Gráficos: nVidia GeForce 7800 o ATI Radeon X1900 (se recomienda nVidia GeForce GTX 460 o superior)
DirectX®: DirectX 9.0
Disco Duro: 5.5 GB de espacio libre
Sonido: Compatible con DirectX 9.0
© 2011 TimeGate Studios, Inc. "Section 8", "Prejudice", and "TimeGate" are copyrights and trademarks of TimeGate Studios, Inc. in the United States and elsewhere. All rights reserved.

Online Disclaimer:ACCEPTANCE OF END USER LICENSE AGREEMENT REQUIRED TO PLAY. INTERNET CONNECTION REQUIRED TO AUTHENTICATE AND TO ACCESS ONLINE FEATURES AND/OR SERVICES. ACCESS TO ONLINE FEATURES AND/OR SERVICES REQUIRES A WINDOWS LIVE ID AND ACCOUNT, REGISTRATION WITH SINGLE-USE SERIAL CODE ENCLOSED WITH NEW, FULL RETAIL PURCHASE, INSTALLATION OF THE GAMES FOR WINDOWS LIVE SOFTWARE, ACCEPTANCE OF THE GAMES FOR WINDOWS LIVE TERMS OF USE www.xbox.com/en-us/legal/livetou.htm, GAMES FOR WINDOWS LIVE PRIVACY STATEMENT privacy.microsoft.com/en-US/default.mspx?shellstate=none,THE XBOX LIVE CODE OF CONDUCT www.xbox.com/en-US/legal/codeofconduct.htm. REGISTRATION FOR ONLINE SERVICES AND/OR FEATURES IS LIMITED TO ONE WINDOWS LIVE ID PER SERIAL CODE, WHICH IS NON-TRANSFERABLE ONCE USED. YOU MUST BE 13+ TO REGISTER FOR A WINDOWS LIVE ACCOUNT.
Análisis útiles de usuarios