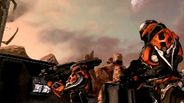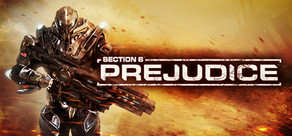 Herunterladbarer Inhalt und Vierer-Paket sind jetzt verfügbar! Schenken Sie die zusätzlichen Kopien Ihren Freunden!
Veröffentlichung: 4. Mai 2011
HD-Video ansehen
Section 8: Prejudice kaufen
Section 8: Prejudice - Four Pack kaufen
Beinhaltet vier Kopien von Section 8: Prejudice und die DLCs - Verschenken Sie die Extrakopien an ihre Freunde.
Inhalte zum Herunterladen für dieses Spiel
Section 8: Prejudice - Content Pack kaufen
Enthält 3 Artikel: Section 8: Prejudice Blitz Pack, Section 8: Prejudice Overdrive Map Pack, Section 8: Prejudice Frontier Colonies Map Pack
Über das Spiel
Auf dem Schlachtfeld kann das bloße Vorurteil jede erdenkliche Form annehmen, es kennt keine Grenzen und steht hinter aller Zwietracht. In einer fernen Zukunft wird die Menschheit ihre furchtlosesten Beschützer rufen, um einem Feind entgegenzutreten, der entschlossen ist, alles menschliche Leben auszulöschen. Section 8®: Prejudice™ ist ein Ego-Shooter dessen dynamisches Kampfsystem durch jede Entscheidung - sei es die Wahl der Ausrüstung oder das Erfüllen spezifischer Ziele - beeinflusst wird.
Hauptmerkmale:
Spielen Sie in der Einzelspieler-Kampagne als Alex Corde und folgen Sie einer Serie geheimer Verschwörungen, die die Menschheit an den Rande der Existenz getrieben hat.
Messen Sie sich in verschiedenen Mehrspieler-Modi mit bis zu 40 Spielern - vom strategisch fordernden Gameplay in "Conquest" bis hin zum "Swarm"-Modus, in dem Sie sich ganzen Horden hartnäckiger Gegner stellen müssen.
Entscheiden Sie selbst, an welcher Stelle Sie das Spielfeld betreten, um Ihre Verbündeten zu unterstützen oder Ihrem Gegner in den Rücken zu fallen.
Richten Sie die Wahl Ihrer Waffen, Ausrüstung und Munition nach Ihren eigenen Vorlieben aus.
Fordern Sie Vehikel an gewünschter Stelle zur Unterstützung an, wenn Ihr taktisches Vorgehen dies erfordert.
Setzen Sie Jet-Packs, Sprints und die Abwurfoption geschickt ein, um Ihre Gegner abzuhängen und zu überlisten.
Erledigen Sie abwechslungsreiche Kampfeinsätze - vom Luftangriff auf befestigte Stellungen zum Sichern kritischer Informationen.
Steigen Sie in Rang und Können auf, um ein zerstörerisches Arsenal aus über 60 Waffen, Ausrüstungsteilen und Upgrades freizuschalten.
Systemvoraussetzungen
Minimum:

Betriebssystem: Windows® XP/Windows Vista®/Windows® 7
Prozessor: Intel 3.0 GHz (single), 2.0 GHz (dual), oder AMD AthlonXP3200+
Speicher: 2 GB RAM
Grafik: NVIDIA GeForce 7800 oder ATI Radeon X1900 (NVIDIA GeForce GTX 460 oder besser empfohlen)
DirectX®: DirectX 9.0
Festplatte: 5.5 GB frei
Sound: DirectX 9.0 kompatible Soundkarte
© 2011 TimeGate Studios, Inc. "Section 8", "Prejudice", and "TimeGate" are copyrights and trademarks of TimeGate Studios, Inc. in the United States and elsewhere. All rights reserved.

Online Disclaimer:ACCEPTANCE OF END USER LICENSE AGREEMENT REQUIRED TO PLAY. INTERNET CONNECTION REQUIRED TO AUTHENTICATE AND TO ACCESS ONLINE FEATURES AND/OR SERVICES. ACCESS TO ONLINE FEATURES AND/OR SERVICES REQUIRES A WINDOWS LIVE ID AND ACCOUNT, REGISTRATION WITH SINGLE-USE SERIAL CODE ENCLOSED WITH NEW, FULL RETAIL PURCHASE, INSTALLATION OF THE GAMES FOR WINDOWS LIVE SOFTWARE, ACCEPTANCE OF THE GAMES FOR WINDOWS LIVE TERMS OF USE www.xbox.com/en-us/legal/livetou.htm, GAMES FOR WINDOWS LIVE PRIVACY STATEMENT privacy.microsoft.com/en-US/default.mspx?shellstate=none,THE XBOX LIVE CODE OF CONDUCT www.xbox.com/en-US/legal/codeofconduct.htm. REGISTRATION FOR ONLINE SERVICES AND/OR FEATURES IS LIMITED TO ONE WINDOWS LIVE ID PER SERIAL CODE, WHICH IS NON-TRANSFERABLE ONCE USED. YOU MUST BE 13+ TO REGISTER FOR A WINDOWS LIVE ACCOUNT.
Hilfreiche Kundenreviews