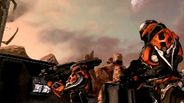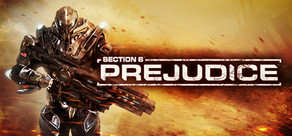 Downloadable Content and 4-Pack Now Available! Give the extra copies to your friends!
Çıkış Tarihi: 4 Mayıs 2011
HD Videoyu İzle
Section 8: Prejudice Satın Alın
Section 8: Prejudice - Four Pack Satın Alın
Dört adet Section 8: Prejudice ve İndirilebilir İçerik kopyası içerir - Fazla kopyaları arkadaşlarınıza hediye edin.
Bu Oyun İçin İndirilebilir İçerikler
Section 8: Prejudice - Content Pack Satın Alın
3 ürün içerir: Section 8: Prejudice Blitz Pack, Section 8: Prejudice Overdrive Map Pack, Section 8: Prejudice Frontier Colonies Map Pack
Oyun Açıklaması
On the battlefield, prejudice takes many forms, knows no boundaries, and drives all conflict. In the distant future, humanity will call on its most fearless defenders to confront an emerging threat determined to eradicate all human life as we know it. Section 8®: Prejudice™ is a sci-fi first-person shooter with dynamic combat, where every decision – from customizing equipment to activating team based objectives – drastically impacts the battlefield.
Key features:
Play as Alex Corde and discover the sinister series of betrayals that now threaten humanity's survival in the single player campaign.
Compete in various multiplayer modes with up to 40 players - from the extreme, strategic play of "Conquest" to the hordes of robust AI opponents in "Swarm".
Strategically spawn anywhere on the battlefield to assist allies or ambush enemies.
Customize loadout weapons, ammo, and equipment to suit your playstyle.
Call in deployables and vehicles when and where you need them to gain tactical advantages.
Master true mobility with dropping, overdrive, and jetpacks to outmaneuver opponents.
Complete a variety of Dynamic Combat Missions - from launching aerial strikes against fortified positions to securing crucial intel.
Advance in rank and skill to access a devastating arsenal of over 60 weapons, equipment, and upgrade variants.
Sistem Gereksinimleri
En Düşük:

İşletim Sistemi: Windows® XP/Windows Vista®/Windows® 7
İşlemci: Intel 3.0GHz (tek çekirdek), 2.0GHz (çift çekirdek) veya AMD AthlonXP3200+
Bellek: 2 GB RAM
Ekran Kartı: NVIDIA GeForce 7800 veya ATI Radeon X1900 (NVIDIA GeForce GTX 460 veya daha iyisi önerilir)
DirectX®: DirectX 9.0
Sabit Disk: 5.5 GB boş alan
Ses: DirectX 9.0 uyumlu ses kartı
© 2011 TimeGate Studios, Inc. "Section 8", "Prejudice", and "TimeGate" are copyrights and trademarks of TimeGate Studios, Inc. in the United States and elsewhere. All rights reserved.

Online Disclaimer:ACCEPTANCE OF END USER LICENSE AGREEMENT REQUIRED TO PLAY. INTERNET CONNECTION REQUIRED TO AUTHENTICATE AND TO ACCESS ONLINE FEATURES AND/OR SERVICES. ACCESS TO ONLINE FEATURES AND/OR SERVICES REQUIRES A WINDOWS LIVE ID AND ACCOUNT, REGISTRATION WITH SINGLE-USE SERIAL CODE ENCLOSED WITH NEW, FULL RETAIL PURCHASE, INSTALLATION OF THE GAMES FOR WINDOWS LIVE SOFTWARE, ACCEPTANCE OF THE GAMES FOR WINDOWS LIVE TERMS OF USE www.xbox.com/en-us/legal/livetou.htm, GAMES FOR WINDOWS LIVE PRIVACY STATEMENT privacy.microsoft.com/en-US/default.mspx?shellstate=none,THE XBOX LIVE CODE OF CONDUCT www.xbox.com/en-US/legal/codeofconduct.htm. REGISTRATION FOR ONLINE SERVICES AND/OR FEATURES IS LIMITED TO ONE WINDOWS LIVE ID PER SERIAL CODE, WHICH IS NON-TRANSFERABLE ONCE USED. YOU MUST BE 13+ TO REGISTER FOR A WINDOWS LIVE ACCOUNT.
Yararlı müşteri incelemeleri