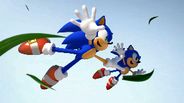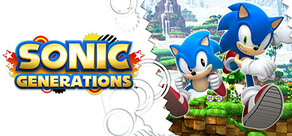 Celebrate 20 years of Sonic in an all new adventure that delivers a definitive experience to Sonic fans new and old!
Data di rilascio: 3 Nov 2011
Guarda video HD
Acquista Sonic Generations
Pacchetti che includono questo gioco
Acquista Sonic Hits Collection
Include 17 oggetti: Sonic & SEGA All-Stars Racing, Sonic 3D Blast™, Dr. Robotnik's Mean Bean Machine™, Sonic Spinball™, Sonic the Hedgehog, Sonic the Hedgehog 2, Sonic 3 and Knuckles, Sonic Adventure DX, Sonic Generations - Casino Nights DLC, Sonic CD, Sonic Generations, Sonic the Hedgehog 4 - Episode I, Sonic the Hedgehog 4 - Episode II, Sonic & All-Stars Racing Transformed, Sonic Adventure 2, SONIC ADVENTURE 2: BATTLE, Sonic and All-Stars Racing Transformed: Metal Sonic & Outrun DLC
Contenuti scaricabili per questo gioco
Informazioni sul gioco
La celebrazione definitiva per i 20 anni dalla nascita di Sonic, Sonic Generations offre l'esperienza definitiva per tutti i fan di Sonic, sia vecchi che nuovi.
L'universo di Sonic è gettato nel caos quando appare un nuovo e misterioso nemico, creando 'buchi temporali' che riportano Sonic e i suoi amici indietro nel tempo. Laggiù, Sonic incontra vari volti familiari provenienti dal suo passato, inclusa una versione più giovane di se stesso! I due eroi dovranno allearsi per sconfiggere i loro nemici, salvare i loro amici, e scoprire chi si cela dietro questo atto diabolico.
Caratteristiche principali:
Doppio divertimento - Gioca sia come Sonic Classico che come Sonic Moderno nell'esperienza Sonic definitiva. Impara le mosse di entrambi i personaggi mentre corrono attraverso ambientazioni variegate in percorsi progettati appositamente per loro.

Le parti migliori sono diventate ancora meglio - Ambientazioni iconiche provenienti dalla storia dei videogiochi ritornano in vita in una bellissima grafica HD per l'avventura di Sonic definitiva, ognuna rivisitata, ricreata e ri-immaginata con risultati sorprendenti.

Un esperienza tutta nuova - Gioca in alcune delle ambientazioni più iconiche dei videogiochi in un modo tutto nuovo con famosi livelli di Sonic presentati in un nuovo e sfavillante 3D stereoscopico.

Sblocca nuove avventure - Una volta completati i vari livelli e 'liberato' gli amici di Sonic imprigionati, potrai ritornarci e affrontare altre sfide al loro fianco.

Boss e rivali storici - Affronta alcuni dei personaggi più famigerati del passato di Sonic mentre lotti per la supremazia finale.

Padroneggia le tue mosse - Domina il celebre attacco 'Scatto Avvitato' di Sonic Classico e utilizza il 'Turbo' di Sonic Moderno mentre completi percorsi tutti nuovi.
Requisiti di sistema
Minimum:


OS: Microsoft Windows 7/Vista/XP

Processor: Intel Pentium Dual-Core T4200 (2x2.0GHz) or AMD equivalent

Memory: 2GB RAM (XP)/3GB RAM (Windows 7 / Vista)

Graphics: NVIDIA GeForce 8800 (512MB) / ATI Radeon HD 2900 (512MB)

DirectX®:

Hard Drive: 11 GB free hard drive space

Sound:

Recommended:


OS: Microsoft Windows 7

Processor: Intel Core i5 @ 2.66 GHz / AMD Phenom II X4 @ 3.0 GHz

Memory: 3GB RAM

Graphics: NVIDIA GeForce GTX 460 (1GB) / ATI Radeon HD 5850 (1GB)

DirectX®:

Hard Drive: 11 GB free hard drive space

Sound:

© SEGA. SEGA, the SEGA logo and SONIC GENERATIONS are either registered trademarks or trademarks of SEGA Corporation. All rights reserved.
Recensioni utili dai clienti