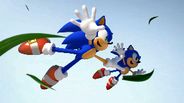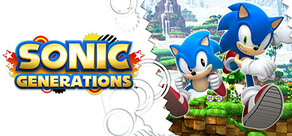 Celebrate 20 years of Sonic in an all new adventure that delivers a definitive experience to Sonic fans new and old!
Datum vydání: 3. lis. 2011
Sledovat HD video
Balíčky obsahující tuto hru
Koupit Sonic Hits Collection
Obsahuje následující položky (celkem 17): Sonic & SEGA All-Stars Racing, Sonic 3D Blast™, Dr. Robotnik's Mean Bean Machine™, Sonic Spinball™, Sonic the Hedgehog, Sonic the Hedgehog 2, Sonic 3 and Knuckles, Sonic Adventure DX, Sonic Generations - Casino Nights DLC, Sonic CD, Sonic Generations, Sonic the Hedgehog 4 - Episode I, Sonic the Hedgehog 4 - Episode II, Sonic & All-Stars Racing Transformed, Sonic Adventure 2, SONIC ADVENTURE 2: BATTLE, Sonic and All-Stars Racing Transformed: Metal Sonic & Outrun DLC
Stáhnutelný obsah pro tuto hru
O hře
Nejlepší způsob, jak oslavit 20. výročí ježka Sonica! Sonic Generations přináší ten nejlepší zážitek pro fanoušky starých i nových her série.
Svět Sonica je uvržen do chaosu, když se chopí vlády mysteriózní síla vytvářející "časové díry", kterými může Sonic a jeho kamarádi cestovat v čase. Tam Sonic narazí na některé velmi známé postavy z minulosti včetně mladší verze sebe sama! Nyní se musí oba Sonicové spolčit, porazit své nepřátele, zachránit své přátele a zjistit, kdo za tím vším stojí.
Klíčové vlastnosti:
Dvakrát více zábavy - Hrajte jak za moderního Sonica, tak za Sonica klasického. Dostaňte do ruky pohyby obou postav, zatímco závodí každý ve svém vlastním prostředí.

To nejlepší se stalo ještě lepším - Známá prostředí z videoherní historie přichází znovu k životu v nádherném režimu HD. Každé je přetvořené a překreslené s ohromujícím výsledkem.

Zcela nové zážitky - Zahrajte si nejznámější úrovně ze Sonicovy historie zcela novým způsobem - ve stereoskopickém 3D.

Odemkněte si dobrodružství - Jakmile dokončíte každý level, osvobodíte Sonicovy zajaté kamarády, se kterými můžete překonávat nové výzvy.

Nestárnoucí bossové a rivalové - Rozdejte si to s notoricky známými postavami ze Sonicovy minulosti v boji o definitivní nadvládu.

Ovládněte své pohyby - Naučte se známý útok spin-dash a užijte Sonicův "Boost" v průběhu řešení řady úrovní.
Systémové požadavky
Minimum:


OS: Microsoft Windows 7/Vista/XP

Processor: Intel Pentium Dual-Core T4200 (2x2.0GHz) or AMD equivalent

Memory: 2GB RAM (XP)/3GB RAM (Windows 7 / Vista)

Graphics: NVIDIA GeForce 8800 (512MB) / ATI Radeon HD 2900 (512MB)

DirectX®:

Hard Drive: 11 GB free hard drive space

Sound:

Recommended:


OS: Microsoft Windows 7

Processor: Intel Core i5 @ 2.66 GHz / AMD Phenom II X4 @ 3.0 GHz

Memory: 3GB RAM

Graphics: NVIDIA GeForce GTX 460 (1GB) / ATI Radeon HD 5850 (1GB)

DirectX®:

Hard Drive: 11 GB free hard drive space

Sound:

© SEGA. SEGA, the SEGA logo and SONIC GENERATIONS are either registered trademarks or trademarks of SEGA Corporation. All rights reserved.
Užitečné recenze od zákazníků