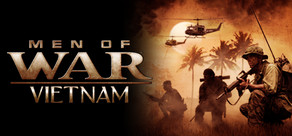 The critically acclaimed series returns! Experience Vietnam from both sides of the war.
Utgivningsdatum: 8 sep, 2011
Köp Men of War: Vietnam - Special Edition
Paket som innehåller detta spel
Köp 1C War Games Collection
Innehåller 9 saker: Men of War™, XIII Century – Gold Edition, Men of War: Red Tide, Theatre of War, Theatre of War 2: Africa 1943, Theatre of War 3: Korea, Men of War: Vietnam, Real Warfare 2: Northern Crusades, Real Warfare 1242
Köp Men of War: Collector Pack
Innehåller 11 saker: Men of War™, Men of War: Red Tide, Men of War: Assault Squad, Men of War: Assault Squad - MP Supply Pack Alpha, Men of War: Assault Squad - Skirmish Pack, Men of War: Vietnam, Men of War: Vietnam Special Edition Upgrade Pack, Men of War: Assault Squad - MP Supply Pack Bravo, Men of War: Assault Squad - MP Supply Pack Charlie, Men of War: Assault Squad - Skirmish Pack 2, Men of War: Condemned Heroes
Nedladdningsbart innehåll för detta spelet
Special Edition
Men of War: Vietnam Special Edition includes full version of Men of War: Vietnam plus bonus maps and content that is not included in the original game.
Special Edition Exclusives:

Play with (against!) your friends on three multiplayer maps where you must control victory locations to win.

Adapt your tactics to strengths and weaknesses of different sides of the conflict while playing five thrilling single-player missions.

Special Edition Content:
NVA soldiers battle US Troops for control of a nameless sector near Cambodia border.

Four survivors, passengers of a shot-down US helicopter, try to escape from Vietcong territory.

Surrounded Vietcong soldiers make their last stand against the US Army onslaught in the ruined Catholic church converted into a makeshift weapons depot.

Vietcong subversive group must infiltrate the area patrolled by ARVN and Green Berets using only knifes and silenced weapons.

Commander of the NVA tank platoon decides to launch an all-out attack in a bold attempt to take out US Field HQ.

Om spelet
Men of War: Vietnam
is a new game for the critically acclaimed series. The new, story-driven campaign lets you taste the explosive mix of the jungle, Hueys and rock-n-roll in 1968. The US campaign focuses on a team of elite special ops soldiers, and each one of them has a personality.
The unit includes Sergeant John Merrill, machine-gunner Jim Walsh, sniper Sonny Armstrong, grenade launcher operator Carl Dillan and combat engineer Bill Kirby. In some missions they can count only on themselves, while in the others they act together with regular US and South-Vietnamese troops. The North Vietnam campaign tells the story of two Soviet military consultants and two soldiers of the North Vietnam Army who are the only survivors of an ambush prepared by the US troops. The task of getting back to the North Vietnam territory is a difficult one – they have no means of radio communication, no wheeled vehicles, and it's too far to make it there on foot. On their way these survivors get involved in a chain of bloodbath engagements and find themselves in the dead center of the well-known Tet offensive.
Missions range from special operations (rescuing a shot-down pilot, escorting a reporter, etc.) to full scale battles.
Key Features
There are two sides in every story, so two new story-driven campaigns attempt to show the war from both sides.

Breathtaking missions including an ambush on the Ho Chi Minh trail, a game of cat and mouse in the Mekong Delta, raids into Cambodia and Laos, bridge defense during the Tet offensive and more.

New weapons and units: M-16, T-54, M-113, Patton III, M-60, AK-47, M-14, RPG-2, M-72 LAW, RPK and many more.

Multiplayer mode – co-op for up to 4 players.

Men of War is affected by the GameSpy shutdown on the 31st of May. You can continue to play the game through LAN, DirectIP and GameRanger.
Systemkrav
Minimum:


Operativsystem: Windows XP(SP1), Windows Vista eller Windows 7

Processor: P4 2.6GHz (Athlon 3000+)

Minne: 1GB

Hårddiskutrymme: 3 GB ledigt hårddiskutrymme

Grafikkort: GeForce 6600 (Radeon 1950) 128MB

CD ROM: PC DVD-ROM
Rekommenderat:


Processor: Core 2 Duo 2.33GHz (Athlon X2 5000+)

Minne: 2GB

Grafikkort: GeForce FX 8800 (Radeon HD3850) 256MB
© 2011 1С Company. All rights reserved. © 2011 This product contains software technology licensed by Best Way. All rights reserved.
Hjälpsamma kundrecensioner