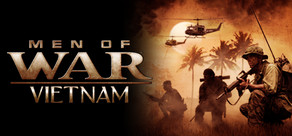 A criticamente aclamada série está de volta! Experiencie o Vietnam de ambos os lados da guerra.
Data de lançamento: 8 Set 2011
This item does not have support for your local language. Please review the supported language list before purchasing
Comprar Men of War: Vietnam
Comprar Men of War: Vietnam - Special Edition
Pacotes que incluem este jogo
Comprar 1C War Games Collection
Inclui 9 itens: Men of War™, XIII Century – Gold Edition, Men of War: Red Tide, Theatre of War, Theatre of War 2: Africa 1943, Theatre of War 3: Korea, Men of War: Vietnam, Real Warfare 2: Northern Crusades, Real Warfare 1242
Comprar Men of War: Collector Pack
Inclui 11 itens: Men of War™, Men of War: Red Tide, Men of War: Assault Squad, Men of War: Assault Squad - MP Supply Pack Alpha, Men of War: Assault Squad - Skirmish Pack, Men of War: Vietnam, Men of War: Vietnam Special Edition Upgrade Pack, Men of War: Assault Squad - MP Supply Pack Bravo, Men of War: Assault Squad - MP Supply Pack Charlie, Men of War: Assault Squad - Skirmish Pack 2, Men of War: Condemned Heroes
Conteúdo transferível para este produto
Special Edition
A Edição Especial Men of War: Vietnam inclui a versão completa do Men of War: Vietnam mais mapas bónus e conteúdo que não se encontra presente no jogo original.
Exclusivo da Edição Especial:

Jogue com (contra!) os seus amigos em três mapas multijogador onde é necessário controlar certas localizações vitoriosas para ganhar.

Adapte as suas táticas às suas resistências e fraquezas em alas diferentes do conflito enquanto joga cinco emocionantes missões para um jogador.
Conteúdo da Edição Especial:
Os soldados NVA (Norte-Vietnamitas) batalham contra as Tropas Americanas com o objetivo de controlar um sector sem nome perto da fronteira da Camboja.

Quatro sobreviventes, passageiros de um helicópetro Americano abatido, tentam escapar do território Vietcongue.

Soldados Vietcongues cercados fazem a sua última resistência contra a investida do Exército Americano nas ruínas da igreja Católica convertida improvisadamente num armazém de armas.

O grupo Vietcongue subversivo tem de se infiltrar na área patrolhada pela ARVN e pelos Boinas Verdes usando apenas facas e armas silenciosas.

O comandante do pelotão de tanques NVA decide arrancar corajosamente com um completo ataque para acabar com a Sede da Área EUA.
Acerca do Jogo
Men of War: Vietnam
is a new game for the critically acclaimed series. The new, story-driven campaign lets you taste the explosive mix of the jungle, Hueys and rock-n-roll in 1968. The US campaign focuses on a team of elite special ops soldiers, and each one of them has a personality.
The unit includes Sergeant John Merrill, machine-gunner Jim Walsh, sniper Sonny Armstrong, grenade launcher operator Carl Dillan and combat engineer Bill Kirby. In some missions they can count only on themselves, while in the others they act together with regular US and South-Vietnamese troops. The North Vietnam campaign tells the story of two Soviet military consultants and two soldiers of the North Vietnam Army who are the only survivors of an ambush prepared by the US troops. The task of getting back to the North Vietnam territory is a difficult one – they have no means of radio communication, no wheeled vehicles, and it's too far to make it there on foot. On their way these survivors get involved in a chain of bloodbath engagements and find themselves in the dead center of the well-known Tet offensive.
Missions range from special operations (rescuing a shot-down pilot, escorting a reporter, etc.) to full scale battles.
Key Features
There are two sides in every story, so two new story-driven campaigns attempt to show the war from both sides.

Breathtaking missions including an ambush on the Ho Chi Minh trail, a game of cat and mouse in the Mekong Delta, raids into Cambodia and Laos, bridge defense during the Tet offensive and more.

New weapons and units: M-16, T-54, M-113, Patton III, M-60, AK-47, M-14, RPG-2, M-72 LAW, RPK and many more.

Multiplayer mode – co-op for up to 4 players.

Men of War is affected by the GameSpy shutdown on the 31st of May. You can continue to play the game through LAN, DirectIP and GameRanger.
Requisitos do Sistema
Mínimo:


SO: Windows XP(SP1), Windows Vista ou Windows 7

Processador: P4 a 2.6GHz (Athlon 3000+)

Memória: 1GB

Disco Rígido: 3 GB de espaço livre

Gráfica: GeForce 6600 (Radeon 1950) com 128Mb

CD ROM: PC DVD-ROM
Recomendado:


Processador: Core 2 Duo a 2.33GHz (Athlon X2 5000+)

Memória: 2GB

Gráfica: GeForce FX 8800 (Radeon HD3850) com 256Mb
© 2011 1С Company. All rights reserved. © 2011 This product contains software technology licensed by Best Way. All rights reserved.
Análises úteis de clientes