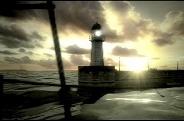 When a series of gruesome murders shake a small town after a strange aristocrat dies and his body goes missing, rumors of a supernatural monster abound. In life Sir William was known to be a cruel and evil man, rumored to be the murderer behind many unsolved crimes.
Fecha de lanzamiento: 3 de Ago, 2010
Ver vídeo en alta definición
5 de Junio
Dear Players,

It's come to our attention that some of our users have been experiencing invisble character behavior in this game and we have a solution for it.

The solution to fix this is in our knowledge base and can be found at

http://support.encore.com/technicalsupport/kb.aspx?kb_id=1879&product_id=3283

Note although these directions are for the PC DVD / Digital download version, the same files are in the Steam Folder for which the game is in.
0 comentarios
Leer más
Acerca del juego
Cuando una serie de dantescos asesinatos sacuden un pequeño pueblo tras la muerte de un extraño aristócrata cuyo cuerpo ha desaparecido, se desatan numerosos rumores sobre un monstruo sobrenatural. En vida, Sir William era conocido como un hombre cruel y malvado, se rumoreaba que era era el autor de varios crímenes y asesinatos sin resolver. Pero ahora que está muerto, esta nueva oleada de crímenes tiene a toda la aldea temblando de terror, hasta el punto de que algunos habitantes ya han huido. La policía local está fuera de sí y no han hecho ningún progreso en la resolución de los crímenes. El detective Briscol, un hombre de lógica y principios, y Timothy Moor, un inmigrante pobre convertido en un ladrón de poca monta, forman una peculiar pareja para resolver estos terribles crímenes. Alternando entre los dos papeles, los jugadores deberán investigar estos extraños sucesos y revelar gradualmente un oscuro secreto.
Características principales:
Experimenta el apasionante misterio de los asesinatos desde perspectivas diferentes.

Más de 80 lugares para explorar.

Más de 25 personajes con los que interactuar.

Gráficos con calidad cinematográfica.

¡Una historia que NUNCA OLVIDARÁS!
Requisitos del sistema
Mínimo:


SO: Windows 7 / Vista / XP SP 2

Procesador: Single Core a 2.5 GHz

Memoria: 1 GB de RAM

Gráficos: Gráfica 3D con 128 MB de VRAM (GeForce 6600 / Radeon 9600 o superior)

Versión de DirectX®: 9.0c o posterior

Disco Duro: 3 GB de espacio libre

Sonido: Dispositivo compatible con DirectX
Análisis útiles de usuarios