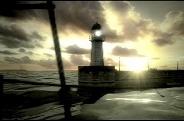 When a series of gruesome murders shake a small town after a strange aristocrat dies and his body goes missing, rumors of a supernatural monster abound. In life Sir William was known to be a cruel and evil man, rumored to be the murderer behind many unsolved crimes.
Megjelenés dátuma: 3 Aug 2010
Nézd meg a HD videót
This item does not have support for your local language. Please review the supported language list before purchasing
5 június 2014
Dear Players,

It's come to our attention that some of our users have been experiencing invisble character behavior in this game and we have a solution for it.

The solution to fix this is in our knowledge base and can be found at

http://support.encore.com/technicalsupport/kb.aspx?kb_id=1879&product_id=3283

Note although these directions are for the PC DVD / Digital download version, the same files are in the Steam Folder for which the game is in.
0 megjegyzés
Tovább
A játékról:
Mikor egy sor borzalmas gyilkosság rázza fel egy kisváros életét egy furcsa arisztokrata halála, majd holttestének eltűnése után, egy természetfölötti szörnyről szóló pletykák kapnak szárnyra. Sir Williamet életében kegyetlen és gonosz embernek ismerték, aki a szóbeszédek szerint számos felderítetlen gyilkossági ügy tettese volt. Most, hogy meghalt, ettől az új bűnözési hullámtól az egész városka retteg félelmében, és egyesek inkább a menekülést választják. A helyi rendőrség tehetetlenül áll, semmit sem haladva a bűntények megoldásával. Briscol nyomozó, a logika és elvek embere, és Timothy Moor, egy szegény bevándorlóból lett piti tolvaj, sosem gondolták volna, hogy össze kell fogniuk egymással a szörnyű bűntettek megoldásához. A két szereplő között váltogató játékos kinyomozza a furcsa eseményeket, és fokozatosan felfed egy sötét titkot.
Fő jellemzők:
Éld át a rejtélyes gyilkossági nyomozás élményét két nézőpontból.

Több mint nyolcvan felfedezhető helyszín.

Több mint huszonöt interaktív karakter.

Filmminőségű látvány.

Olyan történet, melyet sosem fogsz elfelejteni!
Rendszerkövetelmények
Minimum:


Operációs rendszer: Windows 7/Vista/XP SP 2

Processzor: 2.5 GHz egymagos

Memória: 1 GB RAM

Grafika: 128 MB 3D videókártya (Geforce 6600/Radeon 9600 vagy jobb)

DirectX®: 9.0c vagy magasabb

Merevlemez: 3 GB szabad merevlemez-terület

Hang: DirectX hangkártya
Hasznos vásárlói értékelések