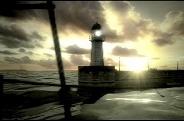 When a series of gruesome murders shake a small town after a strange aristocrat dies and his body goes missing, rumors of a supernatural monster abound. In life Sir William was known to be a cruel and evil man, rumored to be the murderer behind many unsolved crimes.
Data wydania: 3 Sie 2010
Obejrzyj film HD
This product does not have support for your local language. Please review the supported language list below before purchasing
5 Czerwiec 2014
Dear Players,

It's come to our attention that some of our users have been experiencing invisble character behavior in this game and we have a solution for it.

The solution to fix this is in our knowledge base and can be found at

http://support.encore.com/technicalsupport/kb.aspx?kb_id=1879&product_id=3283

Note although these directions are for the PC DVD / Digital download version, the same files are in the Steam Folder for which the game is in.
Komentarzy: 0
Więcej
Informacje o grze
Gdy seria brutalnych morderstw wstrząsa małym miastem tuż po morderstwie dziwnego arystokraty, jego ciało znika, a dookoła zaczynają krążyć pogłoski o nadprzyrodzonym potworze krążącym w pobliżu. Za życia Sir William znany był ze swojego okrucieństwa wobec innych, będąc podejrzanym o morderstwo w wielu nierozwiązanych sprawach. Po śmierci jego zbrodnie pozostawiają całą wioskę w strachu zmuszającym wielu do ucieczki. Lokalne władze są bezsilne i nie mogą zrobić postępu w śledztwie. Detektyw Briscol, człowiek sprawiedliwości, ładu i logiki, wraz z Timothym Moorem, biednym imigrantem-złodziejaszkiem, nieoczekiwanie łączą siły, aby rozwiązać tajemnicę stojącą za okrutnymi morderstwami. Przełączając się między dwiema postaciami, gracze będą musieli przeprowadzić własne śledztwo mające na celu rozwiązanie tajemnicy stojącej za tymi wydarzeniami oraz odkrycie mrocznego sekretu skrywanego przed wszystkimi.
Główne cechy:
Poznaj z dwóch różnych perspektyw mroczny sekret skrywany za morderstwami

Ponad 80 lokacji do zwiedzenia

Ponad 25 postaci, z którymi można wchodzić w interakcję

Oprawa graficzna o kinowej jakości

Oraz historia, której NIGDY NIE ZAPOMNISZ!
Wymagania systemowe
Minimum:


OS: Windows 7/Vista/XP SP 2

Processor: 2.5 GHz Single Core

Memory: 1 GB RAM

Graphics: 128 MB 3D Video Card (Geforce 6600/Radeon 9600 or better)

DirectX®: 9.0c or higher

Hard Drive: 3 GB free hard drive space

Sound: DirectX sound card

Pomocne recenzje klientów