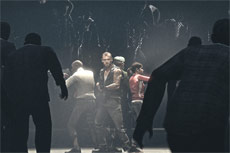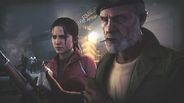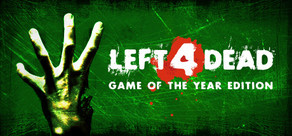 Valve 最新鉅獻 — Counter-Strike、Half-Life 等遊戲創作團隊再次出擊 — Left 4 Dead 是一款橫跨 PC 與 Xbox 360 平台的遊戲,四位「倖存者」主角必須對抗蜂擁而至的僵屍群與駭人的突變型「魔王感染者」,展開一場絕望的殊死對決。 遊戲背景採用了眾所期待的僵屍末日題材,鋪陳出浩劫餘生的氛圍。L4D 的生存合作遊戲模式,分別以都市和郊區環境為場景的四段「電影」作為故事主軸,在玩家的行動下逐步進展。 每部「電影」都有一項主要的團隊目標,並由五張龐大的地圖所構成,可以供 1 到 4 位人類玩家進行遊戲。 遊戲採用了稱為「AI 控制器」的最新技術,能夠以程序化的方式製造出最獨特的體驗,讓遊戲每次玩起來都有新鮮感。
發售日: 2008年11月17日
觀看所有 6 預告片
包含此遊戲之套件
關於此遊戲
Valve 最新鉅獻 — Counter-Strike、Half-Life 等遊戲創作團隊再次出擊 — Left 4 Dead 是一款橫跨 PC 與 Xbox 360 平台的遊戲,四位「倖存者」主角必須對抗蜂擁而至的僵屍群與駭人的突變型「魔王感染者」,展開一場絕望的殊死對決。
遊戲背景採用了眾所期待的僵屍末日題材,鋪陳出浩劫餘生的氛圍。L4D 的生存合作遊戲模式,分別以都市和郊區環境為場景的四段「電影」作為故事主軸,在玩家的行動下逐步進展。 每部「電影」都有一項主要的團隊目標,並由五張龐大的地圖所構成,可以供 1 到 4 位人類玩家進行遊戲。
遊戲採用了稱為「AI 控制器」的最新技術,能夠以程序化的方式製造出最獨特的體驗,讓遊戲每次玩起來都有新鮮感。 如同好萊塢電影一般,控制器 (Director) 會根據團隊表現,運用新型的怪物、音效和動作來量身打造遊戲體驗。
本遊戲將於今年 11 月在 PC 與 Xbox 360 上全球同步發行,Left 4 Dead 更加入了全新的多人連線模式。
這是一款令人欲罷不能的團隊合作動作遊戲,由 Counter-Strike 和 Half-Life 的製作團隊精心呈獻

在先進的人工智慧操控下,無論敵方或友方成員,都有相當活躍的表現。每場遊戲都能帶來緊湊的單人遊戲、團隊合作及多人連線體驗

20 張新地圖。 10 種新武器。 由玩家所主導、逐步展開的四場「電影」

遊戲配對、統計資料、排名和獎勵系統,促使團隊合作更緊密

「設計人員說明」模式讓玩家能參與遊戲幕後模式

採用 Source 與 Steam 技術研發而成

document.write(''+'cript>')
THE SACRIFICE
"The Sacrifice" is the new add-on for Left 4 Dead.
"The Sacrifice" is the prequel to "The Passing," and takes place from the L4D Survivors' perspective as they make their way South. In addition to advancing the story, "The Sacrifice" introduces a new style finale featuring "Sacrificial Gameplay" where players get to decide who will give their life so the others may live.
In The Sacrifice for Left 4 Dead owners receive "The Sacrifice" campaign playable in Campaign, Versus, and Survival modes.
系統需求 (PC)
最低:


支援作業系統:Windows® 7 32/64-bit / Vista 32/64 / XP

處理器:Pentium 4 3.0GHz

記憶體:1 GB

顯示:128 MB、Shader model 2.0、ATI 9600、NVidia 6600 或更佳

硬碟:至少 7.5 GB 的可用空間

音效卡:DirectX 9.0c 相容音效卡

建議:


支援作業系統:Windows® 7 32/64-bit / Vista 32/64 / XP

處理器:Intel core 2 duo 2.4GHz

記憶體:1 GB

顯示:Shader model 3.0、NVidia 7600、ATI X1600 或更佳

系統需求 (MAC)
OS: MacOS X 10.6.4 or higher (Snow Leopard Graphics Update required)

Processor: Dual core Intel processor, 2GHz or better

Video Card: ATI Radeon 2400 or higher / NVIDIA 8600M or higher / Intel HD Graphics 3000

Not supported: OS X 10.5.x, ATI X1600 or X1900 graphics, NVIDIA GeForce 7 graphics or Intel graphics less than Intel HD 3000.

具參考價值的客戶評論