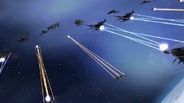 Guide one of 12 races on their first interstellar journey from a single planet, until it becomes a mighty pan-galactic empire.
Date de parution: 10 jun 2010
Visionner la vidéo HD
Acheter Armada 2526
PROMO DE LA SEMAINE ! L'offre prend fin le 1 septembre
Articles
"For a 4X strategy title it hits a lot of the sweet spots you want and is a great entry for anyone who wants to give running a star spanning empire a whirl."
75 – Strategy Informer

"Armada 2526 is a very solid game, it is well designed and provides a good gaming experience to the player."
80 – Space Sector

"Varied alien races with different needs and requests means each play through will require different strategies, giving the game a great amount of replay value."
70 – Game Zone

À propos du jeu
Soyez le guide d'une des douze races qui voyagent de planètes en planètes jusqu'à créer un empire galactique.
Gérer votre empire à partir de la carte de la galaxie, déployez votre flotte et poursuivez vos recherches, votre diplomatie et vos échanges. Mettez au point une stratégie.
Explorez l'univers et trouvez de nouvelles colonies. Transformez vos planètes en bunker, faites des alliances, utilisez la menace ou demandez des faveurs. Après avoir épuisé les ressources diplomatiques, ayez recours au combat dans des environnement 3D splendide et partez à la conquête de la galaxie.
Profond et stratégique, un conseiller vous seconde pour vous aider à prendre des décisions rapides.
Contrairement à d'autres jeux, Armada 2526 fourni un jeu qui peut être fini en un temps raisonnable qui met l'accent sur la stratégie plus que sur la micro-gestion économique.
Comprend :
Carte des étoiles avec jeu tour à tour pour faire progresser les escadrilles, gérer les colonies, faire des recherches et l'activité diplomatique.

Taille des cartes et nombre de joueurs personnalisable. D'une confrontation à deux joueurs jusqu'à des galaxies pour plus de 50 joueurs. L'éditeur de carte est inclus.

12 races aliens à combattre.

Système diplomatique complet. Avec une intelligence artificielle, des options pour faire des demandes, poser des ultimatum...

Plus de 100 technologies pour les recherches, avec construction de vaisseaux comprise, recherches biologique et pouvoirs psychiques.

Système de bataille en 3D avec plus de 100 vaisseaux de part et d'autre.

Combat au sol intégré qui permet aux marines de débarquer pendant que la bataille fait rage dans le ciel.

Plus d'un centaine de modèles de vaisseaux dont les dreadnaughts, les croiseurs, les chasseurs, les transporteurs et même des astéroïdes pour bombarder les planètes.

Adversaire I.A. difficiles.
Configuration requise
Minimum :


Système d'exploitation : Windows® XP SP3 / Vista / Windows 7™

Processeur : 2,4GHz Intel® Pentium® ou équivalent AMD®

Mémoire vive : 1 Go de RAM

Carte graphique : Avec 128 Mo de mémoire vidéo compatible DirectX® 9.0c avec Pixel/Vertex Shader 2.0 support

DirectX®: DirectX® 9.0c

Disque dur : 3 Go d'espace disque

Son : Carte son compatible DirectX® 9.0c
Armada 2526 © 2010 Ntronium Games. Developed by Ntronium Games. Licensed exclusively worldwide to and published by Iceberg Interactive B.V. All brands, product names, and logos are trademarks or registered trademarks of their respective owners. All rights reserved. Made in Europe.
Évaluations intéressantes des utilisateurs