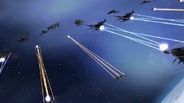 Guide one of 12 races on their first interstellar journey from a single planet, until it becomes a mighty pan-galactic empire.
Veröffentlichung: 10. Juni 2010
HD-Video ansehen
Reviews
"For a 4X strategy title it hits a lot of the sweet spots you want and is a great entry for anyone who wants to give running a star spanning empire a whirl."
75 – Strategy Informer

"Armada 2526 is a very solid game, it is well designed and provides a good gaming experience to the player."
80 – Space Sector

"Varied alien races with different needs and requests means each play through will require different strategies, giving the game a great amount of replay value."
70 – Game Zone

Über das Spiel
Führen Sie eines von zwölf Völkern auf eine interstellare Reise von einem einzelnen Planeten hin zu einem allmächtigen pan-galaktischen Imperium.
Per Sternenkarte müssen Sie Ihr Imperium führen, Ihre Flotten entsenden und Forschung, Diplomatie und Handel betreiben. Planen Sie Ihre Strategie.
Erforschen Sie das Universum und gründen Sie neue Kolonien. Verwandeln Sie Ihre Planeten in schlagkräftige Bastionen. Verbünden Sie sich in Allianzen, schmieden Sie Drohpläne oder bitten Sie um Beistand - und wenn die Zeichen richtig Stehen, dann erledigen Sie die Diplomatie mit anderen Mitteln und kämpfen sie in Echtzeit in 3D Systemen, die die Schönheit und Gefährlichkeit von Weltraumschlachten aufleben lassen. Alles nur zu einem Ziel: um siegreich empor zu steigen und die Galaxie zu erobern.
Hilfreiche Beraterfunktionen helfen Ihnen, sich schnell in dieses komplexe und tiefe Spiel einzufinden und die endlosen Strategiemöglichkeiten zu erforschen.
Ganz im Gegensatz zu anderen Spielen dieses Genre bietet Armada 2526 Ihnen ein Spiel das Sie in zumutbarer Zeit bewältigen können, das zudem Schlachten und Strategie gegenüber ökonomischem Mikromanagement betont.
Eigenschaften:
Rundenbasierte Sternenkarte zur Flottenbewegung, Kolonie-Management, Forschungsfortschritt und um Diplomatie durchzuführen.

Die einstellbare Kartengröße und Spieleranzahl erlaubt es ihnen enge zwei Spieler Schlachten zu konstruieren oder riesige Galaxien mit 50 oder mehr Spielern und tausenden von Sternen. Map-Editor inklusive.

Sie können gegen zwölf animierte Außerirdische Völker antreten oder deren Kontrolle übernehmen.

Das komplette Diplomatiesystem, inklusive hochintelligenter KI, bietet Optionen, um auf Beistand zu drängen, Forderungen auszusprechen oder ein Ultimatum zu stellen.

Mehr als 100 Technologieobjekte gilt es zu erforschen, inklusive Fortschritte in der Schiffskonstruktion, der Bodendefensive, der biologischen Kriegsführung und psychischen Kontrolle.

3D Echtzeitschlachtsystem für riesige Gefechte mit 100 oder mehr Schiffen pro Seite.

Bodenkämpfe sind im Gefechtssystem integriert und erlauben es Soldaten mitten in der Schlacht zu landen, um gegnerische Verteidigungspositionen anzugreifen, während die Weltraumschiffe über diesen Positionen weiterkämpfen.

Mehr als 100 wunderschöne Schiffsmodelle, inklusive allmächtigen Dreadnaughts, Langstrecken-Raketenwerfern, Kampfjets, Schiffsbasen und Asteroiden, um Planeten zu bombardieren.

Schwierige KI-Gegner.
Systemvoraussetzungen
Minimum:


Betriebssystem: Windows® XP SP3 / Vista / Windows 7™

Prozessor: 2,4 GHz Intel® Pentium® oder vergleichbar AMD®

Speicher: 1 GB RAM

Grafik: 128 MB DirectX® 9.0c kompatible Grafikkarte mit Pixel/Vertex Shader 2.0 Unterstützung

DirectX®: DirectX® 9.0c

Festplatte: 3 GB frei

Sound: DirectX® 9.0c kompatible Soundkarte
Armada 2526 © 2010 Ntronium Games. Developed by Ntronium Games. Licensed exclusively worldwide to and published by Iceberg Interactive B.V. All brands, product names, and logos are trademarks or registered trademarks of their respective owners. All rights reserved. Made in Europe.
Hilfreiche Kundenreviews