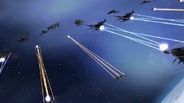 Guide one of 12 races on their first interstellar journey from a single planet, until it becomes a mighty pan-galactic empire.
Fecha de lanzamiento: 10 de Jun, 2010
Ver vídeo en alta definición
Análisis
"For a 4X strategy title it hits a lot of the sweet spots you want and is a great entry for anyone who wants to give running a star spanning empire a whirl."
75 – Strategy Informer

"Armada 2526 is a very solid game, it is well designed and provides a good gaming experience to the player."
80 – Space Sector

"Varied alien races with different needs and requests means each play through will require different strategies, giving the game a great amount of replay value."
70 – Game Zone

Acerca del juego
Guía a una de 12 razas en su primer viaje interestelar desde un único planeta hasta convertirse en un poderoso imperio intergaláctico.
Desde el Mapa Estelar podrás administrar tu imperio, desplegar tus flotas y llevar a cabo investigaciones, diplomacia y comercio. Planea tu estrategia.
Explora el universo y establece nuevas colonias. Convierte tus planetas en poderosos bastiones. Crea pactos y alianzas, lanza amenazas o pide favores. Y, a su debido tiempo, continúa la diplomacia por "otros medios" y recurre a la lucha en un sistema 3D en tiempo real que trae a la vida la belleza y la matanza indiscriminada del combate espacial. Todo bajo un propósito: salir victorioso y conquistar la galaxia.
A pesar de ser complejo, exhaustivo y con la posibilidad de estrategias ilimitadas, las completas características de ayuda y consejos te ayudarán a dominar el juego rápidamente.
A diferencia de muchos otros juegos del género, Armada 2526 se centra en ofrecer un juego que puede terminarse en un tiempo razonable y hace hincapié en el combate y la estrategia por encima de la microgestión económica.
Características principales:
Mapa estelar por turnos donde se pueden mover las flotas, administrar colonias, realizar investigaciones y llevar a cabo diplomacia

Tamaño de mapa y número de jugadores personalizables, permitiéndote crear ajustados enfrentamientos o enormes galaxias para más de 50 jugadores y miles de estrellas. Editor de mapas incluido

Doce razas alienígenas para jugar o luchar en contra

Un completo sistema diplomático con una IA extremadamente inteligente y opciones para pedir favores o exigencias y lanzar ultimátums

Más de 100 objetos tecnológicos para investigar, defensas terrestres, armas biológicas y poderes psíquicos

Sistema de batalla 3D en tiempo real para librar enormes batallas con más de 100 naves por bando

El combate terrestre está integrado en el sistema de combate, permitiendo a los marines atacar las defensas terrestres mientras los combates entre naves se llevan a cabo sobre sus cabezas

Más de un centenar de modelos de naves cuidadosamente diseñados, incluyendo poderosos acorazados, misiles de crucero de largo alcance, cazas, transportes y asteroides para bombardear planetas

Duros oponentes controlados por la IA
Requisitos del sistema
Mínimo:


SO: Windows® XP SP3 / Vista / Windows 7™

Procesador: Intel® Pentium® a 2.4 GHz o equivalente de AMD®

Memoria: 1 GB de RAM

Gráficos: Compatible con DirectX® 9.0c, con 128 MB y soporte para Pixel / Vertex Shader 2.0

DirectX®: DirectX® 9.0c

Disco Duro: 3 GB de espacio libre

Sonido: Compatible con DirectX® 9.0c
Armada 2526 © 2010 Ntronium Games. Developed by Ntronium Games. Licensed exclusively worldwide to and published by Iceberg Interactive B.V. All brands, product names, and logos are trademarks or registered trademarks of their respective owners. All rights reserved. Made in Europe.
Análisis útiles de usuarios